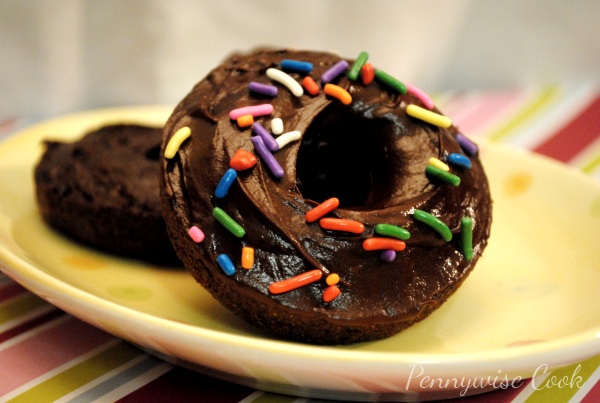 So you may have caught on to the fact that I'm a sweets person by now. I could eat sweets for every meal. Yes, even dinner. As long as I could have a cracker afterwards to balance the sweet with salty. I do know my limits though. Like I told you on the Fried Ravioli post, I'm not too much into frying things. Pan-searing, lightly frying in a bit of olive oil are ok. But completely submerging something in oil just makes me feel dirty. 😉
That's why I was absolutely thrilled to come across this amazing Chocolate Glazed Chocolate Baked Donuts recipe at Prevention RD. She has got some fabulous recipes that I cannot wait to try. I really wanted to make these donuts, so I went in search of a donut pan. It's close to impossible to find one really. Don't expect Walmart to have them. I was delighted to find this mini donut pan on Amazon for only $9.99 shipped. When I found this recipe I was really antsy to try it out. At 93 per donut, I was floored. That is for the full-size donuts and my pan is mini so mine will only have 46 calories per. When my donut pan came in the mail, I was really giddy. You can just imagine my excitement can't you? My mail lady thinks I'm nuts.
My pictures aren't quite as good as her's, but you get the picture. This recipe was surprisingly easy, however I will say this- it's fairly difficult getting the batter into those little donut wells. Because it's round you don't want to get the batter on the little thing in the middle. I managed to get it done with a spatula in one hand and a spoon in the other. I'd say this is little sacrifice for chocolate donuts.
Recipe from Prevention RD
Chocolate Glazed Baked Chocolate Donuts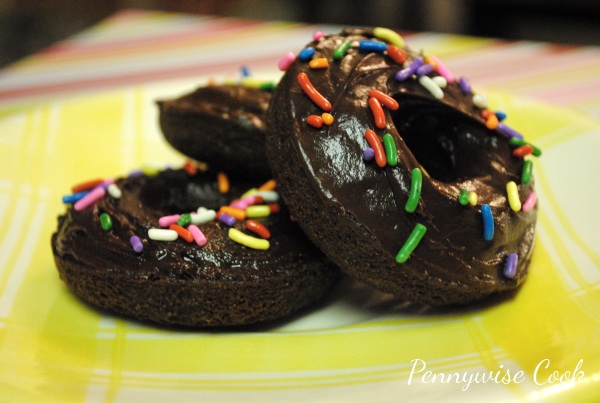 93 calories for a chocolate donut? Sign me up! These chocolate glazed BAKED donuts will satisfy without packing on the calories.
Ingredients
Donut Ingredients

1 cup whole wheat pastry flour (or I used 1/2 c white and 1/2 c whole wheat)
1/4 cup unsweetened cocoa powder
1/4 cup sugar
1 Tbsp baking powder
1/4 tsp salt
1 egg
1/2 cup almond milk (I used soy milk)
1 tsp vanilla
1 Tbsp canola oil
3 Tbsp unsweetened applesauce

Choclate Glaze Ingredients

1/2 cup semisweet chocolate chips
1 tsp canola oil
1 Tbsp corn syrup
1/4 tsp vanilla extract
Method
Preheat the oven to 450 degrees. Spray donut pan with cooking spray.
Stir together flour, cocoa powder, sugar, baking powder, and salt in a large bowl. Add the egg, milk, vanilla, oil, and applesauce for 1 minute.
Fill each donut cavity in the pan 1/2 way full.
Bake for 7-8 minutes until donuts spring back slightly when touched. Cool.
Meanwhile, melt the chocolate chips in a microwave safe bowl. Stir in the corn syrup and oil. Microwave at 20 second increments until completely smooth. Stir in the vanilla.
Dunk each donut and allow to set.
Notes
And like my husband says, these wouldn't be what they are without the glaze so you'll definitely want to make that along with these. They are a fantastic treat for after school for the kiddos and you don't have to worry that they are high in calories and sugar.
P.S.- if you don't have a donut pan, no worries. Use a mini or regular muffin pan and glaze just the tops. They will still taste as yummy. Since I made these the first time, I've found donut pans at Target for around $12.99- FYI.
http://www.pennywisecook.com/chocolate-glazed-baked-chocolate-donuts/
Let me know if you make them and how they turn out!
Your turn! Have you ever made donuts before?
Like this post? SHARE it!