Happy Valentine's Day! Need a quick, but fancy meal tonight? These might just do the trick!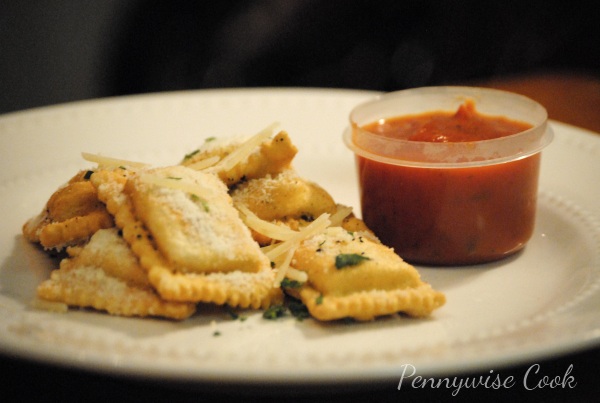 I'm not usually one for fried things. My mind associates the word "fried" with evil. Evil as in, this food is going to devilishly make you gain 5 pounds. I haven't always had these feelings about fried things. Like most people, I really do love my french fries and fried chicken, but actually seeing the process makes me feel so dirty and well, evil. I may not like frying things very often, but I am most definitely not above it on occasion, especially when it involves a pasta filled with something yummy.
At your local grocery store, pick up a bag of the frozen ravioli. I found that Walmart has the cheapest prices of any place I looked. They were around $2.50 there. Of course, you don't have to use frozen, but the Pennywise method surely does call for the cheapest means and honey, that's Walmart! Technically that's the only ingredient you really need. Besides the oil to fry it in, but you may want to have some parmesan cheese for sprinkling and marinara sauce for dipping when they are done. As for the ravioli themselves, you can do this with any that you like. They have several varieties at the stores to choose from. Spinach and Ricotta, Four Cheese, Beef…you name it.
These little guys were a huge hit at my house and I can't honestly tell you that they will make a regular appearance at my house. But I can tell you that Ravioli is absolutely delicious fried and would make a GREAT get appetizer at a party or get together.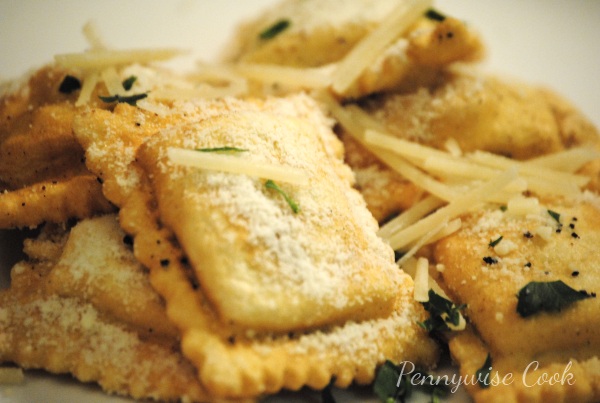 Chang up the same old ravioli by frying them up and serving them as an appetizer.
Ingredients
1 Bag Frozen or Fresh Ravioli (if using frozen, thaw in refrigerator ravioli completely before frying)
Vegetable Oil
Parmesan Cheese
Method
Place oil in fry machine or about 2 inches of oil into a medium sauce pan. Heat to medium-high heat. (Be careful it's hot!)
Place thawed ravioli into hot oil (carefully!) until it puffs up and begins to brown on one side. Then turn over to brown the other. This is a VERY fast process.
Place on paper towels to drain excess oil. Sprinkle parmesan cheese on each and serve with marinara sauce!
Notes
Be sure to be very careful when placing and removing the ravioli from the hot oil. It can burn you and it's very brutal if it does. These will fry very quickly so be sure to watch them like a hawk through the entire process. Do not crowd your pan. I fried no more than 4 at a time. This is so they won't stick together and you have room to flip them.
http://www.pennywisecook.com/easy-fried-yes-fried-ravioli/
Like this post? SHARE it!