It's summer time and there's no stopping the men and their grills. Am I right? It's a right of passage. And can we really complain? The chance to sit back and relax while watching someone else do all the cooking for once? I think I'll take that deal.
During the summer we try to grill at least once a week. It's nice for the whole family to get outside and enjoy summer nights playing together while daddy gets dinner ready. Memories are being made. Of course, grilling goes hand in hand with a very simple (yet taken seriously) dish, burgers. The oh-so-meaty, versatile, and flavorful burger. My husband would consider himself a connoisseur of burgers. And he has a right to. His most favorite food of all time and he's eaten his way in burgers across the country.
One of the ingredients in most burger recipes is the binder, an egg. Have you ever used mayonnaise instead? It's very tasty! A simple ingredient that can take your burger from boring to bam.
Hellmann's is celebrating their 100th anniversary! Can you believe that they have been around that long? You know that a product is good when it's been around for that many years and people still enjoy it today. As part of Hellman's 100th celebration, they are helping to provide 1 MILLION meals to Feeding America to fight against hunger nationwide. They are also teaming up with celebrity chef Mario Batali (I'm a fan!) to showcase classic Hellmann's recipes with a modern twist.
In fact, they have a contest going right now to give YOU a chance to win a trip to New York City with a seat at the World's Longest Picnic Table celebrating Hellmann's 100th anniversary. You simply have to make Mario's twist on Hellmann's classic recipes your own. The Create A Recipe With Mario facebook app has more details about the contest. These are simple and classic recipes, it would be a cinch to enter!
I was stoked to give it a try so I created these Cilantro Salsa Burgers.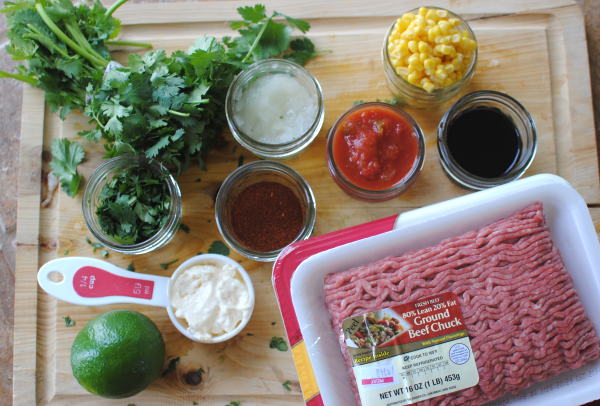 Theses are the ingredients. I have to admit that I've never considered putting salsa on my burger, but I love trying new things so I was all for it. The cilantro and lime really bring a new and spin on your every day burger. This is a refreshing burger to say the least!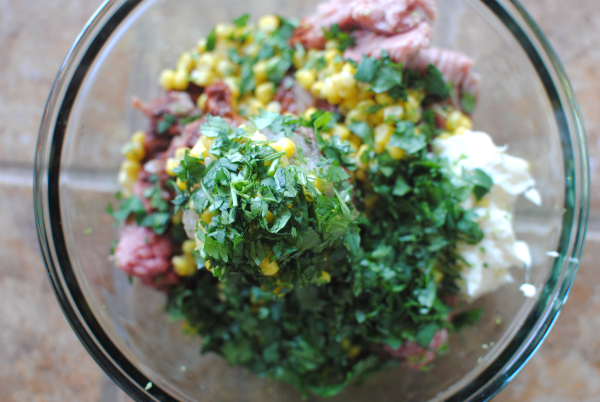 Getting your hands dirty is the best part! Or the worst, depending on who you are. I consider this fun and blissful. 🙂
Mario used ground chuck for his burger, but I used ground turkey to make them a tad bit more healthy.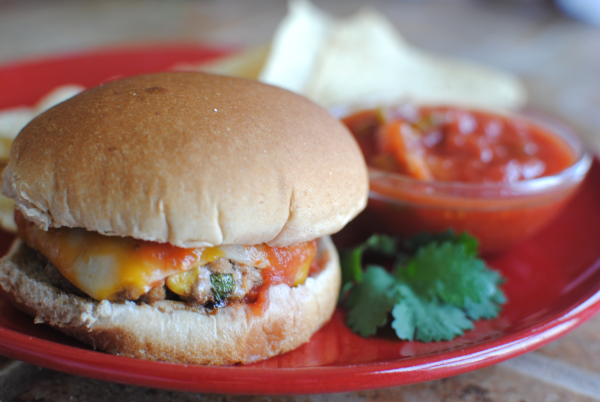 Viola! Easy peazy lemon sqeezey. My husband gave his burger stamp of approval so you can be sure they are good. I hope that you'll give these a try. And I also hope that you'll enter Hellmann's 100th Anniversary Contest to win the trip to New York City by creating your own twist.
Cilantro Salsa Burgers
Recipe Type
:
Burger, Main Dish
Cuisine:
Grilling, Meat, American
Author:
A simple yet tasty burger recipe made with salsa, corn, and cilantro!
Ingredients
1 lb Ground Chuck
1 lb Lean Ground Turkey
1/2 Onion, Peeled and Grated (makes for good juice)
3 tbsp Worcestershire Sauce
1/4 c Hellmann's Mayonnaise
1 tbsp Chili Powder
1/4 c Cilantro, Chopped fine
2/3 c Whole Kernel Corn
Zest of 1 Lime
Juice of 1 Lime
Salt and Pepper to Taste
1 c Salsa (for topping burgers)
8 Hamburger Buns
Sliced Cheese (optional)
Instructions
Heat a skillet or grill to medium high heat.
Combine all ingredients except for the salsa. Shape into patties.
Grill to desired temperature.
Top with 2 tbsp salsa each and serve!
Notes
For the corn, you can use canned if you like. Just make sure to drain it well. You could also use frozen, just be sure to thaw it. And of course, fresh will work too!
This is a sponsored post written by me on behalf of Hellmann's and Yummly. All opinions expressed are 100% my own.
Like this post? SHARE it!