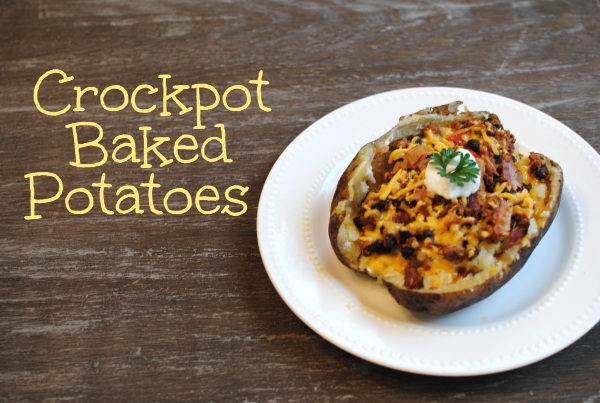 If I had a dime for every time that I've said Why didn't I think of that, I would probably be rich. Do you ever have those duh moments when something so simple jumps right out at you that could've made your life easier years ago? Oh yeah, I have those all the time. You see my brain is a little foggy after birthing my 2 children. It's permanent and I don't expect it to go away anytime soon. Or at least that's what I like to blame it on anyways.
I love me a big ole baked potato sometimes. I like to fill them with whatever I have in the fridge. Whether it's lunch meat, herbs, or just plain old butter I just love baked potatoes. They have a place here called McAllister's that serves the most gigantic potatoes. Those are my kinda potatoes.
Aldi had a 10 lb bag of russet potatoes on sale for only $.99 the other day. There were some that were huge so I thought what better to do with those than make baked potatoes. Then I thought about the hard labor of turning on the oven and waiting and waiting for the potatoes to cook. I did not look forward to that. So I got this bright idea to slow cook them in the crockpot.
I know. It's genius really.
I may be the last person on earth who figured this out, but I'm quite happy about it to say the least.
If you figured this out a long time ago that's great, just let me enjoy the moment.
So I set out to try this new (less labor intensive) method of baking potatoes in the crockpot. First, just LOOK at the size of that potato. It is towering over my Misto isn't it?
(Which by the way, if you don't have a Misto you should really get one! They are so awesome. If you use olive oil a lot, you may never need cooking spray again. You can find one here at Amazon for around $10.)
Back to the potato. It's large and in charge and I let my husband eat that one.
So I just prepared the potatoes much like I would the ones I put in the oven. Washed them, slathered them with olive oil, salted them….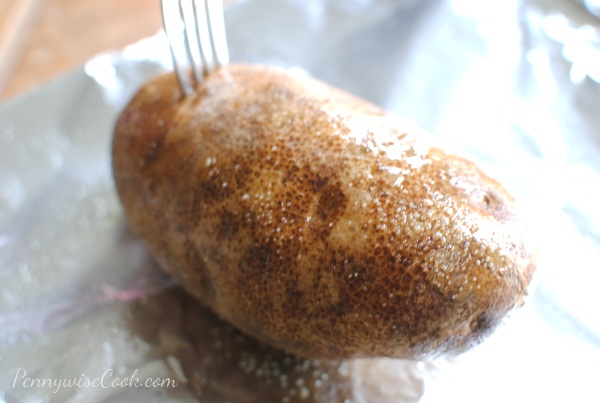 ….then poked them just like they were my facebook friend. (wow, that was bad) Then of course I rolled them up in foil and placed them in the crockpot.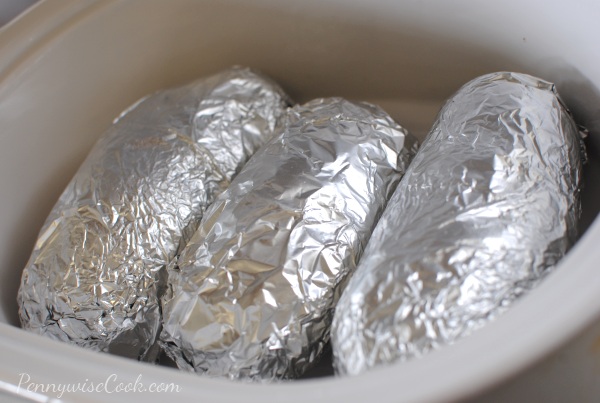 Look at those cute little potatoes all snug in the crockpot. This was so easy!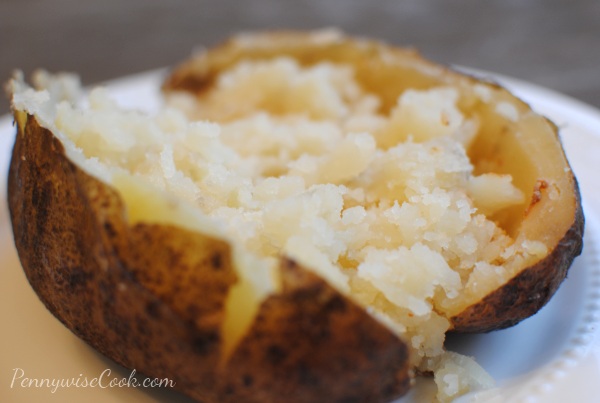 I'm not exactly sure how long that I cooked them because I was off doing more important things like Goodwill shopping or updating my facebook status. But I do think it was around 6 hours or so. This is what they looked like when they came out. PERFECT potatoes. And I didn't break a sweat or barely lift a finger.
This is a life-changing epiphany in my household. My daughter even asked why we were having dinner so early that night. I felt like super mom. I did make up a quick little chili to put on top of these and broke up some microwaved bacon to go on top.
And I also placed a chub of ground turkey (in foil too) in the crockpot with the potatoes to see how it would cook with them so I didn't even have to cook that and it worked! So that night, all I had to do was add a few things to the ground turkey to make the chili. The turkey did drip into the bottom of the crockpot, but since the potatoes were covered it wasn't a big deal. Not sure if I will always do that.
You don't even have to turn on your oven for a hearty baked potato. Cook them in your crockpot!
Ingredients
For the Potatoes

Russet Potatoes
Olive Oil (or Butter)
Salt to Taste
Foil for Wrapping

For the Chili

Not quite a whole lb of ground turkey
1/2 Can of Black Beans
1/2 Can Diced Tomatoes (or 8 oz can tomato sauce)
Chili Powder to Taste
Bacon Pieces for Topping
Shredded Cheddar Cheese for Topping
Method
To make the Potatoes

Wash the potatoes and rub them down with olive oil or butter. Salt and then poke holes in the top of each potato.
Wrap in foil and place in slow cooker for 6-8 hours on low or 4-6 hours on high.

To make the Chili

Brown the ground turkey in a medium skillet Add in the black beans, tomatoes and chili powder and simmer until warm.
Place on potatoes and top with bacon pieces and shredded cheese.
Notes
I would recommend cooking them on low just to make sure they get cooked really slowly and come out soft and fluffy inside.
Use whatever fillings that you see fit! The sky is the limit.
http://www.pennywisecook.com/crockpot-baked-potatoes/
Like this post? SHARE it!