You know those times when you go to a mexican restaurant and you get the chips and salsa before your meal? Why do they do that? I'm about to eat a taco salad swimming in yummy cheesy goodness and you start me off with a food trap that I will most likely fall into. Who can resist those warm and salty chips dipped in that cool, spicy salsa? And they are free to boot! Who wouldn't scarf down as many as they can.
On the bright side, you'll be so full that you can take half your taco salad for lunch tomorrow.
I'm a sucker for chips and salsa. Always have been, always will be. It's a very good snack that isn't too bad on calories. The key is to just eat a few and not ask for a refill of your chip basket. That is asking for a lot though, so I understand if you do. I probably will too.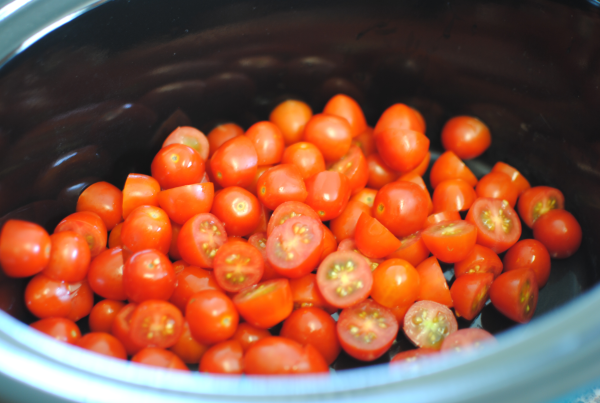 But check this out. Before you head to the Mexican restaurant, consider making up some of this homemade slow cooker salsa. It's quite the invention and makes having fresh salsa a snap. It's also great for parties. I made this for my Beach Party about a month ago.
It starts with grapes tomatoes that are halved. Plop them all right in.
You're practically done…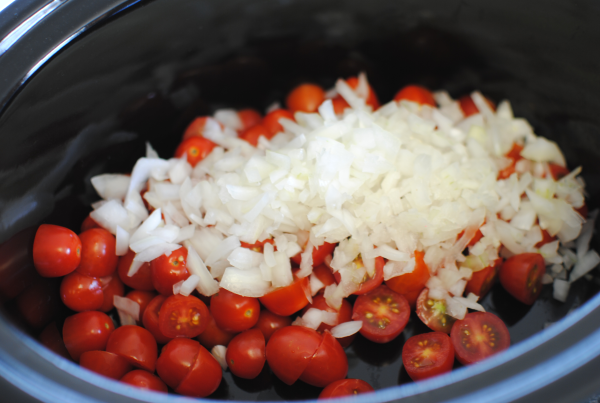 Add in a chopped small onion. What's salsa without onion? Chopped liver?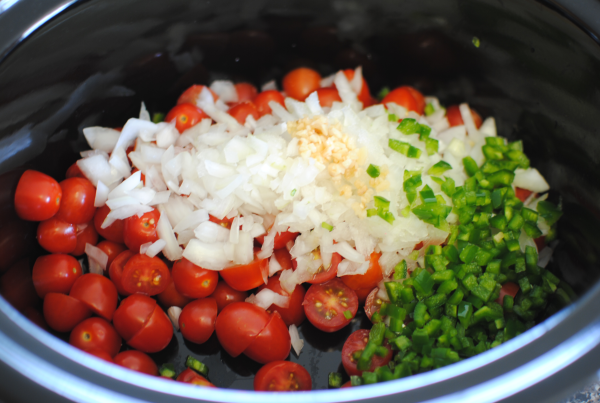 Then add the spicy part, jalapenos! I also added some minced garlic for more flavor. Throw in a pinch of salt too.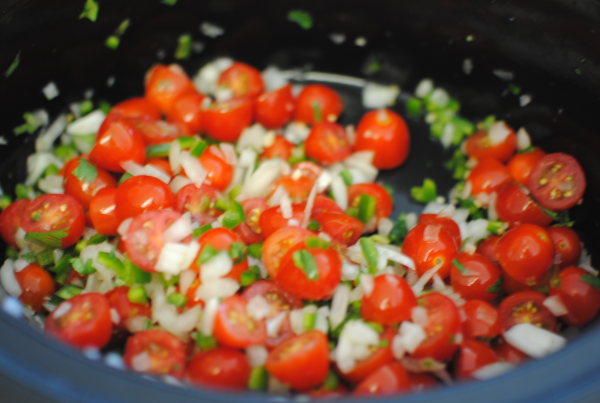 (Sorry for the blurry picture folks) Stir it all up and forget it for a while. When you're done, you'll have super easy yet fantastic salsa for your party or get together. Or heck, have it for lunch.
Recipe adapted from The Everything Healthy Slow Cooker Cookbook.
Recipe Type:
Appetizer, Dip
Author:
Make perfect salsa with little effort in your slow cooker.
Ingredients
4 cups Grape Tomatoes, Halved
1 Small Onion, Chopped
2 Jalapenos, (Chopped)
1 Tsp Garlic, Minced
Pinch of Salt
Instructions
Place all ingredients into slow cooker and smash slightly.
Cook on low for 5 hours. Chill before serving.
Like this post? SHARE it!