I was making my way through a gigantic sea of knick knacks at Goodwill one day when I came across a set of umbrellas that were made from bamboo. These umbrellas were so unique and somehow I was inspired. I said to myself, I'm going to have a beach party. One might say that I'm silly because we don't actually have a "beach" per say within 200 miles of us, but that wouldn't stop me. Here in Tennessee we have plenty of "beaches" at the lakes and rivers. Heck and even at some ponds!
And at my house, all it takes is a kiddie pool made of plastic to create a beach atmosphere.
That and a little imagination and scrapbook paper!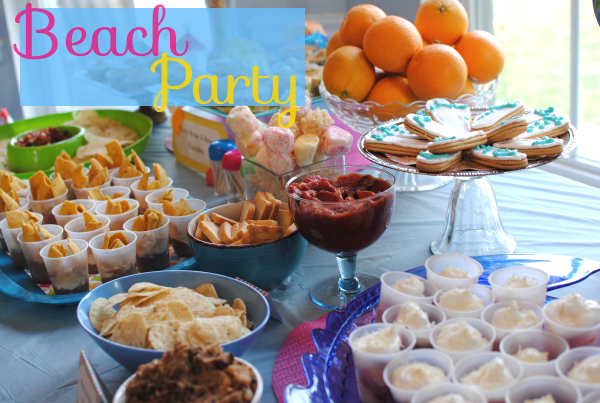 Those $.99 cent umbrellas that I got at Goodwill were just the beginning. I didn't even need a reason to have a party. I would eventually figure it out. Then a friend of mine (who was very preggo at the time) suggested that I have a Memorial Day cookout so that she could come but not have to have a cookout herself. What do ya know? It will be a Beach Memorial Day Party!
And then I realized that 2 days before that is my baby girl's 1st birthday. So I combine them and call it a day. This won't be a yearly thing as eventually Britton will not want her birthday combined, but for now it's alright.
I don't think I've ever had so much fun planning for a party in my life. Having pretty much full reign to do what I pleased made my OCD happy. (*I don't really have OCD, trust me. If you saw my house on any given day, you'd agree) Feel free to try these ideas at your party if you're planning a beach party. If you have a beach to have it at, even better! If not, you can still be just as cool with your plastic kiddie pool. My guests enjoyed it.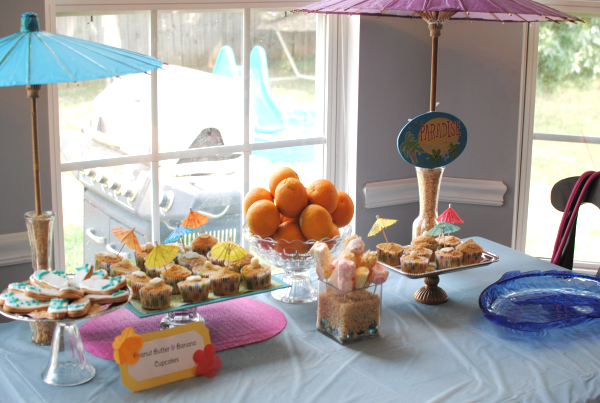 This is the beginning of my table when I first started setting out the goodies. SEE my umbrellas? Aren't they cute? I also picked up some super cheap trays at Goodwill every now and then when I came across them. Most of my trays cost me about $.49 each. Got them on half price day at Goodwill. See my blue fishie? Love him. If you have never been to your Goodwill….GO! Now! Most have days that are 1/2 price and Wednesdays and Sundays are $.99 day. Certain colors apply and I'm sure the sales are different everywhere but you really can find some awesome deals.
The pink mat is just a placemat that I got at Dollar Tree. Came in a pack of 2.
These are my little party signs! These may seem a little too detailed for some, but I think they were necessary. I made 4 different dips and I was pretty positive that I was going to hear "What kinda dip is this?" "What is this?" every time that someone walked up to the food table. I made these out of scrapbook paper and simple printed words on my printer! Cut them up and taped them together. The food signs are just folded in half to sit right next to each appetizer. Plus they add a splash of color and make the table fun.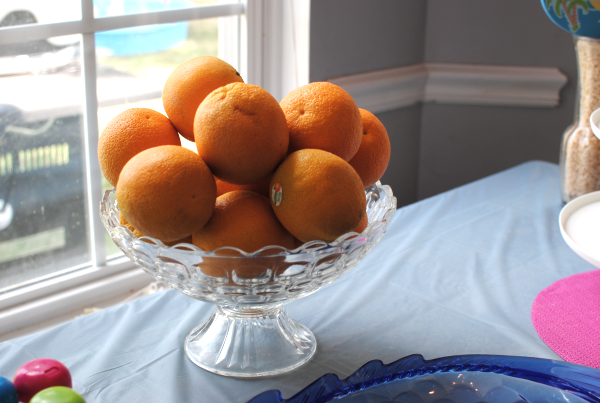 A very simple idea for sprucing up your table without spending a dime is displaying fruit. These Florida oranges really brought that citrus-y beach feel to the table. Plus, if a guest wanted to crack one open they could.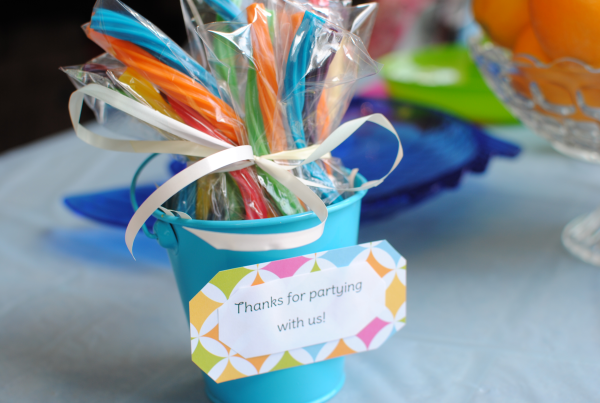 For party favors, I didn't want to go too childish since there were some mainly there for the cookout so I grabbed a bag of the Rainbow Twizzlers and packaged them in Wilton pretzel wrappers (a couple bucks at most stores) and tied them with a ribbon that I already have on hand. I got the cute little bucket at Goodwill for a quarter and finished it off with one of my cute little scrapbook paper signs.
I had this very pink basket just hanging around one of my girl's rooms so I enlisted it for lei duty. Placed a cute scrapbook paper sign on it and set it by the door so when guests came in they could get a lei and start feeling festive.
And you KNOW that I was on Pinterest while cooking up ideas for this shindig. I found this fantastic cocktail umbrella wreath idea over at cfabbridedesigns.com. Fit right in with my theme.
This wreath cost me about $2. NO JOKE. I got the pack of cocktail umbrells and the wreath shell at Dollar Tree. I bought 3 packages of the umbrellas but only really used about 1 package since my wreath shell wasn't that large. You simply open each cocktail umbrella and place it in between the branches of the wreath shell. Most are so tight that you don't need to glue them or anything. It made a great front door piece to go with my Welcome to the Beach Party sign!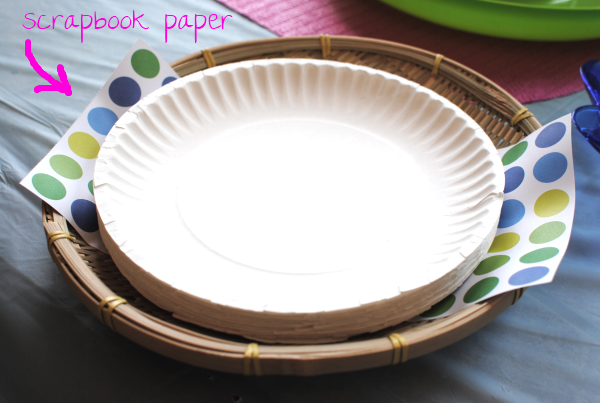 I know this may sound silly, but it's all in the details. These paper plates would have looked boring if it wasn't for my little piece of scrapbook paper spicing them up! Don't you agree? Just nod your head for me. It love how something so simple can make the table look so much fun.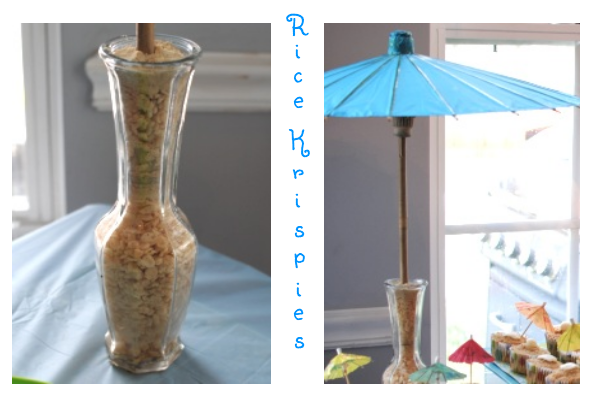 Here's another little idea that I just kinda made up as I went. The fabulous Goodwill umbrellas were fairly top-heavy and needed good support. I was trying to stick with the neutral sand color theme for their base and then BOOM. It hit me. I saw a box of Rice Krispies sitting out and began pouring them into a vase. Put the umbrella base in and a support was created. I even topped each vase off with graham cracker crumbs to complete the sand look to the umbrellas. Believe it or not the rice krispies did a decent job of holding those umbrellas up! I did add some clear glass beads into the bottom of a couple to give it a little more weight. Those also added a little bit of color to the bottom.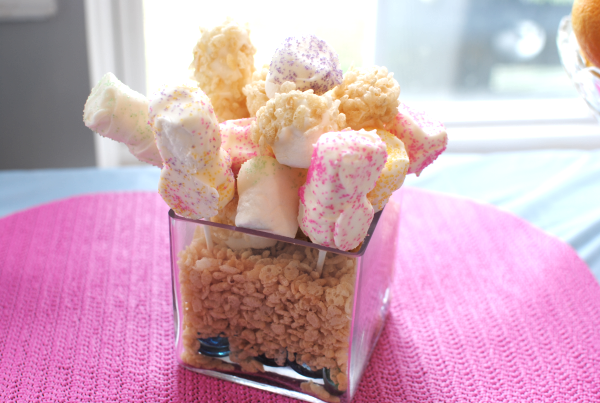 These little darlings were the result of a late night brainstorming session. Finishing up my cupcakes I was staring blankly at a bag of marshmallows. Not sure if it was the sugar high from the cupcakes, the sleepy low from the Tylenol PM or the excitement for the party the next day but something got my mind thinking about those marshmallows.
I began microwaving some white chocolate and busted out the sprinkles. I started dipping and putting them on sticks and made these random, but cute, white chocolate covered marshmallows. As you can see, I even dipped some in rice krispies. Not one of these were left when the party was over. And to think that they were almost not even created. I knew sugar highs were good for something!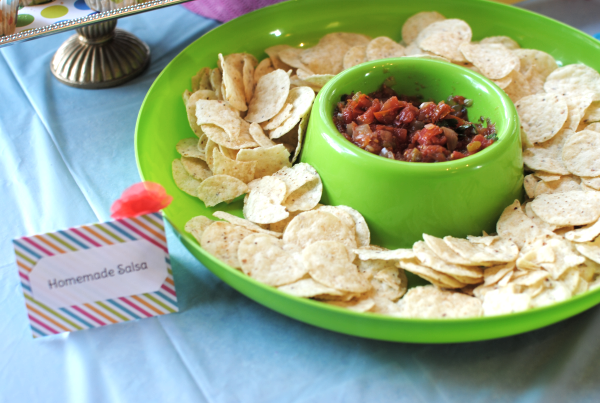 I made up some extremely easy slow cooker salsa (recipe to come!) and it was a great hit. I had to refill it twice. Got everything for it at Aldi for under $4 and the chips at Dollar Tree. I was pretty concerned about the quality of the tortilla chips at Dollar Tree, but not a single person noticed. They tasted just fine!
As you can see, I had a scrapbook paper sign by each appetizer. This Pizza Dip was my absolute favorite. I served it with the little melba toasts from Walmart ($.97) and that was a HUGE hit. I had planned to just serve it with tortilla chips, but at the last minute pulled these toasts out. Wish I had gotten more. They were so "fancy" and tasty at the same time! This Pizza Dip was really good. I'll be sure to post that recipe soon too!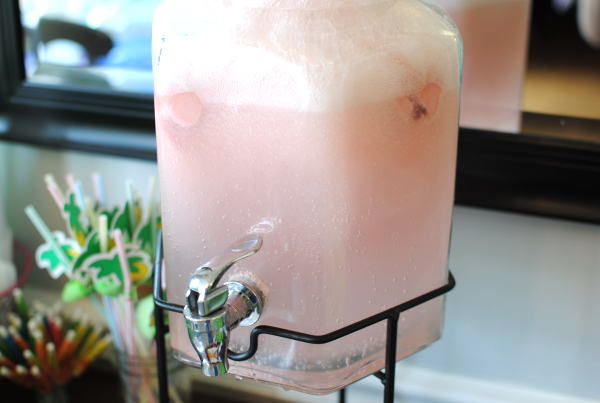 I kinda made up an idea for punch that I honestly didn't think was that great. That was until the guests tried it and they loved it. I poured about 2 2 liters of Diet Sprite into my pitcher and added in half a tub of raspberry sherbet. Then I added some frozen ice cubes of raspberries to give it more red coloring. This picture was taken before it got really dark. It was a simple punch, but many liked it because it was not over the top sweet.
I picked up a package of off brand Nutter Butters at Dollar Tree as well. Found the idea on Pinterest! Added my own little flair with some royal icing and even though they aren't perfect, they got the flip flop beach-y theme across. Not one of these were left at the end of the party. The kids especially liked them! Since the icing didn't cost me anything (had all simple ingredients on hand), these only cost me $1! You'd pay way more than that for store-bought cookies like this.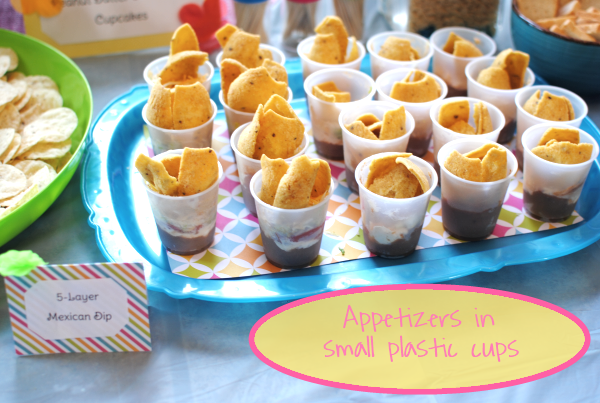 For another easy finger food, I used little bathroom plastic cups to layer 5-Layer Mexican Dip in and topped them with corn chips. I already had the refried beans, tomatoes, cream cheese, and the cups. All I had to buy was the lettuce ($.69), corn chips ($1), and the shredded cheese ($2.99). My tray was from Goodwill ($.49) and of course I couldn't go without a piece of scrapbook paper to make it beach-y!
The appetizer in small plastic cups is a great idea no matter what appetizer you're serving. They are a great way for guests to have everything they need in one place without a plate.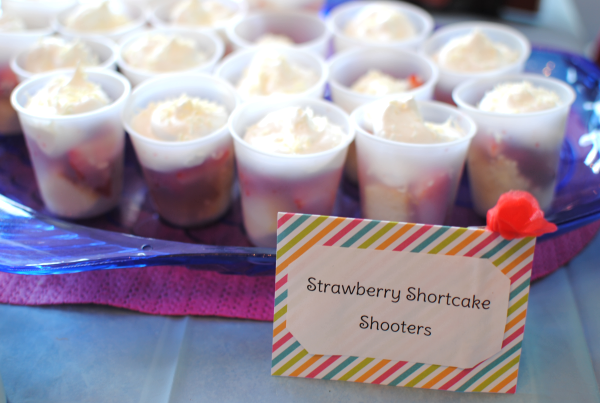 I used the same cup idea with these mini Strawberry Shortcakes. Aldi had their strawberries for $.79 and I grabbed a pound cake there as well for only $.79.  With some whipped cream I already had on hand, these Strawberry Shortcakes were an easy dessert. Each one had a couple of pieces of pound cake along with a few slices of strawberry and a dollop of whipped cream on top.
Easy peasy!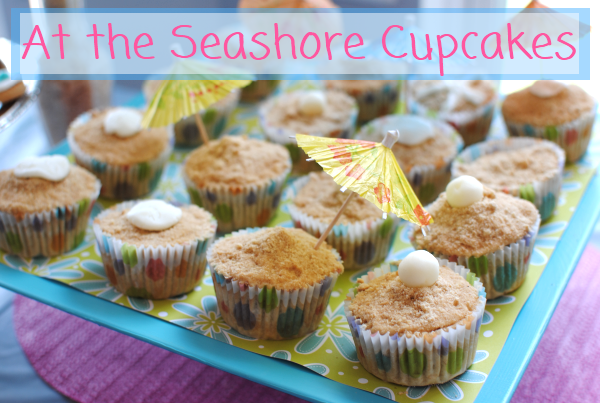 One of the highlights of the party were these At the Seashore Cupcakes. These were Peanut Butter Banana Cupcakes that ended up being a huge hit. I simply crushed a bunch of honey graham crackers and dipped the tops of the cupcakes in them to create the sand look. I topped some with sand dollars and oyster pearls made form candy melts and corn syrup, but quit making them because they didn't turn out too well and honestly, I got tired. I stuck a few cocktail umbrellas in a few.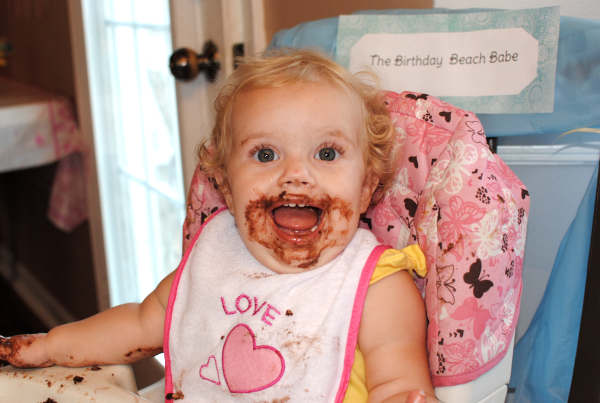 And any birthday party wouldn't be complete without a special seat for the birthday girl! This one is adorned with a Birthday Beach Babe sign and ribbon. As you can see, she really enjoyed her birthday cake and her beach party! We had a pool setup in the backyard where the kiddos had fun in the sun. Daddy grilled up some hot dogs and everyone snacked on
And just as a general tip for planning any party be sure to plan ahead. The one thing that I made sure to do when preparing for this party was to do whatever I could possibly do, ahead of time. Almost everything was made the day before except for things like the strawberry shortcakes that needed to wait until just before. This was a major time and sanity saver when it came time to party. I wasn't stuck in the kitchen the whole time and was able to enjoy Britton's 1st birthday party and all our friends having fun.
I hope that this gave you a few ideas for your next beach party!
Like this post? SHARE it!