School is either out or almost out in most places. Just because school is out doesn't mean that you can quit making lunches. The familiar I'm huuuuuuuuuuuungry will haunt you if you do! Well come to think of it, that will haunt you even if you do make lunches. Whether you work or you don't, it's always a good idea to make life easier by taking a few shortcuts.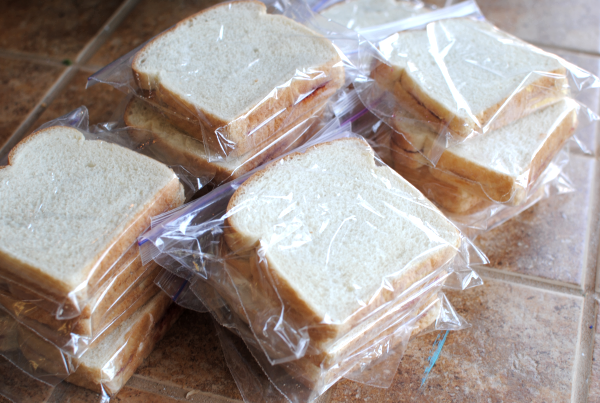 I had my precious Britton about this time last year. 1 year on Friday to be exact. In preparation for my hands being tied up breastfeeding or changing diapers, I knew that I had to take a few shortcuts in order to keep myself sane. So I decided to make up a bunch of PB & J sandwiches and freeze them for a quick lunch for Addie. This shortcut basically was a Godsend during the first 2 months. I was struggling with breastfeeding and getting used to those sleepless nights again so every little bit helped.
I've done some "mom math" for you to approximate the handiness of this shortcut.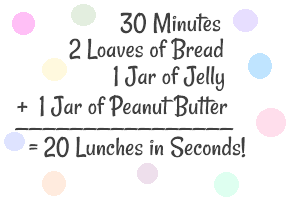 It's quite simple really. Everyone knows how to make a PB&J. Make a bunch at once and you're set for practically a month! This math only calculates for using 2 loaves of bread, but technically I think you could get 3 out of it. I had quite a bit of peanut butter and jelly left over after using up the bread loaves.

This is really the only word to describe how freezing PB&Js can make your life. I couldn't help myself from making a word with my sandwiches. Humor me please.
I don't think that I've ever been so excited about a counter full of bread slices in my life. They represent time to me. Time that I can be washing dishes. Time that I can be eating my own lunch. Time that I could be sitting for a split second. You know, the important things.
Here are some questions that you might have about freezing PB&J Sandwiches:
Do you make them any special way for freezing?
Nope! Make them like you would regularly enjoy your PB&Js and pop them into a ziploc freezer bag.
Do they become soggy when you heat them up in the microwave?
This depends. If you overheat them, the jelly side does tend to become soggy so it's imperative that you don't overheat them.
How long do you reheat them in the microwave?
Depending on your microwave, this would be around 12 seconds. It's better to have them a tad cold than overheated and soggy.
What if I am placing the frozen PB&J into a lunchbox for later that day?
The sandwich will simply thaw out on it's own and most likely be just right at lunchtime!
I'm actually on a freezer cooking journey right now. Not necessarily for dinners, but for breakfasts and lunches. There is just not enough time in the day to create elaborate dishes for those meals so why waste your day doing so? Take shortcuts to make your life easier during the day and then create something amazing for dinner instead.
Can't wait to share with you some other meals that I've stocked my freezer with! But this one just might change your life.
Like this post? SHARE it!