…you peel it off one layer at a time and sometimes you weep.
A quote from Carl Sandburg and boy he wasn't kidding! It's almost impossible for me to cut an onion without tearing up. Well it just depends on the circumstances. If the onion is very small, sometimes I can manage to chop without weeping.
But the tears aren't the only problem that I have with onions. My favorite grocery stores like Aldi and Save-A-Lot tend to have 2-3 pound bags of onions on sale a lot. I find that I need a couple onions for my meals during the week and then I don't use the last 4 or 5 and they go bad! Then the very next week, I'd need more onions and I'd grab another bag and the cycle continued. The frugalista inside me won't let me just buy how many onions I know I need so just buying a few isn't an option.
But those days are over folks. This is one of those "duh" tips that I'm sharing today. Even if you've thought about it, this might just make you wanna go ahead and actually do it.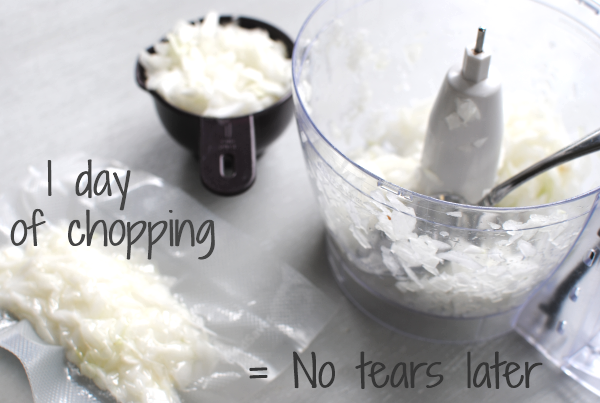 Go ahead, buy that bulk bag of onions and feel no shame. Know that not one of those onions will go unused. Know that you have weeks and even months to create a masterpiece with those flavorful veggies.
Bust out the food processor and pop your onions in. Chop them up to your liking and then place them in a freezer bag, making sure to remove all the air.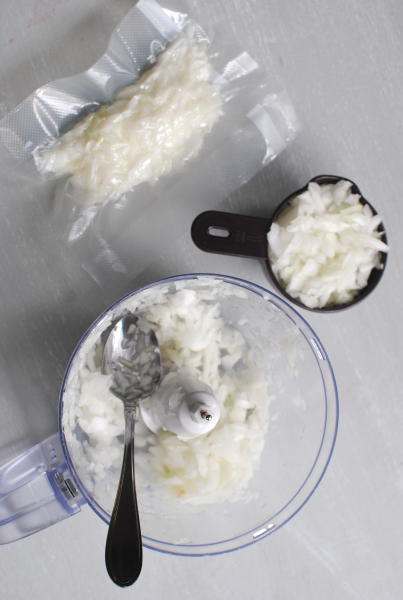 I measured mine into 1 cup portions since that's the frequent amount that I use. After my day 30 minutes of chopping, I ended up with 12 cups of pre-chopped onions ready to place into a tasty meal. I've already used a couple of the portions and I didn't even thaw them to use them.  Though some recipes may need them to be thawed.
So there you have it. A simple tip from a simple mind. Save your time, tears, and most of all MONEY.
And by the way, this would also work with anything other vegetable that you use frequently of course. 🙂
Like this post? SHARE it!