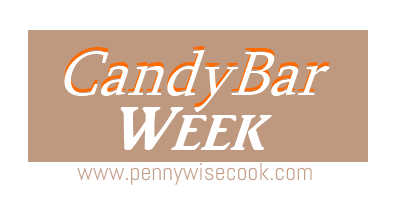 We're now on day number 2 of our CandyBar Week here at Pennywise Cook. It's great making cakes and cookies and casseroles and all, but there is great satisfaction that comes when you have a batch of homemade candybars laying around. I've been using them for more than just eating by themselves. I've thrown a few in homemade ice cream a couple of times. They also make great bribery tools for the kids. And the husband…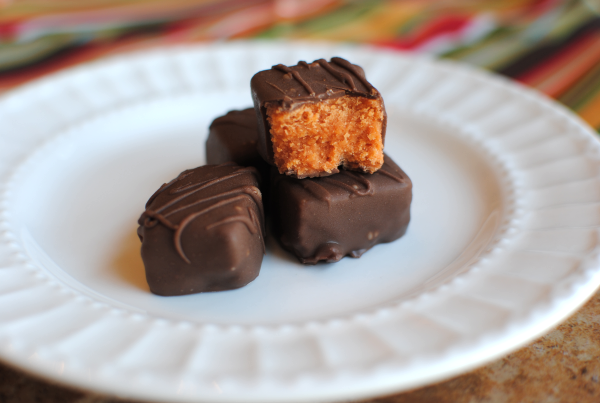 Today's homemade candybar is Butterfinger! Oh yeah, that's right. Peanut Buttery, orange goodness. You might just be surprised by what exactly goes into these.
It's possible that you may need to have a seat before you continue reading.
Almost everyone that tasted these could not guess what it was that these are made of. But they ALL said they taste exactly like the real thing.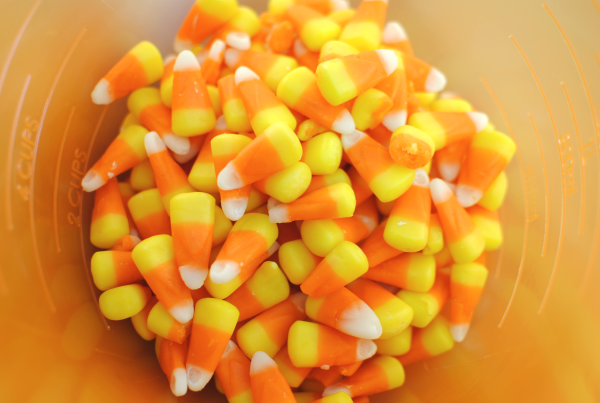 It all starts with the famous fall candy, candy corn. I'm a big fan of it myself, but just like coconut I know there are some who don't like it. It doesn't matter. If they like Butterfingers, they will like your candybars even though they contain candy corn. If you're concerned about whether that will make a difference, just don't tell them. It can be our little secret.
But you might just be dying to share this 3-INGREDIENT recipe with everyone.
It starts with 1 pound of candy corn getting all smooth and melty in the microwave. I was a little surprised, but this was my first experience melting candy corn. It was fun. I was surprised at how quick it went back to being firm again.
Here's a view of the melted candy corn awaiting the arrival of peanut butter. That's the next step once you get it melted. Stir in a 16 oz jar of creamy peanut butter.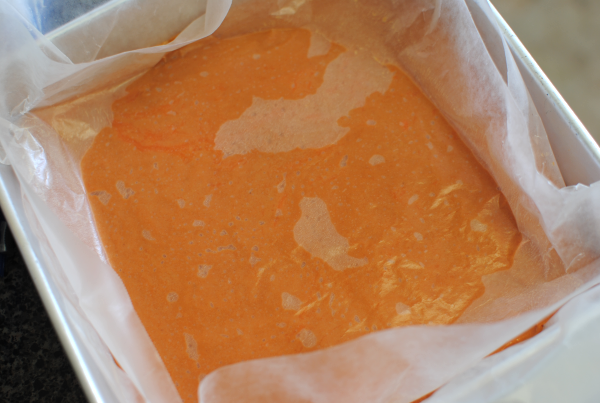 Then it's time to pour it into a square pan to freeze. I used another piece of wax paper to smooth the top out and create a perfect square. I didn't freeze it with the wax paper on top.
No need to freeze it long. Just let it get firm for about 15 minutes. You'll find that the candy corn really firms up well.
Cut it into squares. You decide how big. Just eyeball it. I tried to make mine smaller so I could eat more. 🙂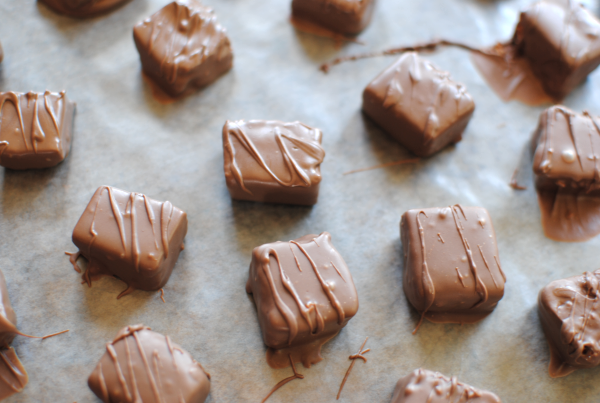 Then it's all a matter of using two forks to roll the squares through melted chocolate wafers. When I started, mine were really ugly y'all. But as I went on, I got better and they began to look fairly similar to a candybar. I even used my fork to drizzle little lines on the top to mimic the real thing. Not perfect, but I think it was a nice touch.
And they turned out SO good! They taste so incredibly similar that it's crazy. I was very impressed with them and I know you will be too!
Let me know if you make them!
Recipe adapted from Plain Chicken.
Recipe Type:
Dessert, Candy, Snacks
Author:
With just 3 simple ingredients, you can create your very own Butterfinger candybars!
Ingredients
1 Pound Candy Corn
16 oz Jar Creamy Peanut Butter
2 Cups Chocolate Wafer Melts
Instructions
Melt candy corn in the microwave on high for 1 minute. Stir then continue microwaving in 15-second increments until melted completely. Stir between each interval.
Stir in the peanut butter until smooth. Pour into a lined or greased 8×8 square baking dish. Freeze for about 10 minutes. Place wax paper onto a cookie sheet.
Cut into small squares. Melt chocolate wafers according to package. Using two fork, roll the square into chocolate coating all sides. Lay on wax paper and allow to firm. Freeze for about 10 minutes once all are coated.
Like this post? SHARE it!