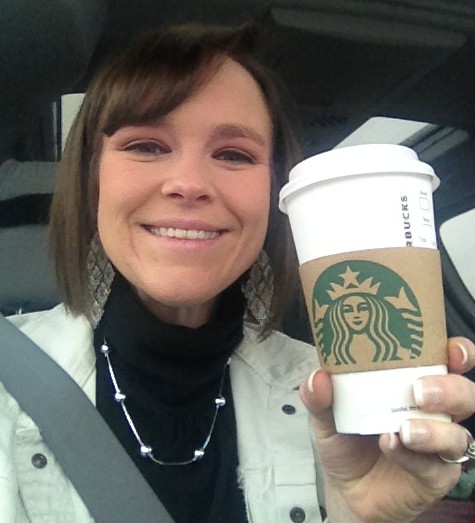 This is a genuine smile on my face y'all. Coffee makes me quite happy. I wouldn't consider myself to be an expert on coffee, but I can usually tell if it's a good cup or bad cup. You'd think that I would be one of those who enjoyed their coffee dark and bold.
I'm not.
I enjoy my coffee light and airy. And with lots of cream and sugar (not the real stuff; the Equal in all of its artificial glory). A single cup of heaven! Well, maybe 2 or 3 cups of heaven…
Since moving over here to Pennywise Cook last year, I haven't shared with you guys the power of Swag Bucks. This is in fact, my secret to getting my free Starbucks gift cards. Starbucks is not the only gift card you can get your hands on when you redeem your Swag Bucks. You can grab a gift card to Target, O'Charley's, even get CASH through Paypal with your Swag Bucks.
Love to shop at Amazon? Turn your Swag Bucks into FREE purchases at Amazon by redeeming for a gift card.
Let me give you the 411 on how it all works…
What ARE Swagbucks?
Swag Bucks is online community where you earn digital dollars called "Swag Bucks" which you can redeem for all kinds of things including merchandise and gift cards.
What do I have to do to earn these Swag Bucks?
Searching– this is by far the easiest way to earn. Simply login to the Swagbucks website and use their search bar to input your inquiry. They'll give you responses from Google and from Ask.com. So if you use those search engines already, then it won't be much of a change. During random searches that you perform, you will win Swag Bucks! They will ask you to input a special code from an image to confirm your win. Then they will automatically add them to your account. You can look up at your number and it will blink red.
Redeem Coupons– They have a section where you can print off coupons. For every coupon that you redeem at the store, you will earn 10 Swag Bucks. Just keep in mind that it can take up to 8-12 weeks for the Swag Bucks to post to your account.
Signing up for Daily Deal Sites– Swag Bucks will give you some for signing up through them for Daily Deal Sites or for making purchases. You must be a new user. The fine print will tell you the requirement to receive Swag Bucks.
Daily Poll– You can earn 1 Swag Buck each day for voting in the Daily Poll. Woohoo! 😉 Not much, but every little bit counts.
Games– Play games through Swagbucks and they will randomly award you during the games.
No Obligation Special Offers (NOSO)– Click through a bunch of offers that you may or may not want to participate in and each day you can earn 1 more Swag Buck for doing so. Once per 24 hour period!
Special Offers– These require a purchase usually at some point. Some may be free trials and other may require payment right away. This is guaranteed Swag Bucks.
Swag Bucks TV– This one is fairly new. Watch videos to earn Swag Bucks. Videos must actually finish in order to earn and multiple videos are required. There is a progress meter to keep up with your earning progress through videos.
Tasks– Perform simple little tasks for Swag Bucks such as giving them questions, finding business reviews and more to earn a little Swagbucks.
Trade-In– Trade in old electronics and they will give you Swag Bucks in return. This is a nice way to recycle and to earn something in return.
Surveys– Take surveys that you qualify for to earn Swag Bucks. Some earn more than others. Of course, it's free to do this.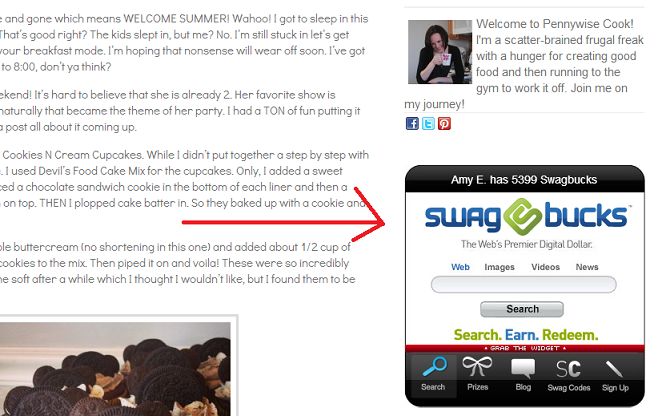 On my site, you'll find my Swidget. Here you'll easily be able to do a quick search (with the possibility of earning Swag Bucks!) without having to change windows or leave Pennywise Cook.
When I was expecting Britton, I stocked up on diapers by doing the Amazon gift card thing. I got over $50 in diapers for FREE! That same year, I did a lot of my Christmas shopping through Amazon with my Swagbucks. It has really been a blessing.
Fridays are MEGA Swag Bucks Day! That means that you can earn double or even triple the normal amount just by doing what you already do. It's at random but totally worth trying it out. I always do a few searches just to see how many I can score. So be SURE to get to swaggin' on Fridays y'all!
Ok, so what are you waiting for? If you aren't yet signed up with Swag Bucks, then you NEED to do so HERE.
Like this post? SHARE it!