When we purchased our home years ago, we planned for our little family to grow. It did indeed grow. We went from 1 to 2 sweet children and there were space sacrifices made. For instance my stockpile closet in the guest bedroom/office became my sweet baby's closet. Which also meant that my guest bedroom/office became the nursery.
Needless to say, we've become quite the masters at utilizing the space that we have fairly efficiently. And then one day after moving my stockpile into my kitchen cabinets, I realized that there just was not enough space. To be honest, I don't think that I would EVER have enough space for all the cool gadgets, cookware, and ingredients I'd like to store in my kitchen. But we do the best that we can to make room.
One our kitchen wall, we had a very lovely large black mirror hung over the buffet. This buffet used to contain a huge hutch for our china cabinet, but in the process of de-cluttering and minimizing it got the boot. Back to the mirror.
It was huge and made the wall basically unusable. With cans and pots (and my obsessive mug collection) popping out of the cabinets (almost literally), I decided it was time for a change.
Here's what I did! 3 simple shelves in place of the mirror gave me space and a place to show off some of my favorite kitchen treasures. I'm fairly sure that when I first brought this idea to my husband that he thought I was silly. But after it came together, he came around.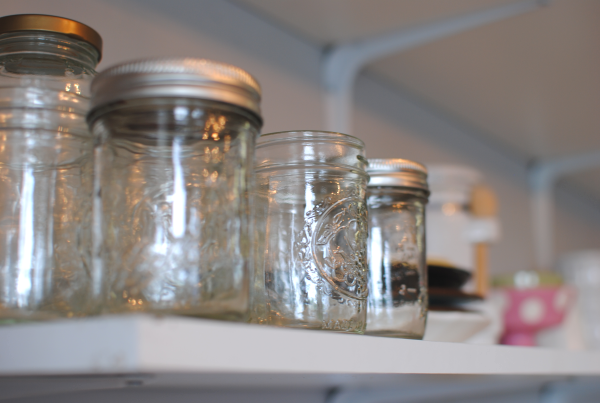 I love how the shelves made some of the most mundane things like these glass jars look sparkly and special. These would otherwise just be locked away in a dark cabinet and only seen when in use.
Or this trifle bowl. It's a beautiful vision now with it's showcase position on the shelves.
Even the canisters holding my tri-color pasta seem to demand more attention.
I enjoy looking at the things that once caused me much grief when I opened and closed my cabinets. And now my matching plate and bowl set are living in harmony in their cozy cabinet without the clutter of mix-n-match thrift store finds cramping their style. But little do they know they were Dollar Tree finds themselves! Shhh, we won't tell them…
For now we'll enjoy our extra space. For now that is, until my mugs take over and that is a very big possibility.
I hope that this might inspire you if you are becoming crowded in your own kitchen. Get creative, inventive, and don't give up!
Like this post? SHARE it!