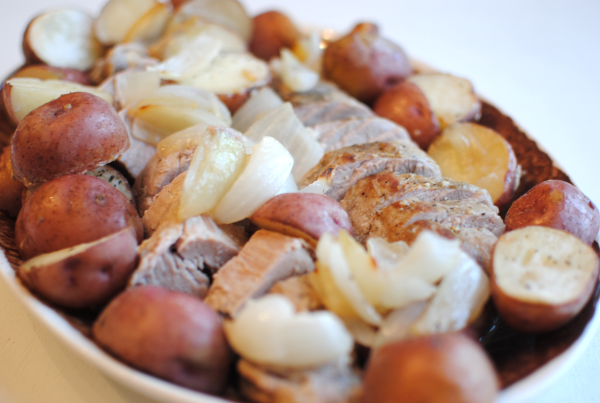 You don't have to have read this blog for very long to know that I'm a crockpot girl. My life would probably be over if mine were to die or perhaps if I lost it. Don't put the latter past me. I'm a scatter-brained mess. But there comes a time in every cook's life when you have to do things the hard way. You know, in the oven or on the stove. And that's alright, it's not the end of the world. And sometimes, you can even create some really great things in the oven.
Like this amazing pork tenderloin for instance.
Need something to feed a crowd and make an impression? A pork tenderloin might just do the trick. Surrounded by roasted potatoes and onions, this meal looks fit for a king. Or whatever you prefer to call your husband!
There are probably thousands of ways to make a roast on the internet. You'll find some wonderful recipes and you may even have your own tried and true recipe. This is my favorite version from the oven.
Sometimes I like to stuff my pork tenderloin with garlic and parmesan cheese. It breaks up the middle of the meat and adds a tenderness along with flavor inside. You simply butterfly the tenderloin and insert whatever tasty ingredients that you like. Now is also the time to season it up. I used rubbed sage, onion powder, and a drizzle of olive oil.
Confession: I haven't worked very much with rubbed sage before. I'm not familiar with it's pairings and flavor. However, the moment that I smelled it, I knew it would make a great seasoning for this pork and I was right! I really like rubbed sage.
Then use butcher's twine, or sewing thread like I did, and tie it back up. Now you're ready for browning.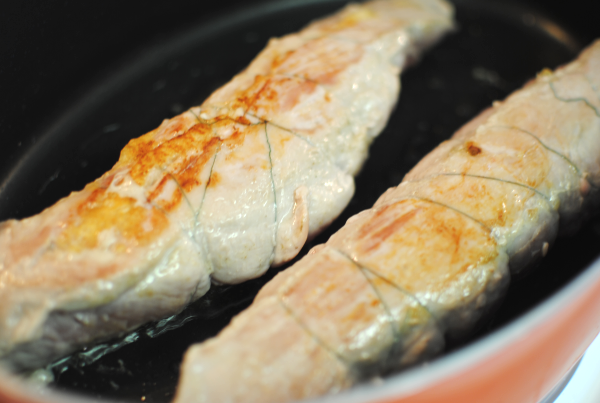 Some say that this is the key to creating a perfect pork tenderloin. Browning the meat on the outside before finishing the inside in the oven. I'd agree with them on that. Most meats just have a tendency to look more appealing browned.
Chop up your favorite veggies. The sky is really the limit here. I made mine with red potatoes and large chunks of onion. You could also do apples and sweet potatoes. Root veggies taste wonderful with the flavor of the tenderloin. Place the meat into a baking dish surrounded by your veggies. Season the veggies and drizzle with olive oil. Or you can add a splash of white wine. I did both!
Pop it into the oven and let it go.
Turns out perfect every time! So simple and plenty to go around. I also wanted to point out that you can easily make a tasty gravy to pour over everyone's slices! So simple and uses the juices from the roast with all that yummy flavor. See the recipe below.
Can you possibly go wrong with meat and potatoes?
| | | |
| --- | --- | --- |
| Oven Roasted Pork Tenderloin | | |
Author:
You just can't go wrong with mouth-watering, juicy pork tenderloin and roasted veggies!
Ingredients
2 Pork Tenderloins (Most come packaged in twos)
1 Medium Onion, Cut into large pieces
8-10 Medium Red Potatoes, Cut in half
4 Tsp Minced Garlic
4 Tsp Parmesan Cheese
1/2 Tsp Rubbed Sage
1/2 Tsp Onion Powder
Drizzle of Olive Oil
1/4 c. White Wine
Salt and pepper
For the Gravy:
2-3 tbsp flour
water
Instructions
Preheat oven to 400°.
In a small bowl, combine minced garlic and parmesan cheese. (Should be paste-like) Set aside.
To butterfly meat, cut a slit in the tenderloins lengthwise but not all the way through. Use a meat mallet to flatten each tenderloin. Fill each tenderloin with equal amounts garlic parmesan paste. Use butcher's twine or thread (or whatever you have on-hand) to tie up your tenderloins.
Heat a skillet oven medium high heat. Mix together rubbed sage and onion powder and rub the tenderloins down with them. Drizzle skillet with olive oil. Brown each tenderloin on each side for 4-5 minutes until just browned but not completely cooked. Remove and place into a large roasting dish.
Arrange potatoes and onions (or veggies of your choice) around meat. Season with salt and pepper. Pour white wine over the entire pan.
Place in oven and cook for 20-30 minutes or until internal temp reaches 165°. Remove from oven and let the meat rest for 10 minutes before slicing into pieces.
For the Gravy (optional)
Pour off the juices from the bottom of the roasting pan into a skillet. Heat and add flour, mixing well. Slowly add in water until desired consistency. Lower heat until thickened. Pour over meat.
Like this post? SHARE it!