I spend a lot of time in the kitchen. I really do. I love to experiment and create and when something turns out right, I feel a bit of accomplishment. Don't you? I also have times when I follow a recipe to the letter and it comes out completely inedible. When this happens, I like to think that my kitchen might just be part of some freak gravitational or atmospheric region that causes my recipes to flop. But when it comes down to it, sometimes recipes just don't work out. Of course it's usually something small like a little too much of something or a little too little. I consider this to be learning and it often times gives me ideas.
The cookies that I am sharing (found over at The Family Kitchen but originally from 101 Cookbooks) with you today are not flops, but they remind me of flops because they are basically a bunch of yummy ingredients that just so happen to be put together to create a really yummy cookie. Everything you want in a cookie and more.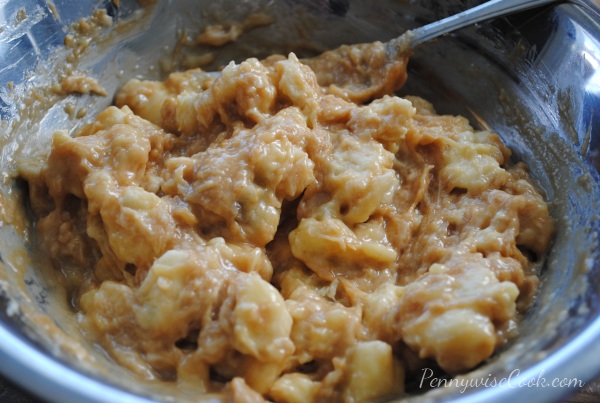 Just look at that bowl's contents. Couldn't you just dive right in?. Are you a peanut butter and banana fan? Oh you know I am! I'm starting to think about those Whole Wheat Peanut Butter & Banana Pancakes that I made. These cookies bring in a new ingredient that can only make those two even better- chocolate chips. There's even a little coconut hidden in there. But shhhh don't tell anyone. My husband still doesn't know that these have coconut in them. It's such a small amount and completely optional, but I think it adds a little something.
Peanut Butter & Banana Chocolate Chunk Cookies
Peanut Butter's best friend banana got together with chocolate to create a craving-busting cookie!
Ingredients
3 large, very ripe bananas
1/2 cup peanut butter (preferably natural)
1/4 cup canola or olive oil
1 tsp. vanilla extract
2 cups old-fashioned quick oats
1/3 cup shredded coconut (optional)
1 tsp. baking powder
1/4 tsp. cinnamon
1/4 tsp. salt
1/2 – 1 cup chopped dark chocolate or chocolate chips
Method
Preheat oven to 350?F.
In a large bowl mash bananas with the peanut butter, oil and vanilla.
In a different bowl stir together the oats, coconut, baking powder, cinnamon and salt. Add the dry ingredients to the wet ingredients along with the chocolate and stir until combined.
Drop spoonfuls of dough onto a parchment or Silpat lined baking sheet, or one that is sprayed with nonstick spray, and bake for 12-14 minutes, until just set.
Notes
If you want these to come out flatter more like cookie, then you'll need to flatten when placing them on baking sheet. They don't rise very much and pretty much keep their shape the whole time. Makes 2 and 1/2 dozen cookies.
http://www.pennywisecook.com/peanut-butter-banana-chocolate-chunk-cookies/
I was really impressed with these. They'll make regular appearances around here.
Like this post? SHARE it!