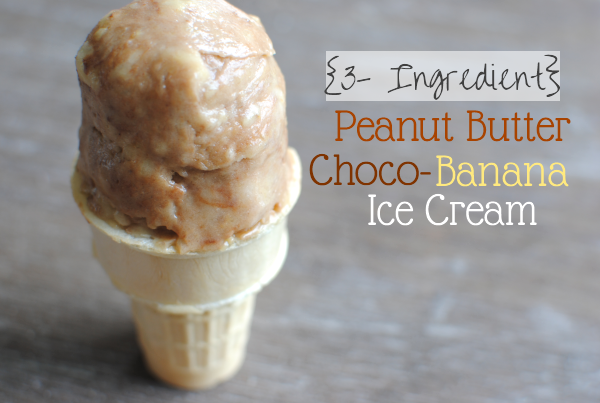 I am an absolute ice cream fanatic. There, I said it. It's in my top favorite sweets out there. I have issues practicing portion control when a tub is placed in front of me. So as you can imagine, I try not to get into that position very often.
A while back, I shared a recipe for 1-Ingredient Banana Ice Cream over at Saving with Amy. For ice cream lovers like myself, this is quite a discovery that makes eating ice cream a little less guilt-stricken. You see, all it takes to make a batch of creamy and smooth no-add sugar banana ice cream is to freeze a few sliced bananas and then pop them into a food processor!  I know, right?
I can just feel you saying SHUT UP!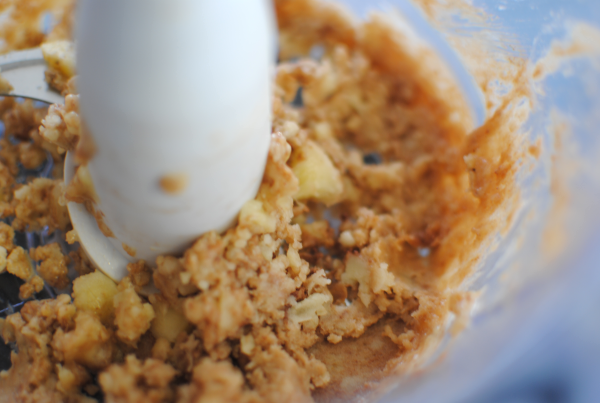 But around here, where there's banana you'll almost always find peanut butter. They go together like milk and cookies or Lucy and Ethel……..
….or perhaps me and ice cream.
I have a history of pairing peanut butter and banana together.
Exhibit A:
If you're a fan of the duo, those are some recipes you could try.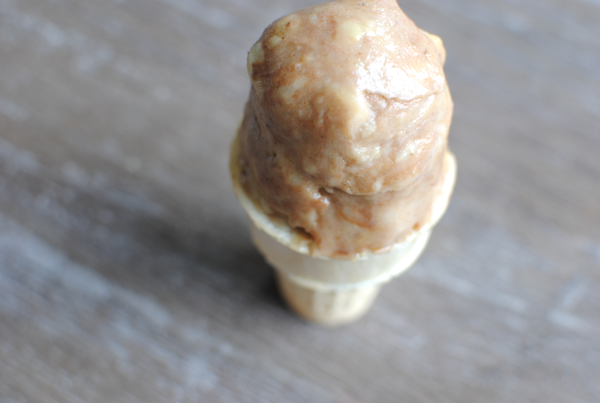 Not only did I add in some peanut butter, I also added in another fave of mine…chocolate! There is nothing better than the combination of those three in harmony taking a dip in my ice cream cone. So soft and creamy.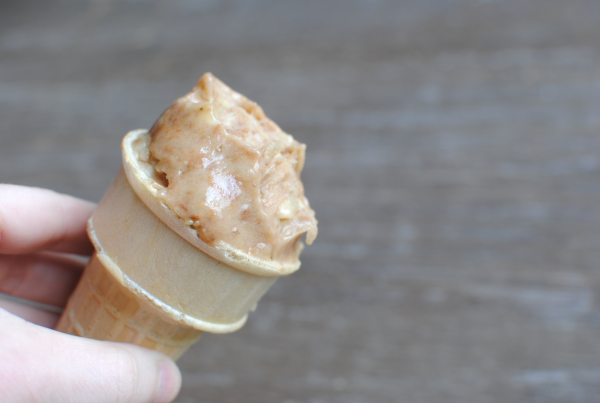 That's the stuff! And I just love that this is available whenever I'm ready. The bananas can be frozen for weeks or sometimes even months in the freezer and then popped out to be made into ice cream when you have a craving. And of course, you probably have a little powdered cocoa in the pantry along with some peanut butter.
| | | |
| --- | --- | --- |
| 3- Ingredient Peanut Butter Choco-Banana Ice Cream | | |
Recipe Type:
Dessert, Ice Cream
Author:
The base of this natural ice cream is simply frozen bananas. Add in some yummy touches like peanut butter and cocoa for an extra treat!
Ingredients
2 Cups Frozen Banana Slices
1 Heaping Tbsp Peanut Butter (creamy)
2 Tsp Cocoa Powder
Instructions
Place the bananas in a food processor and pulse until the bananas start to break up. Add in the peanut butter and cocoa.
Process until small beads are created then scoop into bowl and ice cream and serve!
Notes
I must admit that these are complete estimates for the peanut butter and cocoa. I did not measure exactly but I don't see how you could really mess this one up. 🙂
Like this post? SHARE it!