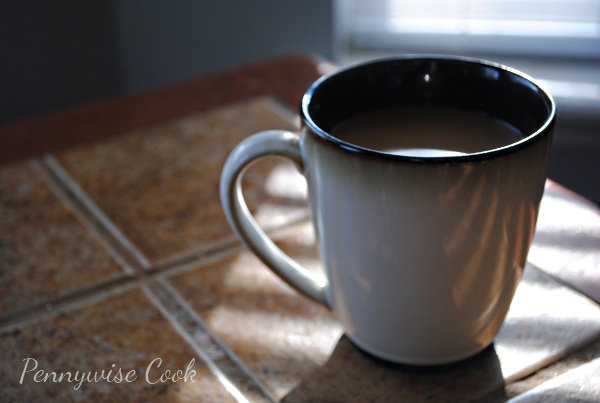 Most mornings I have to start with my cup of coffee. While I think it's mostly a mind thing, somehow my body thinks that I really need that caffeine to get my day started. Days that I skip it, I feel as though my days are off. We've been out of k-cups lately so I've been using my little refillable k-cup to make it. The funny part is that we had these grounds in a container for so long, I can't remember if they are regular or decaf (from when I was pregnant). So at this moment, I could be fueling my day with decaf. Heck, I'd never even know it!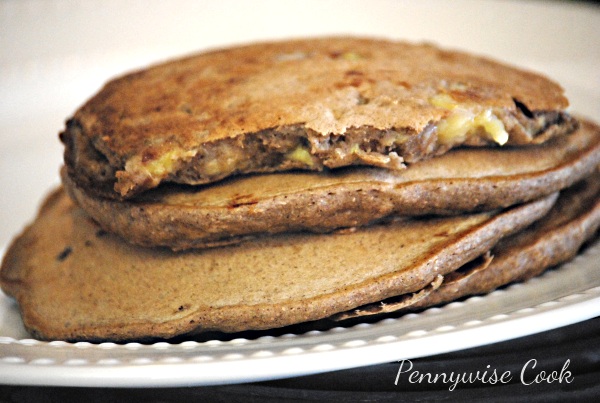 There have been some fabulous prices on bananas lately. Not sure if it's a bumper crop or what the case is but most stores (even Walmart) have come down significantly on bananas. Aldi holds steady around $.44 per pound most weeks. Kroger and Walmart have both had them for $.38 per pound recently around here and I can't help but find something to make with bananas when they are that cheap. They are so good for you and can be used in so many recipes. Like these pancakes for instance. Whole Wheat Peanut Butter and BANANA Pancakes to be exact! They are oh so incredibly yummy. I can't find the blog where I originally got this recipe, but I did find an exact replica over at Food.com.
These are very good at hiding their nutritiousness. I don't think that hubby or my 4 year old even blinked an eye at the fact that they were mainly whole wheat. I think the mixture of spices and creamy banana worked very well together and created a pancake that I think even Elvis himself would have approved of. It's amazing how much these taste just like a peanut butter and banana sandwich!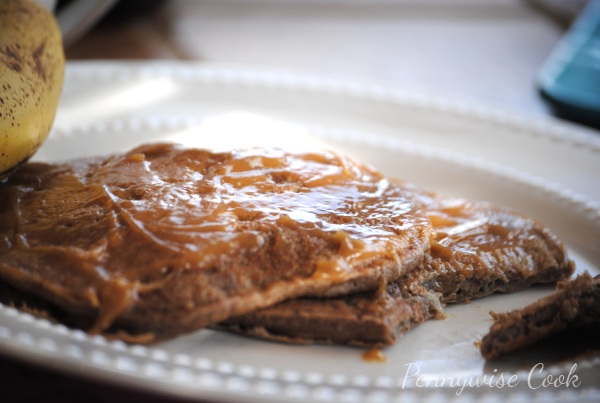 When it came the syrup, I wasn't really into cooking anything else. Around here, most mornings my breakfast consists of a cup of yogurt on the go. So I just mixed up some creamy peanut butter with my sugar free syrup to spread over top and it worked beautifully (thankfully). I will admit that the ingredients do seem like a lot of work. But for the occasional Saturday morning, I can totally see whipping up these scrumptious babies.
Recipe courtesy of Food.com

Whole Wheat Peanut Butter and Banana Pancakes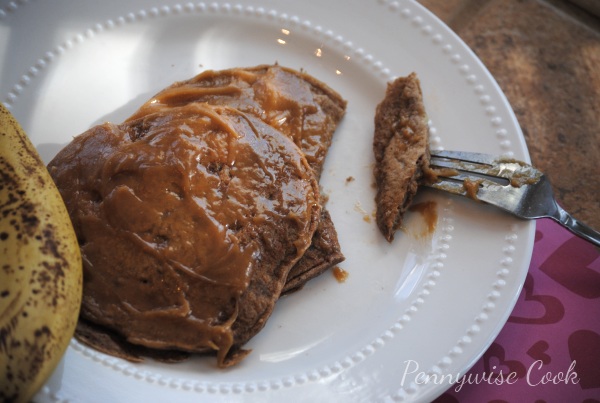 Pancakes similar to a peanut butter and banana sandwich with a healthy twist. Even the king would approve!
Ingredients
3/4 c. Whole Wheat Flour
1/4 c. All-Purpose Flour
2 Tbsp Splenda
1/8 Tsp Salt
1.5 Tsp Cinnamon
1 Tsp Cocoa Powder
1.5 Tsp Baking Powder
1.5 Tsp Vanilla Extract
1/2 c. Water
12 c. Skim Milk
2 Ripe Bananas
1/4 c. Egg Substitute
Method
Add the whole wheat flour, all-purpose flour, splenda, salt, cinnamon, cocoa powder, and baking powder to a bowl and mix well. Be sure to sift the whole wheat flour, it can get clumpy.
Mash up the bananas.
Add the rest of the ingredients to the dry ingredients.
Spray your griddle or skillet with non-stick cooking spray and heat to medium.
Cook the pancakes until they start to bubble and then flip. Cook for another 1-2 minutes and continue in batches until done.
http://www.pennywisecook.com/whole-wheat-peanut-butter-and-banana-pancakes-oh-yes/
Like this post? SHARE it!