Happy Wednesday! It's been a really trying last few days for me. I got back from my killer Blissdom Conference here in Nashville. That was a whirlwind, will be sharing about that later! Pretty much immediately, Britton has come down with something. The poor baby. I really hate when my girls are sick. Took her to the doctor today and we've got an ear infection with a side of tonsillitis. I'm just glad to finally know what it is and that we can fix it fairly quickly.
I think I'll need some quick dinners over the next few nights. Here's one in fact, that is healthy and quick at the same time and it is a favorite at our house.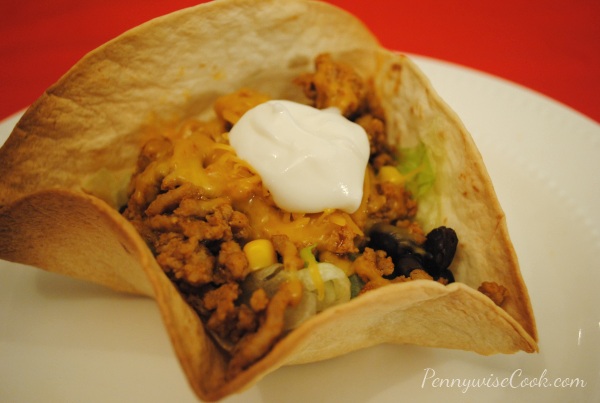 We love mexican food. I would marry it if I could. That's how deep my love for mexican food runs. Not only is it quite tasty, but my entire family likes it which makes my life easy. When I came across this awesome Taco Salad idea at Dashing Dish, I absolutely HAD to try it. Brace yourself, it's another duh moment. Take a flour tortilla, drape it over a jar or mug or can, bake for 8-10 minutes and voila! This isn't as much a recipe as it is a brilliant idea for a healthy taco salad.
Most taco salads are loaded with calories because the shells are fried. Yes, they are amazingly tasty but you pay for it. So when I saw this idea, I thought to myself my life is complete. At only around 100 calories for one tortilla , depending on your toppings you can have an entire taco salad for around 300 calories. Not to mention the fact that you can buy a package of flour tortillas for $1.00- $1.25 at most stores.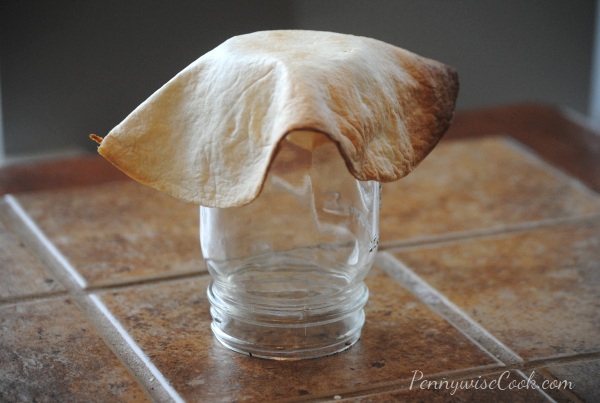 I used a mason jar to drape my tortillas over. I also took the corn out of a can (to use in my taco salads) and removed the label and used it too. I made a total of 6 of these in batches.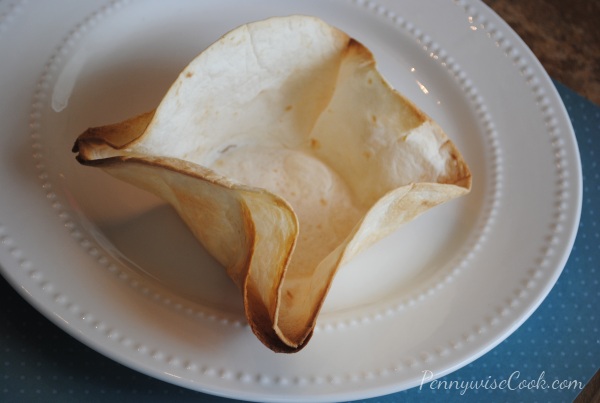 You do kinda have to finagle them to get them to stay in a pretty shape on the can or jar. Once they start to crisp in the oven, they keep their shape. This is what mine looked like when it came out of the oven. Super toasty and ready for the taco filling!
Thanks to Dashing Dish for this fantastic idea!
Quick and Easy Taco Salads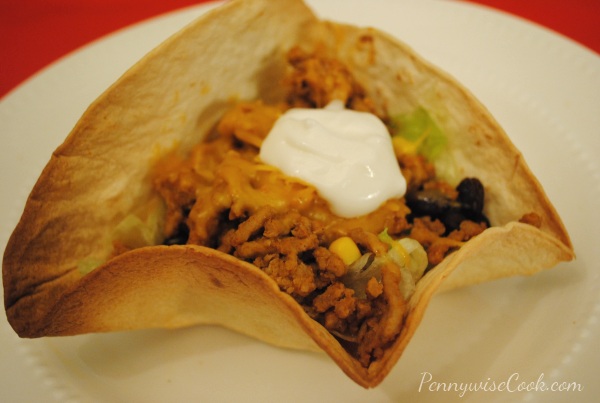 This super easy and quick option for a taco salad is also healthy and tasty at the same time!
Ingredients
For the Taco Shells

Flour Tortillas
Jar or Can (for draping tortilla over)

Suggestions for Filling

Ground Turkey or Extra Lean Ground Beef
Taco Sauce
Canned Corn
Black Beans
Reduced Fat Cheddar Cheese
Fat Free Sour Cream
Shredded Lettuce
Method
Preheat oven to 450 degrees.
Place jar or can on baking sheeting.
Drape tortilla over jar and cup to make desired taco salad shape. You may need to hold it there until right before you place it in the oven.
Bake for 8-10 minutes or until golden brown and crispy.
Place desired filling inside and you're done!
Notes
Tip- you can make these ahead of time and store in the microwave until ready to use. I make them in the morning and then fill mine for dinner later on.
http://www.pennywisecook.com/quick-and-simple-taco-salads/
Like this post? SHARE it!