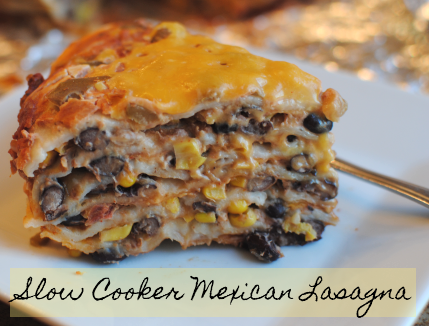 I'm not always a patient person.
Ok, I take that back. I'm never a patient person.
I know it's a virtue and all, but why did something so difficult have to be a virtue? Couldn't one of the virtues be to eat lots of chocolate? I could really follow that virtue without any hesitation.
The crockpot is my best friend when it comes to impatience. You all know how much I really love that thing. Popping dinner into the crockpot in the morning and not looking at it again until that evening when it's time to eat is truly the best way to go.
I got a hankering the other night.
A mexican hankering.
I honestly wanted this mexican lasagna that my friend Laurie has made for me a few times. It's really tasty and seemed easy enough to make. But since I'm cursed with impatience, instead of giving her a call or even a text message, I just made up my own in hopes to coming somewhere close to her's. I kinda had inklings on what ingredients might have been in it so I just went to work adding things as I thought would taste good.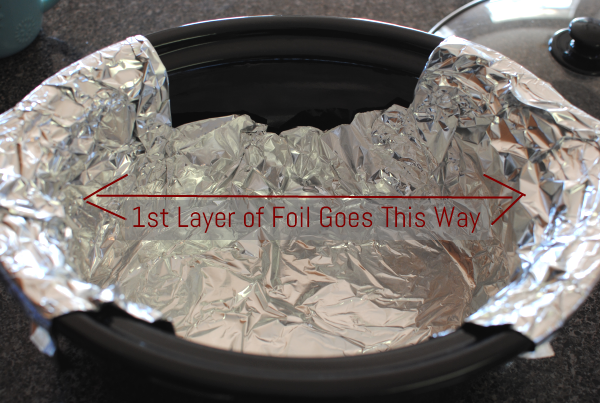 I want to introduce you to the Slow Cooker Sling. No, it's not something that you have to go out and buy at Bed, Bath, and Beyond. It's something you can make in 2 seconds. This is the easiest way to remove your mexican lasagna without mess. It also makes it super easy to cut into pretty pie pieces.
Take a piece of long foil LONGER than your crockpot and let the ends hang out. Push it into the crockpot and form it into all the nooks and crannies.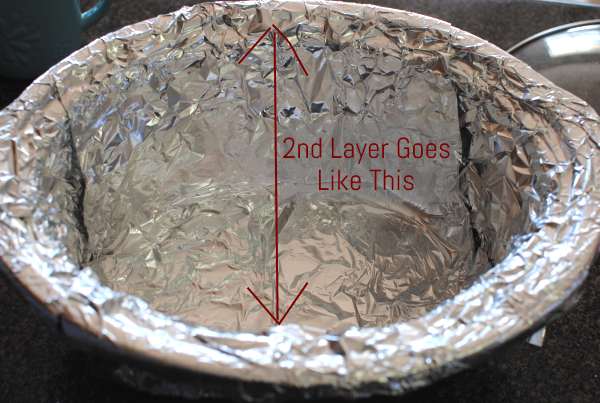 Then take another layer of foil and go the other way with it. Depending on your crockpot, it may not need to be as long as the first piece. Once again, form it into your nooks and crannies. We wouldn't want to leave any nooks or crannies out!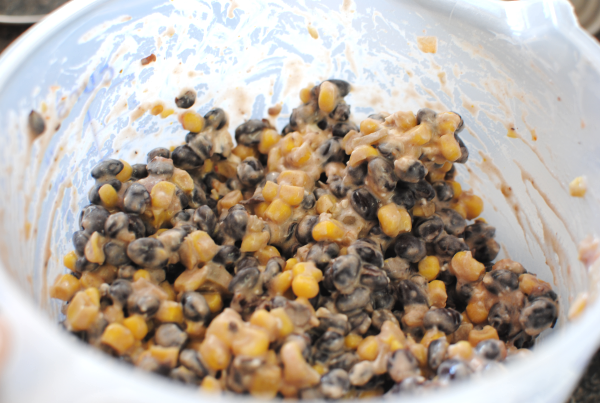 Then it's time to whip up the filling for our lasagna. This is SO simple and incredibly tasty. It took everything in me to keep from eating all the filling. Unlike some crockpot meals, you'll be happy to know that there is NO chopping and NO browning of meat in these steps.
That means it's really easy y'all.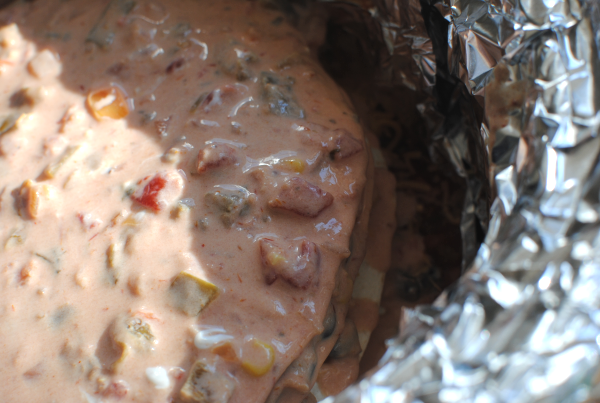 Flash forward past your laborious mexican lasagna stacking and it's ready for the easy part…waiting. But the waiting is easy! Go play outside or enjoy a movie, or go to work. You know, whatever you normally do.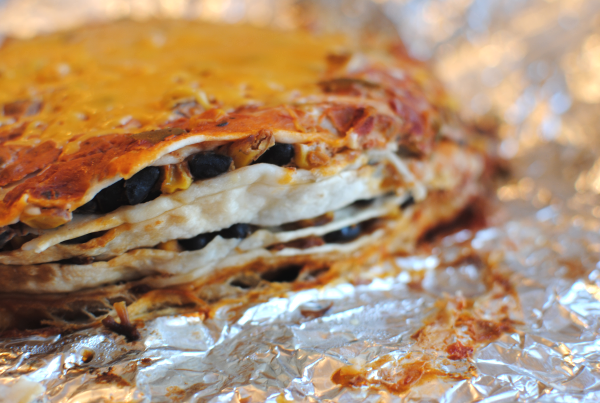 When you come home, plop a little shredded cheese on top to melt up and get ooey gooey. Then use your handy foil sling to pull it out.
NOTICE: Objects on foil are bigger than they appear! It may seem small when you first get it out, but I assure you, when you start to slice it into pieces it will be much bigger.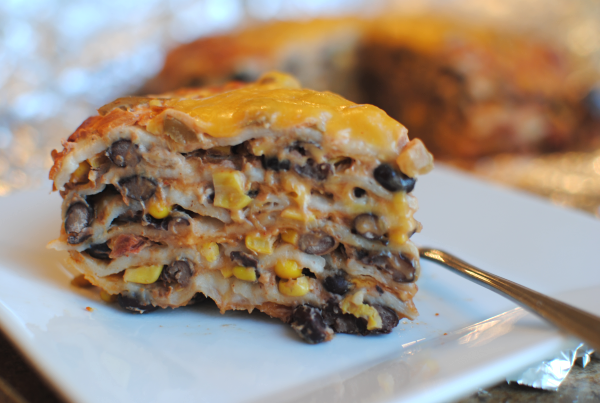 Yeah, like this big. Each and every single bite is heavenly.
When I first started making this I was considering calling it Mile High Enchilada Pie because it slices like pie. But when my daughter was describing it, she said "Momma, is this pasta?". That's how soft the tortillas get. They are almost like pasta which taste a lot like noodles and hence the "lasagna" name.
I don't know if this is exactly like my friend Laurie's but it's quite tasty anyways! We ate every single leftover and I will be making this one on a regular basis!
Let me know if you make this. I'd love to hear your thoughts!
| | | |
| --- | --- | --- |
| Slow Cooker Mexican Lasanga | | |
Recipe Type:
Main Dish, Slow Cooker
Author:
No cutting, no chopping, no browning, no baking. Just a simple slow cooker mexican lasagna for a busy weeknight meal!
Ingredients
28 oz Can Black Beans
4 oz Cream Cheese, Softened
1 can Corn
1 Jar Salsa, Divided
1/4 tsp Cumin
1/2 tsp Chili Powder
Dash Salt
6 Flour Tortillas
1 and 1/2 c. Shredded Cheese- Divided
1/4 c. Sour Cream
Instructions
Begin by creating your foil sling in the bottom of your crockpot.
In a large bowl mix the filling together- black beans, cream cheese, corn, 1/3 c. salsa, cumin, chili powder, and salt.
In bottom of the crockpot pour 2/3 c. salsa. Place 1 tortilla on bottom. Top with 1/2 c. filling, then 1/4 c. shredded cheese.
Layer another tortilla then 1/2 c. filling and another 1/4 c. shredded cheese. Continue until you have a total of 5 layers and 6 total tortillas. End with the tortilla.
On top, mix the rest of the jar of salsa with 1/4 c. sour cream to create a creamy mixture. Cover and cook on low for 6-8 hours.
When close to done cooking, top with 1/4 c. shredded cheese and allow to melt. Remove with sling and slice into pieces to serve.
Notes
You can adjust how hot or mild you make this by using your preferred heat salsa.
Like this post? SHARE it!