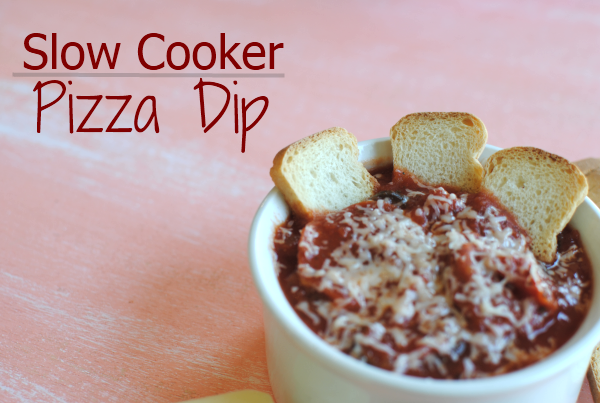 It's almost football season. Are you jumping up and down? Or are you grunting at the thought of all the money you'll be spending on beer and the time you'll lose with hubby because he's glued to the tube?
We are not sports folk.
My husband could care less about who is playing what or when the game is on. Frankly, neither am I. But there is one thing that I do enjoy and it's game food. I love making snacks and treats for the big game even though I probably won't even lay one eye on the TV set. I've even thought about having a mock football party just to make cute little treats.
Is that silly? Maybe, but not really if you know how much I love food.
This Pizza Dip is so easy. No crazy ingredients needed and your crockpot does all of the work. You may have seen recipes for Pizza Dip before, but most of them contain cream cheese. Nothing wrong with that, but often times it can add just a bit of fat and calories that aren't always necessary. I've adapted this from the Fix It and Forget It Lightly Cookbook.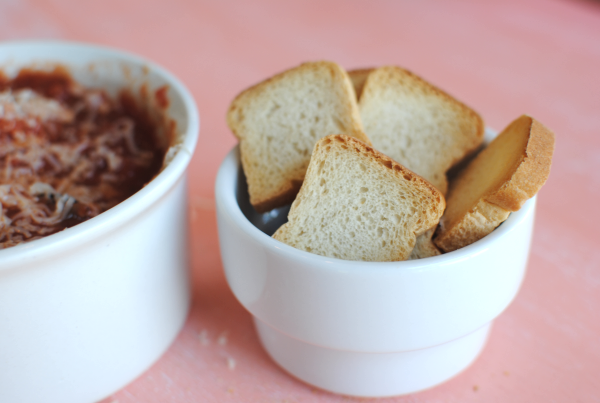 I made this dip recently for a gathering that I had. I had no idea what to serve it with, so I just grabbed some of those little toasts that you find in the deli section of the grocery store. They are like a $1 and are so incredibly cute! I think this is the absolutely best thing to serve this dip with. If you can't find them, I think that little crunchy bread sticks would also do the trick.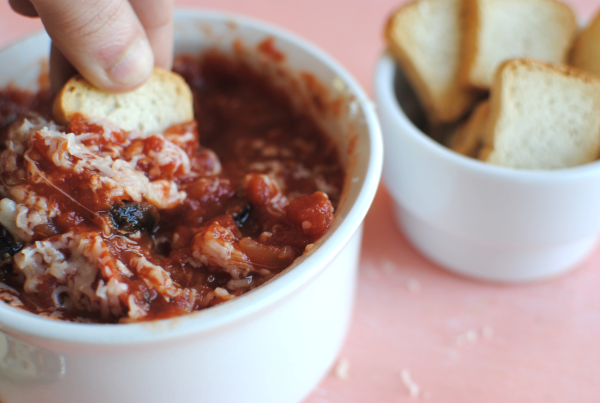 The best part about this dip? It's low in calories! Less than 100 calories per serving and you can feel absolutely no guilt for eating it. I even used turkey pepperoni to keep it lean. Top it with a little shredded mozzarella and it's just like eating a pizza but without all of that breading to weigh you down.
It's the perfect game day snack! Even if you're not going to watch the game…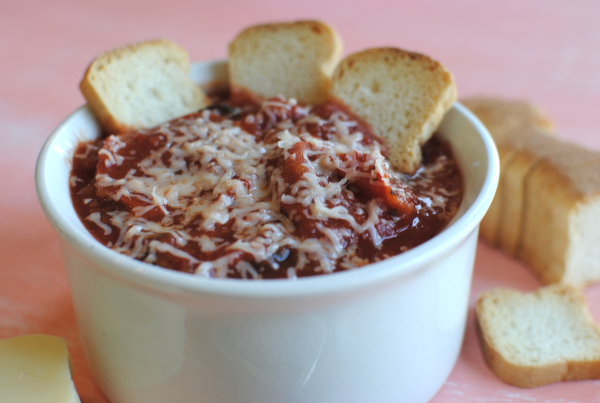 Recipe Type:
Crockpot, Dip, Side Dish, Appetizer
Author:
The satisfaction of pizza without all of the calories and perfect to make for a get together!
Ingredients
28 oz Can Crushed Tomatoes
1 Small Can Sliced Black Olives
1 c. Onion, Chopped
5 oz Turkey Pepperoni, Chopped (or the mini version)
1 and 1/2 tsp Italian Seasoning
1 Tsp Garlic, Minced
Shredded Mozzarella Cheese for Sprinkling
Instructions
Combine all ingredients in a slow cooker and cook on low for 2-4 hours.
Notes
My crockpot tends to overheat things, so I have even made this and put my crockpot on warm before and it worked just fine. It also made it possible for me to cook it longer without overcooking it.
Like this post? SHARE it!