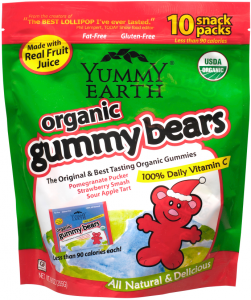 We're at the grocery store picking up our weekly groceries. There's but one thing that I can guarantee that my daughter is going to ask for….
Gummy snacks.
We're talking fruit snacks, fruit roll-ups, gummy bears, and you name it. She's going to request that we throw it in the buggy. Yes buggy. That's what we call them here in the south y'all. I don't usually mind grabbing some for her snack box at school or perhaps something to snack on in the afternoons. But sometimes, I have to draw the line. She would eat them every second of every day if I let her.
I often find awesome deals on YumEarth Organic Gummy Bears on Amazon so I was thrilled to get a chance to try these out for myself. And to let my little gummy connoisseur try them for herself.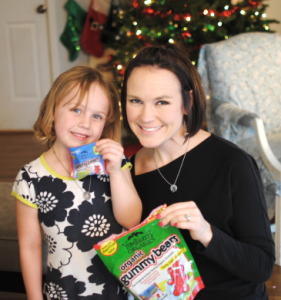 I didn't actually tell her that these were organic before she tried them. I didn't think it would matter and I was right! She loved them and so did I.
I will say that I was a little thrown off by their color. They seemed a little drab in color and not as bright as most gummy bears, but that didn't mean they tasted bad. They were still really yummy. They reminded me of a cross between gummy bears and fruit snacks. Gummy bears tend to be tougher and fruit snacks are usually soft. This was a blend of the two. Either way, it only took us a couple of days to go through our tasty bag of 10 packs.
Come to find out, YumEarth was founded by two DADS who were on a mission to share wholesome treats with their kids. YumEarth is dedicated to making delicious treats and sweets with all-natural ingredients, no artificial colors, no artificial flavors, and no major allergens, such as gluten, nuts and dairy. Pretty sure that most anyone can eat these and not have to worry about any funky ingredients.
There are tons of everyday stores that carry these. So be on the lookout at your store or find out where you can locate them here.
In the meantime, you wanna win a FREE bag of these for yourself? It's a GIVEAWAY!
____________________________________________________________________
YumEarth Organic Gummy Bear Bag Giveaway
Mandatory Entry: Leave a comment on this post telling me who you think would eat these if you won!
Optional Additional Entries:
This giveaway will end on December 20th at 11:59pm CT. I will contact the winner on December 21st and they will have 24 hours to respond. If I have not heard from them in 24 hours, I will name a new winner. This giveaway is open to those in the US only.
This review was made possible by Mom Spark Media. Thoughts are 100% my own. All prizing for MSM giveaways is handled by a third party unless otherwise noted. For this reason prize fulfillment can take up to 90 days after the winners information is received.
Like this post? SHARE it!