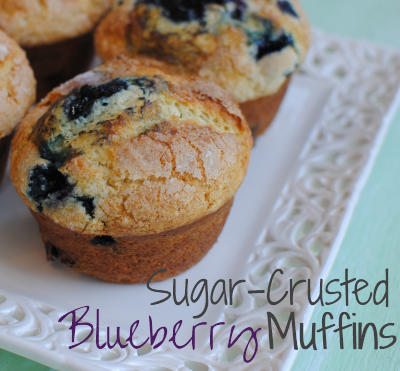 I've always been a fan of blueberry muffins. You'd never know it. I can probably count on 1 hand the times that I've ever made them from scratch. The box mixes just make life  so much easier don't they? Sure, but do they give as much satisfaction as saying that you "made them from scratch"? Sometimes it really just doesn't matter though. You're tired, the kids are hungry, you just want a muffin!  A very sweet friend of mine mentioned how much she loved Perkin's muffins the other day. There's one in my hometown where we visit often, but there aren't any around here.
Apparently their Mammoth Blueberry Muffins are to die for.
My sweet friend seemed like she needed a little pick me up, so I decided to check around for a copy cat recipe of their famous muffins and whip some up. To my dismay, none of them really seemed to sound like they actually mimicked Perkin's muffins. I decided to shy away from getting them just like Perkin's and come up with my own kinda muffins.
These turned out so absolutely fantastic! I really love when that happens. The stress of trial and error is surpassed with success. And boy were these a success. The breading part of these muffins is almost cakey thanks to a secret ingredient (which is not so secret anymore), sour cream. Not exactly something you'd expect to pair with blueberries, but tasty all the same. They boast a gooey blueberry jam filling and that's in addition to the blueberries themselves, dispersed among the batter. What could top these better than a coating of sugar that has baked into a crust on top of the blueberry goodness?
A smear of butter while they are still warm, maybe.
Oh and I forgot to mention that these are in fact, mammoth. The batter only made 6 of a huge pan of muffins. So you'll either have to make a second batch or prepare to share.
| | | |
| --- | --- | --- |
| Sugar-Crusted Blueberry Muffins | | |
Recipe Type:
Breakfast, Dessert
Author:
Ingredients
For the Muffins
2 cups flour
1 cup sugar
1 tsp baking soda
1 tsp baking powder
1 tsp vanilla
1/2 tsp lemon extract
2 eggs
1 c sour cream
1 cup blueberries
For the Filling
1/4 c blueberries
1/4 tsp cornstarch
1 1/2 tsp sugar
For the Topping
1/4 Tsp Sugar
Instructions
Preheat oven to 375 degrees.
Combine all muffin ingredients except blueberries in a bowl and mix well. Stir in1 c. blueberries.
Meanwhile, microwave 1/4 c. blueberries with cornsstarch and sugar for 20 seconds at 50% power. Remove, much and stir and then continue microwaving for increments of 20 seconds until thicken and jam-like.
Pour muffin batter in large, 6-ct muffin pan and create small wells in each.
Using a piping bag or ziploc bag, fill each muffin's well with filling.
Sprinkle each with 1/4 tsp sugar.
Bake for 22 minutes or until tops are golden brown.
Notes
Note- if you use smaller muffin tins, you may need to adjust your cooking times down.
Like this post? SHARE it!