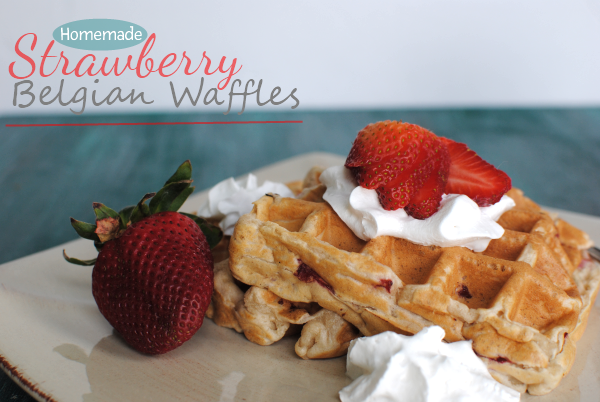 It is MAY! Where in the wide world of sports did March and April get off to? I remember thinking wow, it's already March and then BOOM it's  May. I'm mostly caught off-guard because both of my girl's birthdays are in May which means that mommy has a lot of work to do. My oldest's birthday is next week and I decided not to procrastinate this year by asking her cake preference a week before instead of, oh, the night before.
These are Mom Of The Year qualities, you know.
She chose My Little Pony with a Rainbow Dash emphasis. For those of you who don't know about these girly things, just know that I have a lot on my plate next week.
There's probably a chance that you'd like to know about those big, fluffy waffles up there. I could tell you many stories about when my mom used to make these for me. Without exaggerating, I probably ate 4 of these in one sitting when I was younger.
I could do the same now, but I try to practice self-control.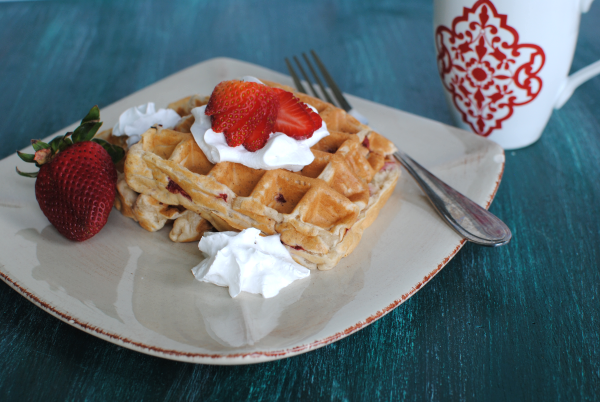 My mom always made them from a box. Do not get me wrong, that is normally the very method that I would use. However, since I do have a tendency to eat a redonkulous amount of them, I wanted to make sure and healthify them up just a bit.
These Homemade Strawberry Belgian Waffles contain no butter, oil, or eggs. You could use soy milk or almond milk in place of the milk and you'd have them dairy free! They aren't artificially made to taste like strawberries like some boxed mixes might work. They are literally made with fresh strawberries which give them a more natural flavor.
I almost called these Strawberry-Banana Belgian Waffles because I used bananas instead of the oil/butter/egg, but the banana taste didn't come through as much as I was expecting. Even the strawberry taste didn't become as potent as I would have liked. But if you're brave and don't mind a little sugar, you can add a tsp of sugar to the strawberries before adding them to the batter and I'm sure that it will bring out the strawberry flavor a little more.
I think my favorite part about Belgian waffles as opposed to regular waffles is the fact that they are super fluffy.
I love fluffy food.
Does that sound weird? I'm sure it does, but I don't care. I like whipped cream, cotton candy, mousse of all kinds, lighter-than-air angel food cakes. You name it, if it's an ounce away from losing it's gravity and joining the angels, then I probably enjoy eating it. The key to eating them, at least in my opinion, is to top them with fresh (or sliced and sweetened) strawberries and then give them a few squirts of Reddi Whip. I'm not sure that I could be in the presence of a Belgian waffle that didn't contain whipped cream. That's just the way that I was taught to eat them. I wonder what the Belgians think of me…
My waffle iron makes 2 of these at a time. With the amount of batter that I mixed up, I got 4 total. To help you know how many of these you'll get out of 1 batch. I'd recommend doubling the recipe if you have a hungry bunch.
Believe me, they won't eat just one.
Recipe adapted from Vegan Heartland.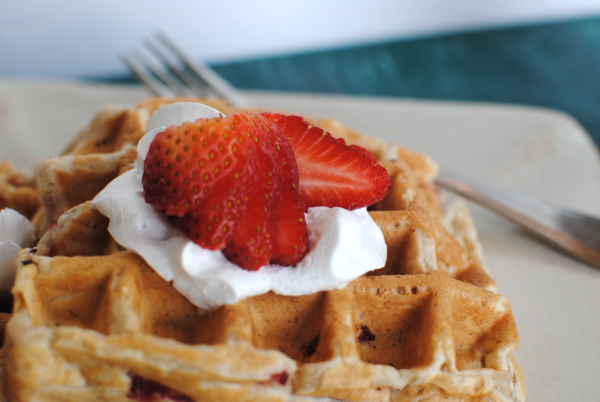 | | | |
| --- | --- | --- |
| Homemade Strawberry Belgian Waffles | | |
Author:
Strawberries add a summery flavor to sweet and tasty belgian waffles! You'd never know these were healthy. There are only about 150 calories per waffle!
Ingredients
1 c flour (I used about 1/4 c whole wheat)
1/4 tsp salt
2 tsp baking powder
1 tbsp maple syrup (I used sugar free)
1/4 c mashed banana (about 1 banana)
3/4 c skim milk
1 tsp vanilla extract
1/2 c fresh strawberries, finely chopped
Instructions
In a small bowl, stir together flour, salt, and baking powder until combined. Set aside.
In a separate mixing bowl, combine maple syrup, banana, milk, and vanilla. Mix on low until fluffy.
Slowly add the dry ingredients to the wet and mix well.
Then gently fold in the strawberries.
Cook according to your waffle iron's directions.
Optional) Top with fresh strawberries and Reddi Whip!
Notes
– If you wanted to bump up the nutrition, you could also add some flax to these. I used about a 1/4 c whole wheat flour in mine.
– You can use pretty much any type of milk in place of the dairy milk if you'd like. Even coconut milk. It's just a matter of your preference!
– These don't have a strong strawberry taste (what's in a name anyways?), so if you want to bump that up, add about a tsp of sugar to the strawberries. OR you could add the strawberries in the at the beginning and let them mix in well with the wet ingredients. The flavor would disperse a little more there. (I will be trying this myself)
– Or if you have any other suggestions for these, I'd love to hear! They are a work in progress. 🙂
Facts (per waffle not including toppings): 147 calories, 40 carbs, 0 grams fat, 5 grams protein, 417 gram sodium, 3 grams sugar.
Like this post? SHARE it!