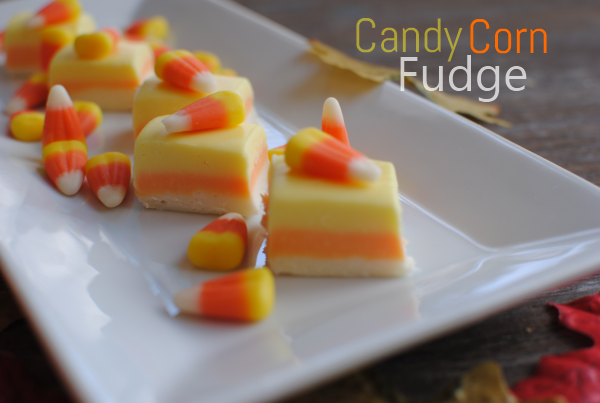 I realize that those of you out there who don't like candy corn are probably cringing right now. But luckily for you, this fudge doesn't actually taste like candy corn. And for those of us who do like candy corn, you can make some of this for your candy corn-hater friends and keep all of the actual candy corn for yourself. With Halloween just around the corner now, it's everywhere!
For Christmas last year, my husband got me 6 bags of candy corn. He got a stellar deal on them after Halloween and put them up until Christmas. He knows the way to my heart. 😉
True story.
And no, that's not all that he got me. 🙂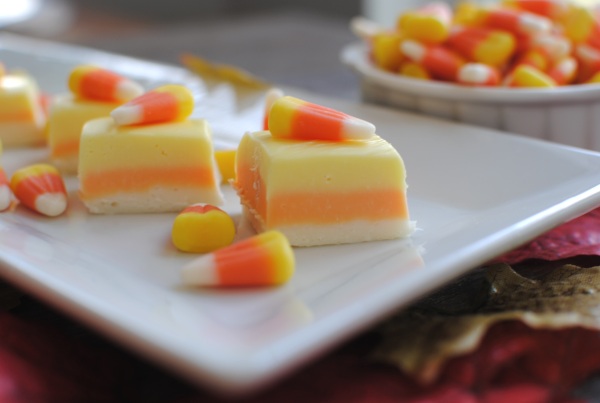 This fudge isn't for those watching their sugar. Or calories, or carbs at that. It's high in everything I'm sure, but is a worthy splurge for the candy holiday. It also looks quite festive and makes a great party snack!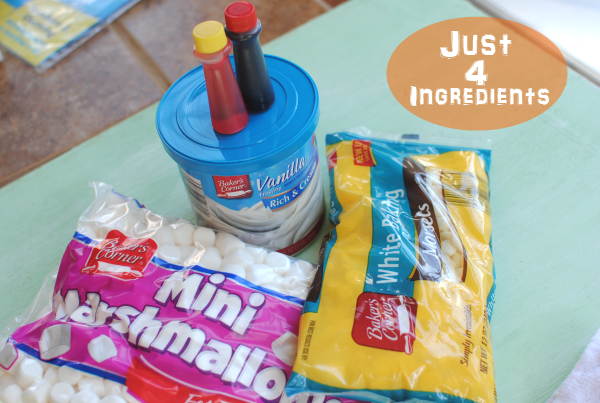 I can't help but love this recipe because it only contains 4 simple ingredients. Needless to say that the steps are simple too! In total, it took me about 30 minutes, 1 dirtied mixing bowl, a dirtied measuring cup, and a major sugar high to make this.  When I say major sugar high, I mean I ate waaaaay too much of the ingredients while making it.
Learn from my mistakes and don't do it if you want to eat any of the actual fudge. 😉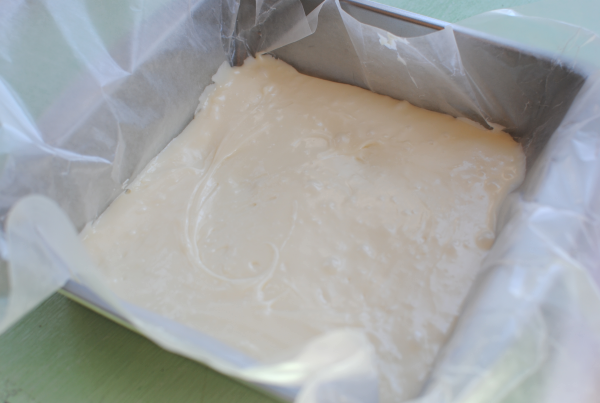 That's a mix of white chocolate chips, marshmallows, and vanilla frosting. Who wouldn't want to dive right into that?! This picture begins the layering process which is much easier than it sounds.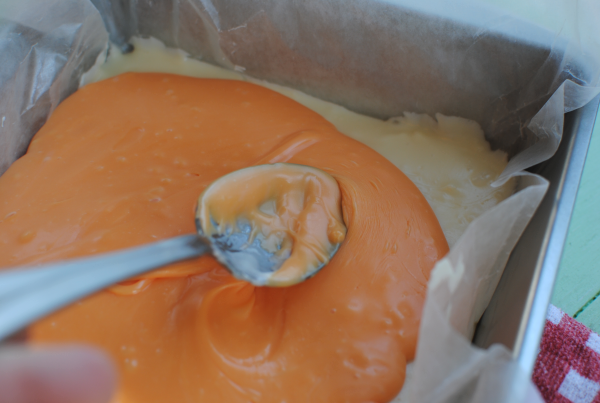 We've given the white a little time to cool and set and here comes the orange layer! It happens pretty fast.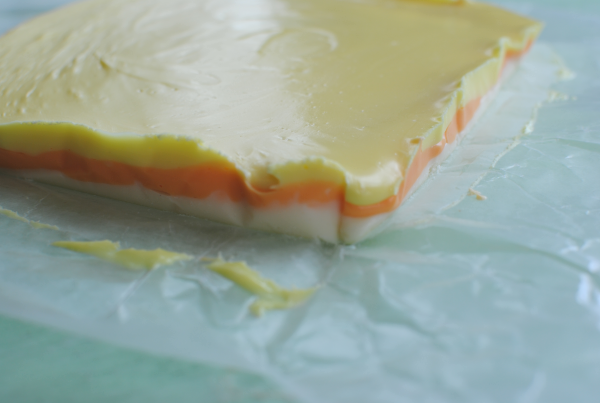 And after finishing up the layering, you'll be proud that you decided to use wax paper because it makes it super easy to remove from the pan and cut into perfect little fudge pieces!
This would be a great fun fall snack to make with the kiddos. Stirring in the coloring is the best part, aside from licking the spoon. I've always got an eager spoon-licker around here.
Here's how to make it!
Recipe Type:
Dessert, Snack
Author:
With just 4 ingredients, you can create fun and festive fudge that mimics the look of candy corn!
Ingredients
1 Package Mini Marshmallows
1 Tub Vanilla Frosting
1 12 oz Bag White Chocolate Chips
Orange and Yellow Food Coloring
Instructions
Line a square baking dish with wax paper.
st Layer:
In a large mixing bowl, place 3/4 c. white chocolate chips, 3/4 c. mini marshmallows, and 1/4 c. + 2 tbsp vanilla frosting. Microwave on 50% power for 30 seconds. Remove and stir. Return to microwave and heat for another 30 seconds. Stir and pour into bottom of baking dish. Smooth out to all of the edges. Place in refrigerator to set for 10-15 minutes.
nd Layer:
Place the same ingredients in bowl and microwave as you did the other layer. Add orange food coloring to melted mix until you reach desired color. Pour onto cooled and set white layer. Smooth out to all edges and return to refrigerator for another 10-15 minutes.
rd Layer:
Place the same ingredients in bowl (use up the rest of the white chocolate chips, but you may have some leftover marshmallows and frosting) and microwave as you did the other layer. Add yellow food coloring to melted mix until you reach desired color. Pour onto cooled and set orange layer. Smooth out to all edges. At this point, I place mine in the freezer for 10-15 minutes for it to set really well.
Using wax paper, pull out from dish and cut into squares. Store in refrigerator to keep firm.
Like this post? SHARE it!