If any of you, or those that you know, are being affected by Sandy, we are praying for you. I hope that you are safe. This is some crazy storm.
When it comes to chili, there are those that eat their chili with cornbread and there are those that eat theirs with corn chips. This might just spark a controversy. It's hard to get someone to cross the line between chips and bread when they have been eating their chili this way for years.
And then of course there are those who theirs with saltines or perhaps the Ohioans who eat theirs oven spaghetti. However you do prefer to eat your chili, I want to suggest that you try this awesome and SIMPLE recipe for Chili Cheese Pizza.
You may just have to convert to be a corn bread eater to enjoy this pizza. But I promise you, you won't miss those corn chips.
This recipe starts by mixing up a very simple cornbread dough that will be the crust of the pizza.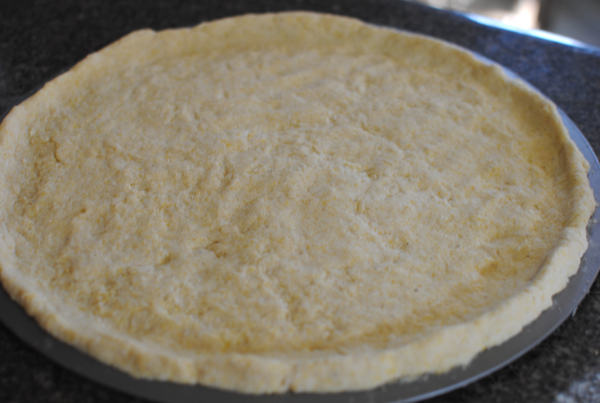 Roll it out and onto a pizza pan. The key to keeping all of the chili inside the pizza is to make ridges around the edges. Just take your fingers and squish up a ridge that goes all the way around.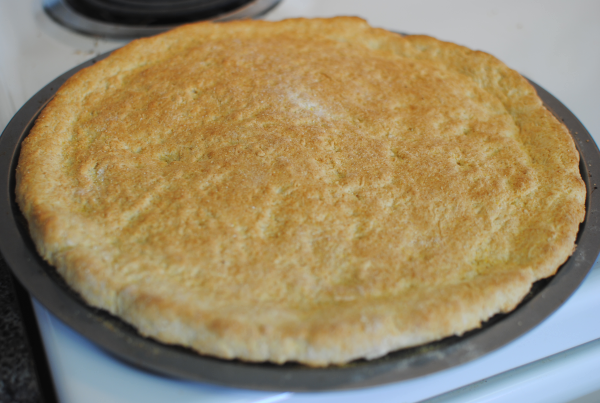 Once the crust bakes up, you'll have a small ridge around the edges that will hopefully do it's job and keep the yummy chili inside the pizza. This isn't like a gigantic loaf of corn bread. It's much flatter than cornbread and makes the perfect pizza crust.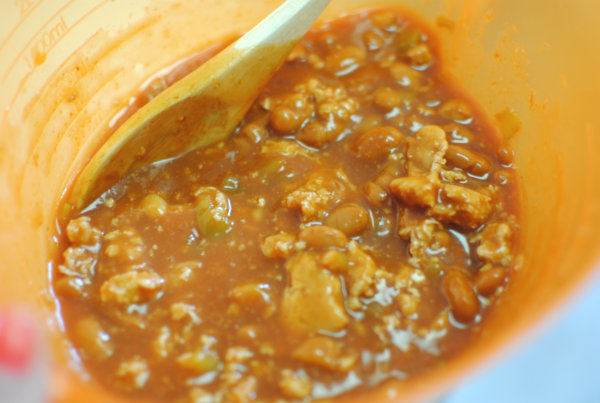 Whipping up the chili part is really simple as well. When I first read over this recipe, I didn't get the impression that this was going to be chili. The recipe seemed to go a different direction. But once I made it and tasted, it's just a very simple chili recipe. It includes taco sauce which I've never put in my chili, but turned out pretty good.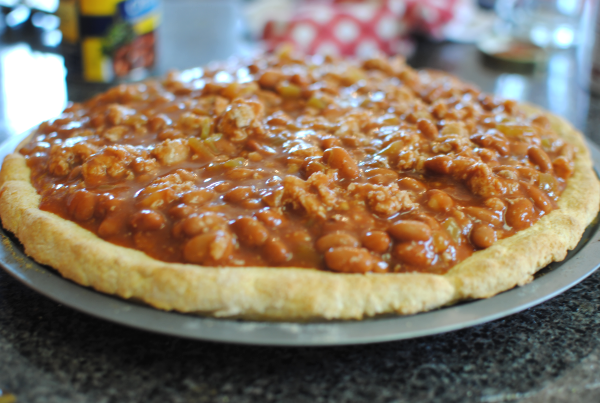 Place all of that incredibly tasty chili over your homemade pizza crust.
It's already looking like heaven on a pizza pan…
Cover that chili with mounds of cheese. No, NOW it's looking like heaven on a pizza pan…
Oh. Em. Gee. When it comes out of the oven, it is nothing short of an amazing site. You've got your corn bread, chili, and cheese all in one place. No spoon needed! Just the two utensils that God blessed us with…your hands!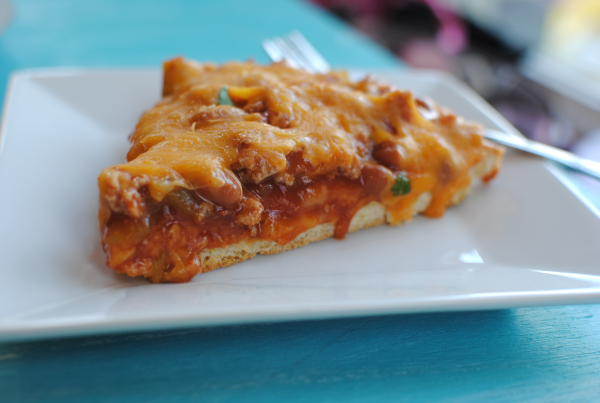 You may eventually need a fork to capture those pesky beans that try to get away from ya. But this pizza can mostly be eaten just like a regular pizza. And it is oh so tasty!
Oh yes, and P.S.-
Recipe from Butter Busters Cookbook.
Author:
No need for a spoon, this Chili Cheese Pizza has it all in one piece of pizza!
Ingredients
1 cup + 1 tbsp Cornmeal
1 and 1/2 c. Flour
1 tbsp Baking Powder
1/2 tsp Salt
3/4 c. Milk
1/4 c. Melted Butter (light)
1 (12 oz) jar Taco Sauce
1 can (15.5 oz) Milk Mexican Style Chili Beans (undrained)
1/2 lb Ground Turkey
1 can (4 oz) Green Chilies (drained)
2 c. Reduced-Fat Shredded Cheddar Cheese
Instructions
Preheat oven to 450°. Spray a 14″ pizza pan with non-stick cooking spray. Sprinkle the 1 tbsp of cornmeal all over the pizza pan. Combine 1/2 c. cornmeal, flour, baking powder, and salt in a medium bowl. Add the milk and melted butter. With a fork, stir until the mixture starts to form a ball. Remove the dough from the bowl and press into pizza pan. Shape the edges to form a ridge around the outside. Bake for 15 minutes.
Meanwhile, cook the ground turkey in a microwave for 5 minutes on high. Take out and stir. Cover and cook for 1-3 minutes more. Drain off any excess fat. In a bowl, combine turkey, beans, green chilies, and taco sauce. Pour mixture over the cooked crust. Sprinkle the cheese over the entire pizza.
Bake for 10 minutes or until the cheese is melted.
Slice and serve!
Notes
The recipe calls for the ground turkey to be cooked in the microwave, but feel free to brown it in a skillet if you prefer. You could even do this step ahead of time to save time.
Like this post? SHARE it!