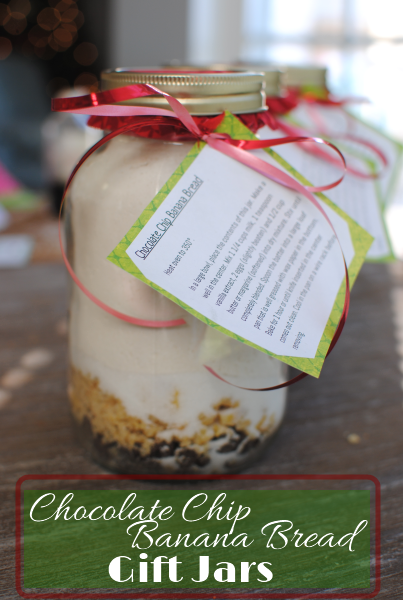 I've recently gotten the nickname "Becky Homecky" from my mom. Had you asked me 5 years ago if I would be creating recipes, crafts, and projects then I probably would have said absolutely not. Not just because I was working at the time, but also because I never really had the urge to do anything so Betty Crocker-ish. These days I find these things to be completely stress-relieving and better yet, fun.
Whodathunkit?
Every Christmas for the past 5 years, I've said I'm going to make homemade Christmas gifts to save money and to put a little thought into my gifts. And almost every year, I get down to the wire and never get around to it. This year, I'm determined to make it happen.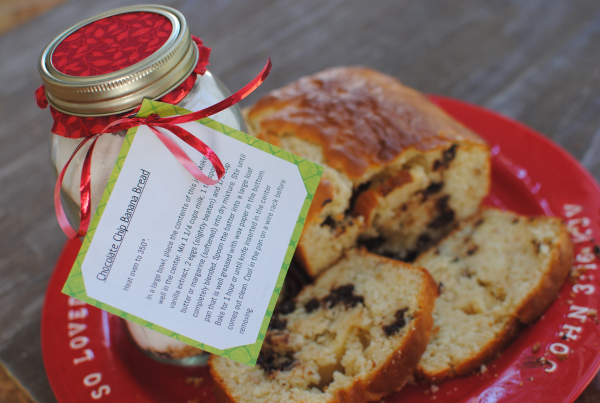 I'm starting with these gift jars. There are about a million combinations for gift jars these days. You name it, you can gift it in a jar. My daughter suggested that we try Banana Bread Gift Jars the other night. I told her that I wasn't sure that you could do that because bananas can't rightly be put in a jar and keep.
Then I came across this recipe at Recipe Goldmine for Chocolate Chip Banana Bread in a Jar. Never having made mixes in a jar like this, I wanted to go with a tried and true recipe before branching out into experimentation. I found it interesting that using dried banana chips for the banana part actually ended up tasting like regular bananas.
And the chocolate, come on. YUM is the only word to describe chocolate and bananas.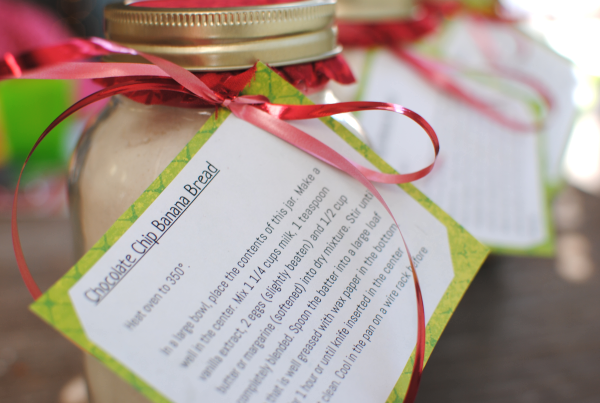 I got my jars at Walmart for around $8 for 12 of them including tops. I used some fabrics pieces that I already had along with some red string to dress the jars up a bit. I printed out the instructions for making the bread and glued it to a piece of scrapbook paper. Then punched a hole and tied it to the jar.
Aren't they adorable?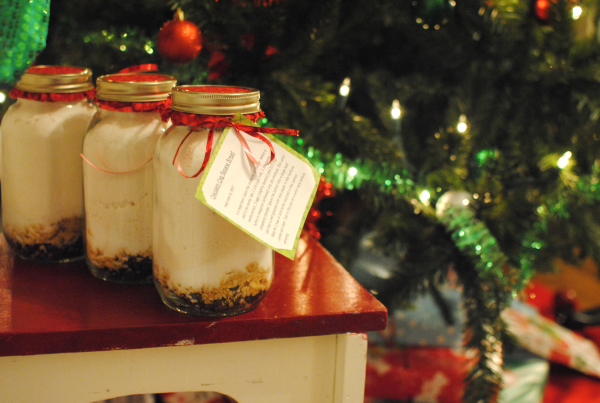 These make such great gifts for teachers and coworkers. And they are inexpensive too. My favorite part!
Recipe courtesy of Recipe Goldmine.
| | | |
| --- | --- | --- |
| Chocolate Chip Banana Bread Gift Jars | | |
Recipe Type:
Gift, Bread, Snack
Author:
Easily create homemade gift jars for yummy Chocolate Chip Banana Bread!
Ingredients
1/2 cup chocolate chips
1/2 cup dried bananas, finely chopped
1/2 cup granulated sugar
2 1/2 cups Bisquick
1 teaspoon baking powder
1/4 teaspoon salt
Instructions
Layer all ingredients in a quart-size jar in order they are given. Press the layers down firmly before adding next layer.
Attach gift tag with these instructions:
In a large bowl, place the contents of this jar. Make a well in the center. Mix 1 1/4 cups milk, 1 teaspoon vanilla extract, 2 eggs (slightly beaten) and 1/2 cup butter or margarine (softened) into dry mixture. Stir until completely blended. Spoon the batter into a large loaf pan that is well greased with wax paper in the bottom. Bake for 1 hour or until knife inserted in the center comes out clean. Cool in the pan on a wire rack before removing.
Like this post? SHARE it!