I'm not sure that this cupcake even needs a post. We could just go with that picture and be done. But there is so much to talk about including Cook for the Cure!
These are insane. These are what I call, fall in your mouth. What is it about fall that is so amazing? Could it be the colors? The cooler weather? No, I think it's the FLAVORS. Yummy goodness that gives us that warm, cozy, nostalgic feeling.
These cupcakes will give you all of that.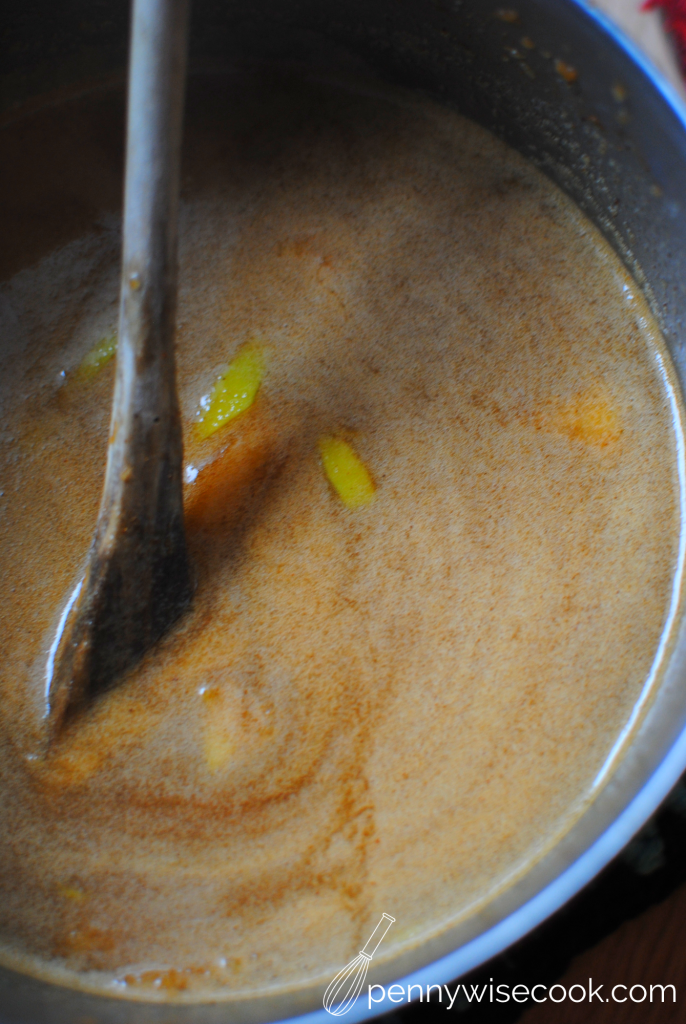 It all starts with what may seem like a way to fill your home with the smell of apple spice, but this is actually the beginning of your Apple Spice Cupcake batter.
I had never made batter this way before, so it was new to me. But I welcomed the warm, fall smells and spent an embarrassingly long amount of time hovered over the pot.
The mixture contains grated apples (the start of the show!) along with so many of our favorite fall spices including nutmeg, cinnamon, and ground cloves.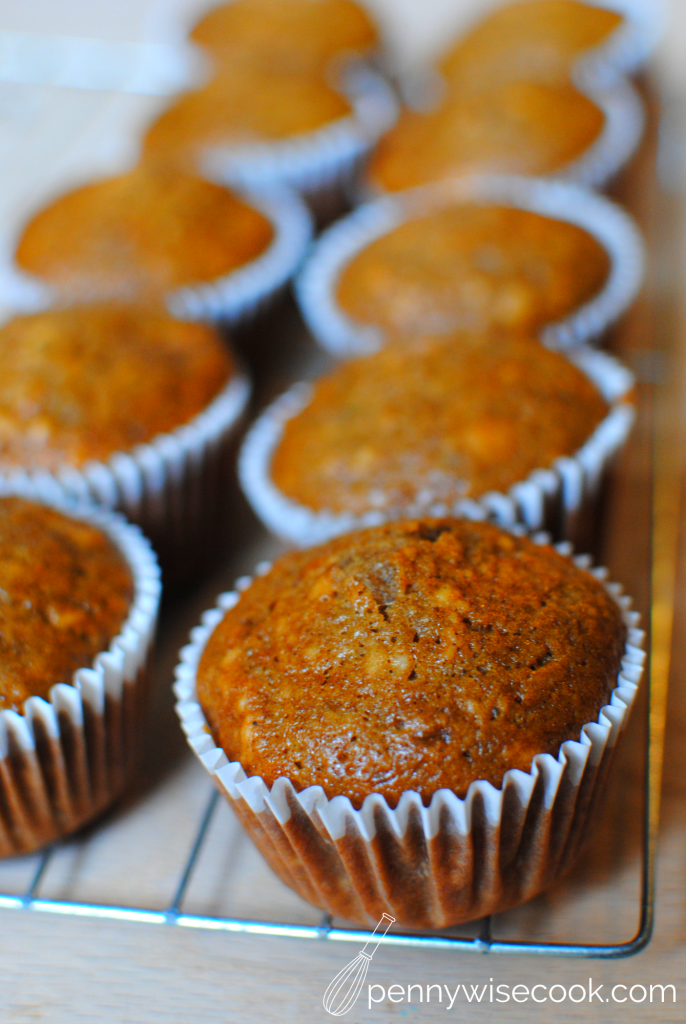 I said it before, but I really feel like these taste like fall in your mouth. I told my husband that a couple of times and when he finally tried them, he gleefully stated, "These taste like fall in your mouth!". Maybe not gleefully. He doesn't exactly get gleeful, but they were quite tasty and maybe he couldn't contain his excitement? I didn't bake 10,000 cupcakes, but I did make so many that I had to give some away!
Now, what really makes them pop is the Salted Caramel Buttercream that you put on top!
Oh. my. goodness. Can I get an amen?
This buttercream literally starts by making salted caramel. (Of which I burned the first time, so beware)
You add in all the regular goodness of buttercream like, oh I don't know, butter. And powdered sugar and you have the sweetness to bring out the spice in the cupcakes. SO GOOD.
Oh yes, oh yes, oh yes.
You will NEED to find the recipe below!
_______________________________________________________________________
I want to talk to you about an AWESOME opportunity with Cook for the Cure to support Breast Cancer Awareness brought to us by hhgregg and KitchenAid! The cupcakes above are apart of the 10,000 Cupcakes: One Great Cause campaign to bring awareness about breast cancer this month.
I am already a fan of KitchenAid and to know that they are supporting such a fantastic cause makes me love them even more.
KitchenAid will donate $1 to the Susan G Komen Foundation for every person who takes pictures of their cupcakes and uses the hashtags #10000cupcakes & #donate, and tagging @KitchenAidUSA and @KitchenAid. How awesome is that?!
So, the question is how can YOU get involved? Here are some ways:
Participate in 10,000 Cupcakes! Bake your own cupcakes and share an original picture of YOUR creation on your Twitter and Instagram channels using the hashtags: #10000cupcakes & #donate and tagging @KitchenAidUSA. KitchenAid will donate $1 to support the fight against breast cancer.
Host a party! You can host a party to benefit the Cook for the Cure cause any time of the year. Whether it's an office potluck, a family cookout or weekend brunch, encourage your friends and family to donate to Susan G. Komen®. You can find out more information about how to Host-A-Party here!
Check out hhgregg and how they are a part of the Cook for the Cure campaign!
You can get KitchenAid small appliances over at hhgregg and believe me, with a KitchenAid you won't be disappointed! You can even get a PINK KitchenAid Stand Mixer!
Now for the recipe for my Salted Caramel Apple Spice Cupcakes!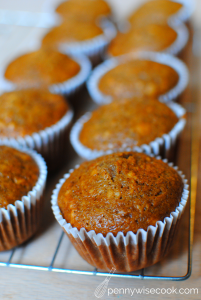 Apple Spice Cupcakes
2015-10-06 09:13:35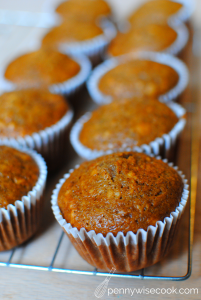 Fall in your mouth, these cupcakes will make you all warm and fuzzy inside.
Ingredients
2 Green Apples, skin on, grated
2 c. sugar
2 c. water
1 c. butter
2 tsp cinnamon
2 tsp nutmeg
1/2 ground cloves
3 and 1/2 c.. flour
2 tsp baking soda
Instructions
Preheat oven to 350 degrees. Line muffin tins with liners.
Place the grated apples, sugar, water, butter, cinnamon, nutmeg and cloves into a large sauce pot and bring to a boil. Cool. (I let mine cool for at least 30 minutes)
Add flour and baking soda. (batter will be sorta chunky)
Bake until middle bounces back. (About 15 minutes depending on your oven)
Pennywise Cook http://www.pennywisecook.com/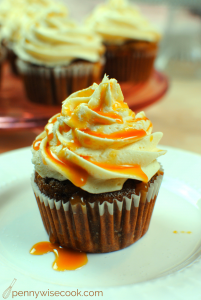 Salted Caramel Buttercream
2015-10-06 09:24:58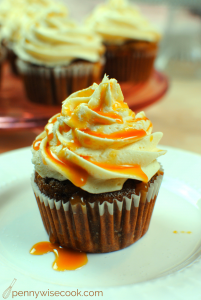 Ingredients
1/4 sugar
2 tbsp water
1/4 c. heavy cream (+ additional if needed)
1 tsp vanilla extract
1 and 1/2 sticks unsalted butter, room temp
1/2 tsp salt
1 c. powdered sugar (+ additional if needed)
Instructions
Stir together sugar and water in a small sauce pot and bring to a boil. Keep cooking, without stirring, until mixture begins to turn dark amber. About 6 minutes. (This will happen fast once it begins to turn. DO NOT let it become dark brown)
Remove from heat and SLOWLY add in the vanilla and cream. Stir constantly while you do this. Once smooth, set aside to let cool.
Combine the butter and salt in stand mixer bowl and beat until fluffy. Reduce speed and add powdered sugar.
Scrape down the side of the bowl and then add the caramel. Beat all until completely incorporated.
(You may need to add more powdered sugar to make the buttercream thicker. I added approximately another cup and 1/2. You may also add a tablespoon more heavy cream to smooth it out. This was trial and error for me with the frosting. Make it to your liking.)
Notes
When serving, you may drizzle each cupcake with caramel sauce to make them pretty! 🙂
Pennywise Cook http://www.pennywisecook.com/
Like this post? SHARE it!