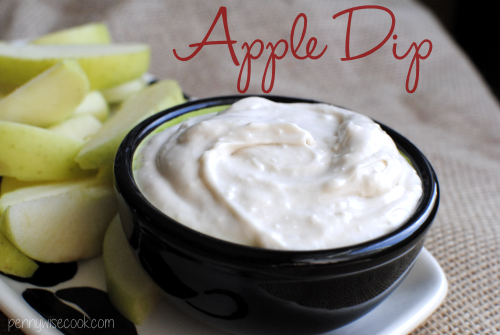 When I was young, our neighbor had an apple tree in their yard. I remember first finding out that the tree had apples on it. I ran over there and picked me one and took a big bite out of it. And then I realized…this was no regular apple tree. It was a tree of crab apples. Have you ever had a crab apple? They are not so good. Very sour, hard, and give you a sore tummy.
Now regular apples, I love. I'm more of a green apple eater than red, but I'll eat whatever I can get. And I adore dips for my apples. Just a big dollop of peanut butter and a juicy slice of apple can make my day.
Fall is the season when apples are ready for harvest. Though I find them just as juicy and fresh anytime of year at the grocery store. And they don't seem to vary too much in price, which is nice.
I've got a dip for you today that you're going to love. After we ran out of apples, we used our fingers to scrape the rest of the dip off the bowl. It's so good.
This dip is very similar to 2-Ingredient Fruit Dip, but the ingredients are a little different.
It's a simple mixture of cream cheese (you know its going to be good), brown sugar, vanilla extract, and sour cream. Yeah, that sour cream gives it a creaminess. Love it.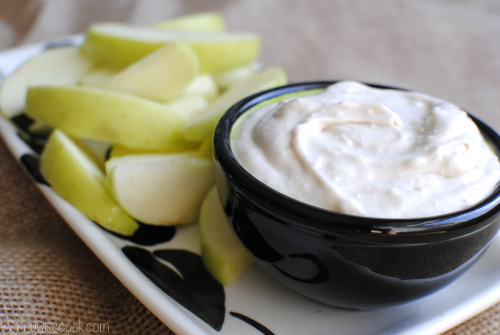 I love this dip for get togethers. It would be really great to buy a bunch of different types of apples, slice them, and put them on a platter with this dip in the middle. You would have so many colors!
Just make sure that you don't get any crab apples.
Oh yeah and, you don't just have to eat this with apples. It's amazing with any fruit! The recipe was originally called "Caramel Fruit Dip", so I was going to pair it with apples thinking, you know, apples and caramel are wonderful together. After eating it, it does not have that caramel taste I was expecting. But it is still a wonderful partner for apples!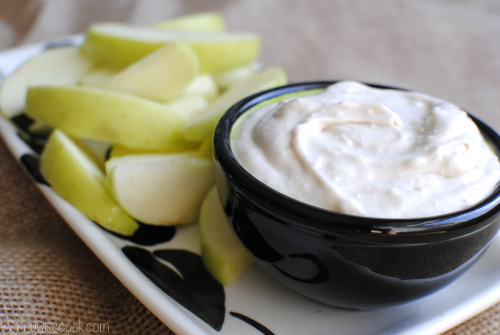 Apple Dip
2014-10-31 12:30:47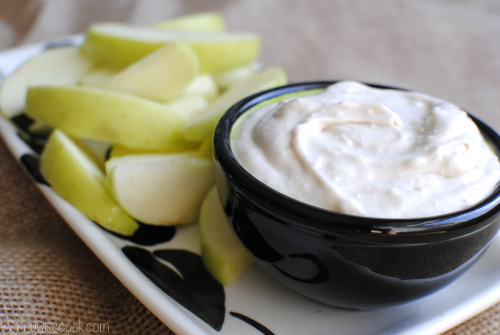 Ingredients
1 (8 oz) pkg Cream Cheese, Softened
1/2 c. Brown sugar
1 tsp Vanilla
1 c. Sour cream
Instructions
Mix all ingredients together with mixer and chill. Serve!
Notes
I used 1/3 less fat cream cheese and fat free sour cream and this still tasted wonderful!
Adapted from The Four Ingredient Cookbook
Pennywise Cook http://www.pennywisecook.com/
Like this post? SHARE it!