Its incredible to me the amount of sugar that are in things these days. It's almost like we humans have adapted to ginormous amounts of sugar and we just keep adding more and more to our foods. At the pediatricians office the other day, she told me that juice boxes are some of the worst things for children to drink. They are on up there with sodas! Come on, JUICE BOXES? Of all things that you expect to be ok for your kids. I was looking for juice boxes to take on an upcoming road trip and decided to take a gander at the nutrition label. 1 juice box had 24 grams of sugar! Insanity isn't it?
Don't get me wrong, I like my sugar. In fact, I'd much rather eat something sweet than savory any day. But I love when I can use natural sugars instead of globbing on cups of the granulated stuff.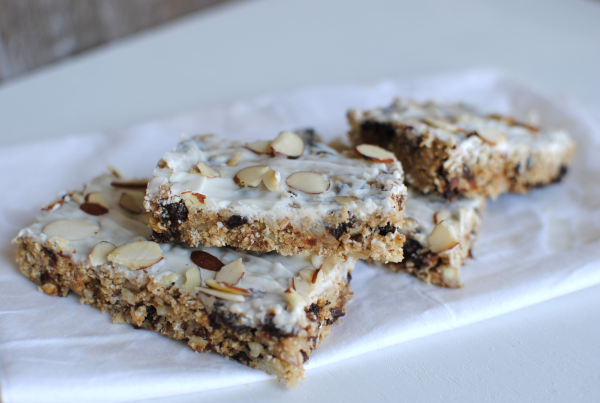 Granola bars have long been one of my favorite snacks. Simple to grab and go and packed with nutrition. Well most of them at least. Plus, if there's a chance that I get in a little energy and fiber then I'm all for it. This momma can really use all the help that she can get.
I found this High Fiber Granola Bar recipe and adapted it a bit. While the original didn't call for any added sugar, I did top mine with a little white chocolate. And I do mean a little. I practiced a little self control and only added a very thin layer. These are packed full of grains and dried fruit along with some natural sweeteners like honey. They do require baking, which I'm sure might not sound pleasant to some of you. But if you have the time to bake these, I'm sure that you'll like them too. And come on, you have 18 minutes right?
Minus the thin layer of chocolate on top, these are actually low in calories! Score! And my favorite part is that they are heartier than most granola bars. They don't use rice krispies as filler, but instead use shredded wheat cereal to give you slow-burning carbs.
Recipe adapted from Fitho.
These granola bars are not only healthy and packed full of fiber, they are also quite tasty too!
Ingredients
1 cup quick cooking oats
1 cup shredded wheat cereal
1 cup almonds + 1/4 c. almonds for topping
1.5 cups raisins
1/2 teaspoon ground cinnamon
1/2 teaspoon salt
3 eggs
2 tbsp honey
1 teaspoon vanilla essence
1/3 c. white chocolate chips or almond bark, melted
Method
Preheat the oven to 350°F. Grease a large baking pan and set aside.
Place the oats, shredded wheat, 1 cup almonds, dried fruit, cinnamon, and salt in a food mixer until the mixture is finely chopped.
In a large bowl, whisk the eggs, honey, and vanilla. Add the oatmeal mixture and stir, till its mixed evenly.
Transfer to the baking pan and flatten down gently with the back of a spoon or spatula to spread evenly.
Bake about 18 minutes until the edges turn golden brown and the bars are done.
Remove granola bars from the oven and let cool completely. Meanwhile, melt your white chocolate chips (or almond bark) in the microwave or double boiler.
Pour melted chocolate chips over the top. Sprinkle with remaining 1/4 c. almonds. Stick in the fridge to set until chocolate is firm.
Cut into bars and serve!
Notes
You don't have to use raisins, you can use just about any dried fruit that you wish. Dates would be good or perhaps cherries.
When flattening the mixture into your baking pan, spray the back of your spoon with cooking spray to prevent sticking.
If you want thicker granola bars, use an 8x8 pan. I prefer thinner and longer bars so I used a 9x13 dish.
These are not that expensive to make since most are ingredients that you might have on hand. I got the shredded wheat at Dollar Tree and the Almonds at Aldi. Everything else I found in my own pantry.
http://www.pennywisecook.com/healthy-granola-bars/
Like this post? SHARE it!