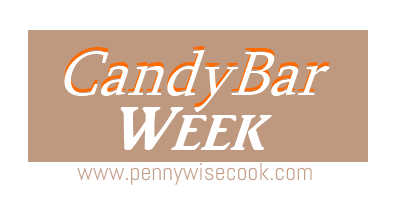 Oh man, I'm still on a sugar high from all of this week's candybars. When you have bowls of fillings and melted chocolate in front of you, it's impossible to resist. I'm just sayin'.
We're going to go a bit lighter today on our candy bars and talk about how to make Homemade 3 Musketeers Bars. Once again, the simplicity of this recipe stunned me. There are once again just 3 ingredients in this one and it's as simple as pie to make. Well, maybe not apple pie. It's really not that easy to make apple pie from scratch is it?
I digress…
The main ingredient in the filling for these candybars is whipped cream. You don't get much fluffier than that, huh. I think that's why it's so much lower in fat than most other candybars. It also explains it's lighter than air texture.
You simply melt up 2 cups of chocolate chips. I used semi-sweet this time around, but I won't be using those next time.
UPDATE- I tried the nougat part with milk chocolate and it made it WAY too runny, so I do not advise using the milk chocolate chips.
Anywho, melt those up in the microwave or double boiler (I prefer this method) and then give them a good whippin' with your mixer. Beat in an 8 ounce container of cool whip just until combined and fluffy.
Pour into a lined square dish and freeze. The longer, the better. At least 30 minutes, but overnight is great!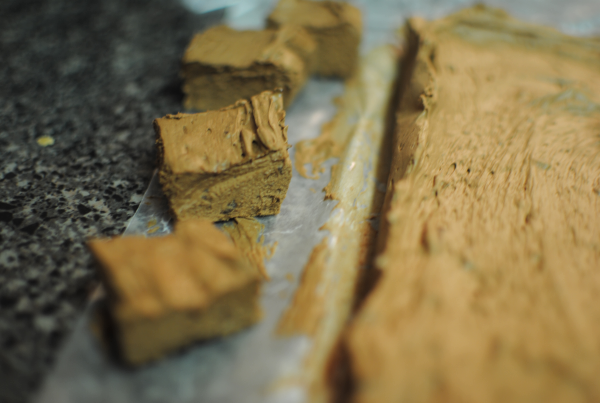 Sorry this picture is so dark. I got these put together at night and the lighting was just horrible. But you get the idea don't you?
Once frozen, cut it into bite-size squares and dip into your melted chocolate wafers. I used a fork to turn and coat them well. These were a little more difficult to work with than the Butterfingers. These didn't turn out as pretty for me, but they were still tasty!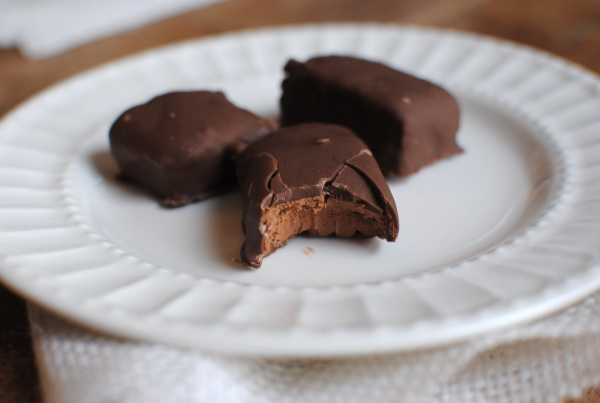 Recipe from Monster Mama.
| | | |
| --- | --- | --- |
| Homemade 3 Musketeers Bars | | |
Recipe Type:
Dessert, Candy, Snack
Author:
Ingredients
2 c. Milk Chocolate Chips
1 8 oz Tub Cool Whip (You can even use sugar-free or fat-free!)
2 c. Chocolate Melting Wafers
Instructions
Melt chocolate chips in microwave or using a double boiler (I use this method). If you do use the microwave, it's best to melt them on 50% power in 30 second intervals, stirring between each spurt.
Beat your melted chocolate chips with a mixer for about a minute. Add in the cool whip and beat just until combined and fluffy.
Pour into a lined 8×8 baking dish and freeze for at least 30 minutes. The longer, the better!
Take out and cut into bite-size squares.
When frozen, melt chocolate wafers according the package directions and using a couple forks, roll the squares until coated. Place on a wax-paper lined baking sheet. Place in the freezer to set.
Like this post? SHARE it!