These days school is jam-packed full of learning, extra-curriculars, and even a taddy little bit of fun. They've even moved lunch time up for many kiddos to make room for other activities. Some children eat lunch at 10:00! What is this world coming to? But they are waking up at the crack of dawn so an early lunch isn't so bad. But as parents we must be prepared to hear those impending words each afternoon….
I'm huuuuuungry. Can I have a snack?
Can you blame them? They have been busy for 7 HOURS. All of that icky math and science can really work up an appetite you know? The least that we can do is give them a snack. Here's a simple snack idea for your busy student (or hungry parent!).
Start by cutting up a couple ripe bananas into bite-size pieces.
Microwave 1/4 cup creamy peanut butter and stir in 1/2 tbsp cocoa powder.
Dip each banana piece into the peanut butter and set on wax paper.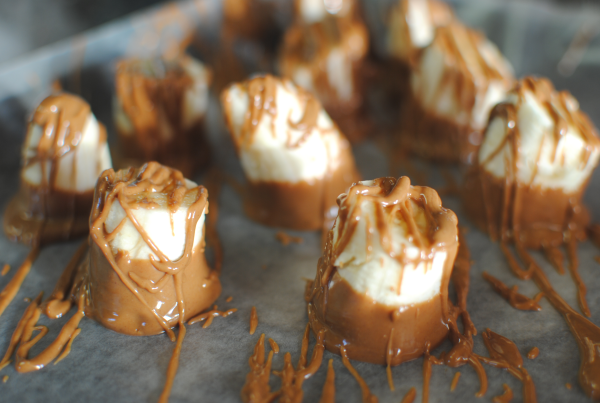 You can drizzle any leftovers on the tops if you'd like.
Freeze for at least an hour and you're done!
Bing bang bong and you've got a very tasty (and healthy) snack! It's a nice little change from chocolate-covered bananas. The peanut butter actually adds nutritional value with it's healthy fats and boost of protein. Not to mention the potassium in the banana itself. But who cares about all that? The peanut buttery goodness with a hint of cocoa is super yummy!
Here they are after they are frozen. The peanut butter gets hard, but not as hard as chocolate would so you'll want to eat them pretty quickly after removing them from the freezer. Ie- don't leave them sitting around for long periods of time.
YUM!
| | | |
| --- | --- | --- |
| After School Snack: Frozen Peanut Butter Bananas | | |
Recipe Type:
Snack, Dessert
Author:
Frozen peanut butter bananas create a healthy afternoon snack!
Ingredients
2 Bananas, Cut into bite-size pieces
1/4 c. Creamy Peanut Butter
1/2 tbsp Cocoa Powder
Instructions
Place peanut butter in a microwave-safe bowl. Heat for about 30 seconds to melt. Stir in cocoa powder until mixed well.
Dip banana pieces into peanut butter and place on wax paper. Drizzle remaining peanut butter over top if desired.
Freeze for at least an hour. Preferably 3-5 hours or longer.
Like this post? SHARE it!