Take me or leave me, but I like weird things to eat. Well, what some might call weird anyways. I was making a hot dog the other night and was so excited while I prepared my ingredients. My husband watched as I drug out the relish, mustard, and ketchup. Then I decided that it wasn't complete without chopped onions. Almost in awe of my condiment concoction, he asked "Did you chop that entire onion just for a little for your hot dog?". Why yes, I in fact had chopped a very small amount of onion just for my hot dog. That's how me and my dogs roll you know. He thinks I'm a bit odd, but I know there are others out there like me.
Like someone else who might like strawberry salsa? That's another weird thing that might be perplexing to some. We're talking replacing your tomatoes with juicy and summery strawberries instead. It's absolutely divine I tell you. I had no idea that it would be so incredible.
And then I ate it with chicken.
Just imagine me kissing my fingers like the Italians do. It's that marvelous.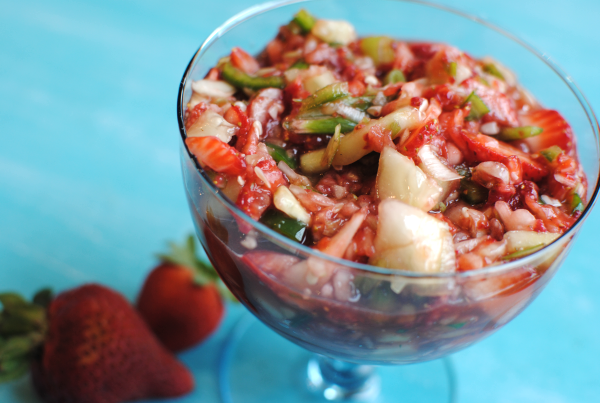 Complete with cool and crisp cucumbers, lime juice, brown sugar and even jalapeno, I can almost guarantee that you will like this. Oh and if you don't like hot salsa, don't worry. The one jalapeno that is in this will not be hot. It's really the one thing that makes this a "salsa".
I've also learned a fancy smancy teqnique for making oven baked chicken PERFECT. The key is to brown it in a skillet a few minutes on each side. Not enough to cook it through, but just enough to get it browned a bit. Then finish it off in the oven. Works everytime to get the most perfectly cooked chicken ever.
AND I also highly recommend pounding your meat first. Yes, it seems like a lot of work but trust me. You will not only enjoy the task, but you'll also enjoy the chicken a lot more than going without. I told my mom about this recently and she always beats her chicken first now! Just do it next time and you'll see.
Ready for the most perfect summer chicken recipe ever? See below!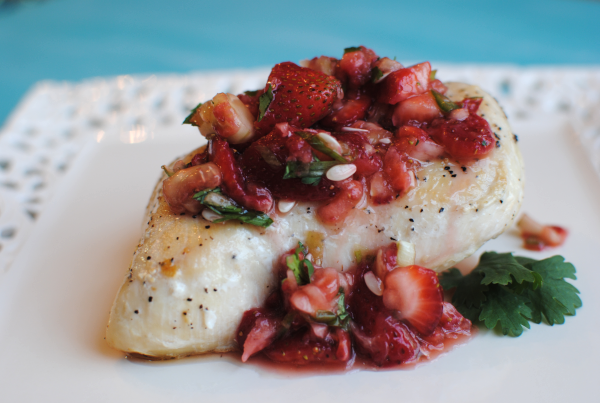 Celebrate summer with this baked chicken with strawberry salsa!

Ingredients
Boneless, Skinless Chicken Breasts
1 Tbsp Olive Oil
1 and 1/2 c. Strawberries, Chopped
1/2 c. Cucumber, Chopped
2 Green Onions, Chopped
1 Jalapeno, Chopped
1 Tbsp Cilantro, Chopped
The Juice of 1 Lime
2 Tbsp Brown Sugar
Method
Preheat oven to 350 degrees. Season chicken with salt and pepper. Brown chicken over medium high heat in oil for a few moments on each side. Just until browned, no need to cook through. Bake 20 minutes.
Meanwhile, mix all salsa ingredients and combine well. Place in refrigerator until chicken is done.
Remove chicken from oven. Serve salsa over chicken!
Notes

There's no much to it! Simple as pie.

The salsa would be divine with tortilla chips too!

Enjoy!

http://www.pennywisecook.com/strawberry-salsa-chicken/
Question of the day: What do you like on your hot dogs?
Like this post? SHARE it!