There's a time and a place for soup. At least at my house it's that way. When planning meals, soup is never an option. I honestly think that my family would rather eat cardboard than eat such a thing called soup. It's not because soup is such a bad thing. It's probably just because when put up against a hearty casserole or grilled steak, soup just doesn't compare. And therefore usually ends up being bypassed and never even a consideration. This is something that I'd loved to change here in my family.
I love soup! For many reasons too. You can make huge amounts at once, it freezes well, and best of all it's cheap to make! All of my favorite traits of a good meal. So when I came across this Weight Watchers Cheeseburger Soup recipe, I knew I had to make it.
It's contains the word, cheeseburger. I knew my family would have to love it.
It's really easy to make. I healthified mine up a bit with ground turkey in place of the beef. The fam didn't even know it. I take that back. They know me enough by now that all I use is ground turkey so maybe they did know. Either way, they didn't care! It turned out really yummy and there are plenty of reasons why I love this particular soup. Not only was it cheap, but I made it in the crockpot so there was no slaving over the stove all evening.
Not to mention that it's low-calorie. I mean come on, something that the family will eat that's actually low-cal too? It's a winner!
I made a few small changes to the recipe and it turned out really good. Mine doesn't look near as yummy as theirs does, but I can assure you that it was just as tasty I'm sure!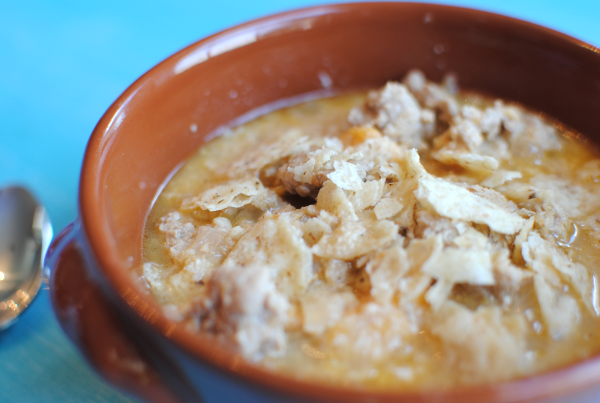 Recipe adapted from Weight Watchers.
| | | |
| --- | --- | --- |
| Slow Cooker Cheeseburger Soup | | |
Author:
A meal that the whole family will love, this cheeseburger soup is easy and low-calorie too!
Ingredients
Cooking Spray or Crockpot Liner
1 and 1/2 tsp Minced Garlic
1 Medium Onion, Chopped
1 lb Ground Turkey (see notes)
2 Tbsp Flour
3 Cups Low-Sodium Chicken Broth (see notes)
1 c. Reduced Fat Evaporated Milk
8 oz Cubed Cheese (I used Colby Jack)
1/2 Tsp Paprika
Salt and Pepper to Taste
Tortilla Chips for crumbling on top
Instructions
Spray a skillet with cooking spray. Saute garlic and onions until tender. Spray the inside of a slow cooker with cooking spray and pour the garlic and onions into it.
In same skillet, brown the ground turkey and break into small crumbles as it cooks. Pour off any grease and place into slow cooker.
In a cup, combine 2 tbsp flour with 1/2 cup broth until there are no more lumps.Pour into the same skillet. Then add remaining 2 and 1/2 cup broth.Bring to a simmer making sure to scrape up the browned bits on the bottom of the skillet. Pour into the slow cooker.
Add evaporated milk, cheese, paprika, and salt & pepper to the slow cooker and stir. Cook on low for 2-3 hours.
Serve with broken up chips on top.
Notes
I used a pound of ground turkey in this soup, but after making it and seeing how "soupy" it actually was, I would probably add another 1/2 pound next time. If you like your soups like this meaty, you might consider it.
This recipe originally called for chicken broth. I think that I will try part beef broth next time since after all, it is cheeseBURGER soup. Seems to me there needs to be more beefiness.
And honestly, the picture of this soup does not do it justice. It's a lot more appetizing than the picture lets on. 🙂
Just notes from my brain about this dish! Enjoy!
Like this post? SHARE it!