Where are my Pinterest addicts at? Yeah, you know who you are. Secretly surfing the pins during work or staying up late getting lost in the abyss of crafty delights. I really can't talk as I am one of them too. Hi my name is Amy and I am addicted to Pinterest. By the way, are you following me on Pinterest? We can feed each others addiction!
My husband's parents came for a visit last weekend and we had a blast as we always do. They are big into watching carbs and his dad was trying to lose a few pounds so he is watching his intake pretty closely. I hadn't prepared for it so I quickly set out on a Pinterest mission (insert Mission Impossible theme song here) to find something low-carb but yummy at the same time. I would have made the the Cauliflower Crust Pizza, but they had just made it that week. They tried it out for the first time and loved it! If you haven't tried it yet, I highly recommend that you do.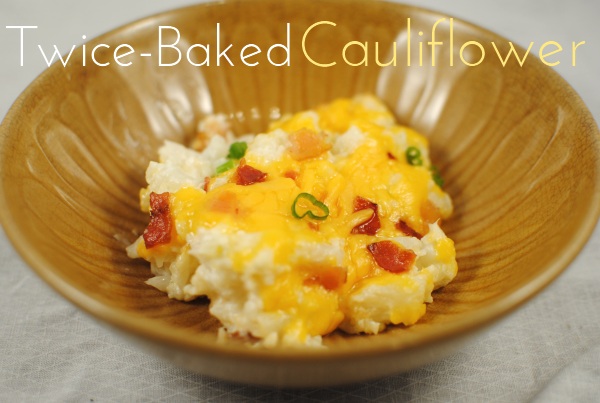 I came across this genius recipe over at Kalyn's Kitchen for Twice-Baked Cauliflower. I was sold without even looking at the ingredients. You can't get any more low-carb than that.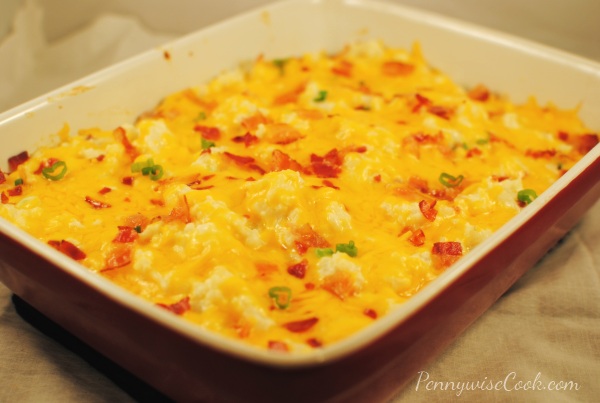 Can I just say that it was A-M-A-Z-I-N-G. All the ingredients that you love in a baked potato including the cheese, sour cream, and bacon all mixed into gooey cauliflower. Honestly, I think you could probably serve this to someone who was unsuspecting and they might never know it's not potato. The key is to leave the cauliflower a little bit chunky so that it resembles potato chunks.
It was a big hit and everyone loved it. Most everyone had two helpings!
Who needs a baked potato when you can have twice-baked cauliflower?
Ingredients
1 Large Head Cauliflower
1/2 Block Low Fat Cream Cheese
1/2 c. Low Fat Sour Cream
1/4 c. Green Onions, Chopped
1/4 c. Parmesan Cheese, Grated
6 Slices of Bacon (Or Turkey Bacon), Cooked, crumbled, and Patted dry of fat
1 c. Reduced Fat Cheddar Cheese
Method
Preheat oven to 350 degrees.
Remove stem and core from cauliflower. Cut into small pieces. In a large pot, cook cauliflower over medium heat until just tender. Don't get it overly soft.
Drain and mash with potato masher, leaving some chunks. Mix in the sour cream and cream cheese, green onion, parmesan cheese, and 3/4 of the crumbled bacon.
Spread into a medium casserole dish and sprinkle with cheddar cheese and remaining bacon.
Bake for 30-35 minutes until bubbly.
Notes
I really have nothing to add except that this is easy, cheap and super yummy! I will be making this A LOT from now on. 🙂
Ok, I will add this. Aldi has had their huge heads of cauliflower on sale for $.89 the last 3 weeks. If you have an Aldi, I strongly suggest that you check there first!
http://www.pennywisecook.com/twice-baked-cauliflower/
Like this post? SHARE it!