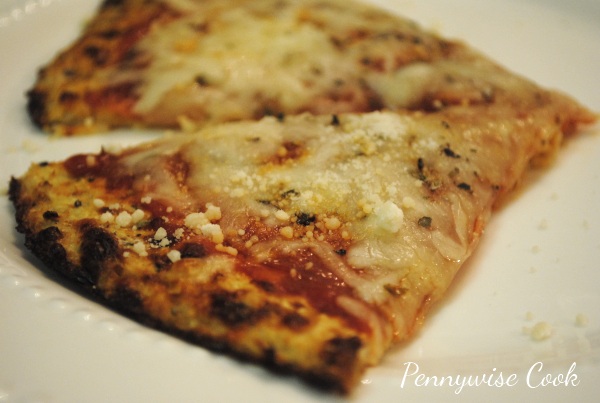 I'm not sure what it is, but lately I've had a thing for making things out of other things. Mostly healthier things that you wouldn't expect. For instance, my recent discovery of chickpeas being used to make cookie dough dip- completely unexpected. I've used cauliflower to make mashed potatoes. I've even been toying with the thought of using tofu in a few dishes here lately, but haven't brought myself around just yet. I'll be sure to let you know when I do. I've always been under the impression that pigs would fly or hell would freeze over before my husband put tofu in his mouth. He has yet to catch on to my sneaky ways though *evil laugh*.
As you know, I'm a pinterest fanatic. I found a recipe at Eat Drink Smile for Cauliflower Pizza Crust. Even though I like things to be made healthy, I was less than enthused about the thought of using cauliflower to make the crust of my pizza. However, I consider pizza to be the devil in food form sometimes. I NEVER eat pizza. It's greasy, full of bread and cheese, and taunts me to eat more. I always feel awful after I eat it, like I just ate the entirety of a large cow. I know, I'm exaggerating. But you get the point now don't you?
So when I found this recipe I thought I can just try it out and see. It was either going to be very good or very bad. I blog here before you tonight to tell you that I (along with my picky-eating hubby and 4 year old daughter) give this cauliflower pizza crust my complete and utter stamp of approval! If you have a food processor or blender it takes no time at all and is fantastic, especially if you're not into eating carbs and want a healthier version of pizza. It's obviously not your average flour pizza crust, but it doesn't taste like it contains cauliflower either.
We made the traditional pepperoni pizza. You can't see the pepperoni because I hid it under the cheese. I used the very large ones so that the entire pizza was covered in them. Our pizza didn't actually turn out quite as burnt around the edges as this picture looks. It was pretty brown though because I was attempting to get the crust crispier. This type of crust will not be majorly crispy like most pizzas that you might be used to. One head of cauliflower makes 3 crusts and they aren't huge, so they are fairly thin. I didn't mind. We get to eat PIZZA!
We made this a couple other times since the first and it turned out the same. I think I'm going to work on figuring out a way to get it a bit crispier. Either way, this recipe is a keeper and will surely make it possible for us to have pizza a lot more frequently.
Recipe courtesy of Eat. Drink. Smile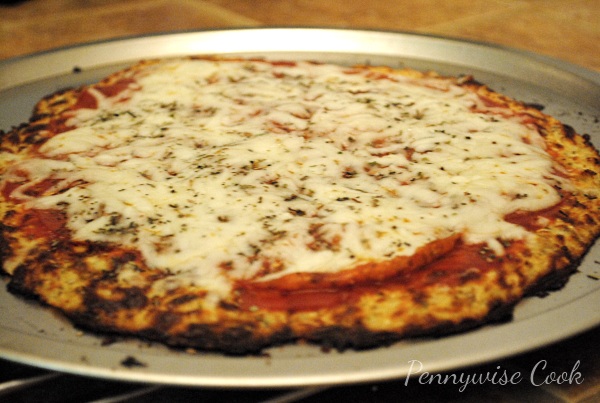 A healthy alternative to high carb pizza dough, this cauliflower pizza crust will make you want more. I promise!
Ingredients
1 c. Cooked, Riced Flower
1 c. Shredded Mozzarella Cheese
1 Egg, Beaten (I actually used egg whites only and it worked just fine)
1 Tsp Dried Oregano
1/2 Tsp Minced Garlic
1/2 Tsp Garlic Salt
Olive Oil (Optional)
Pizza Sauce and Toppings of Your Choice
Method
"Rice" the cauliflower by removing the stems and leaves and chopping the florets into chunks. Add the florets into the food processor and pulse until it looks like grain. Don't over pulse or it will puree the cauliflower. Place the riced cauliflower into a microwave safe bowl and microwave for 8 minutes. No need to add any water. The cauliflower contains enough water to help it cook. One head of riced cauliflower will make approximately 3 pizza crusts to use immediately or to place in the refrigerator to use within one week.
Preheat the oven to 450 degrees. Spray cookie sheet with non-stick cooking spray.
In a medium bowl, stir together 1 cup riced cauliflower, 1 cup mozzarella and 1 egg. Add the oregano, garlic salt and minced garlic. Mix well, then transfer to cookie sheet. Use your hands to pat out into a 9? circle. Optional: Spray with cooking spray or brush with olive oil to help with the browning process.
Bake crust for 15 minutes.
Remove from the oven and top with toppings of choice.
Turn on broiler and let heat up. Place pizza under broiler for approximately 3-4 minutes or until cheese has melted.
Notes
Your toppings should be completely cooked since you're only broiling for a few minutes.
http://www.pennywisecook.com/doughless-pizza-crust/
And do let me know if you try this and how it turns out for you. I want to know that I'm not crazy in thinking this is actually comparable to regular pizza!
Like this post? SHARE it!