I love Valentine's Day. Not because we get all romantic and stuff, but because it's such an easy holiday to decorate for.
Throw up some things that are red, pink, or white and you have got yourself some Valentine's spirit. Not to mention that hearts are everywhere. All the dollar stores are brimming over with decor and treats galore. And the love things makes it pretty cool too. 😉
Our anniversary is just 2 weeks after Valentine's Day so we never get too mushy on the 14th. But I love helping my daughters get their little Valentine cards and treats ready for school that day.
Ah, yes. The days when you could use cheesy lines and call everyone your Valentine!
I made up these little heart Valentine Pies the other day and I must say they were a hit. I'm sure these have been done before, but I have never made them before now. SO simple.
I think they would make a great treat for my daughter to take to school on Valentine's Day!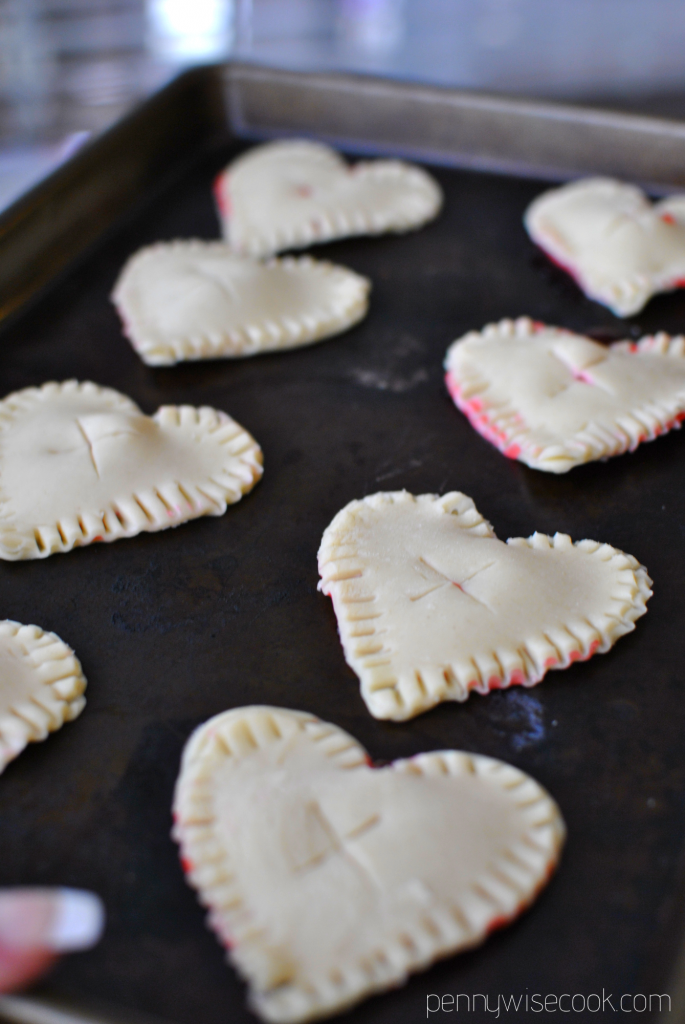 I used store bought pie crusts. You know me! I rolled them out and used a $.50 cookie cutter to cut out little hearts. I will use a bigger cookie cutter next time as these were just a taddy bit too small.
I dropped about a teaspoon of canned cherry pie filling into the middle of the heart and topped it with another pie crust heart.
I used a fork to crimp all of the edges. Helps to keep it from coming apart while it's cooking.
Lastly, I cut a X in the middle to keep it from puffing up in the oven.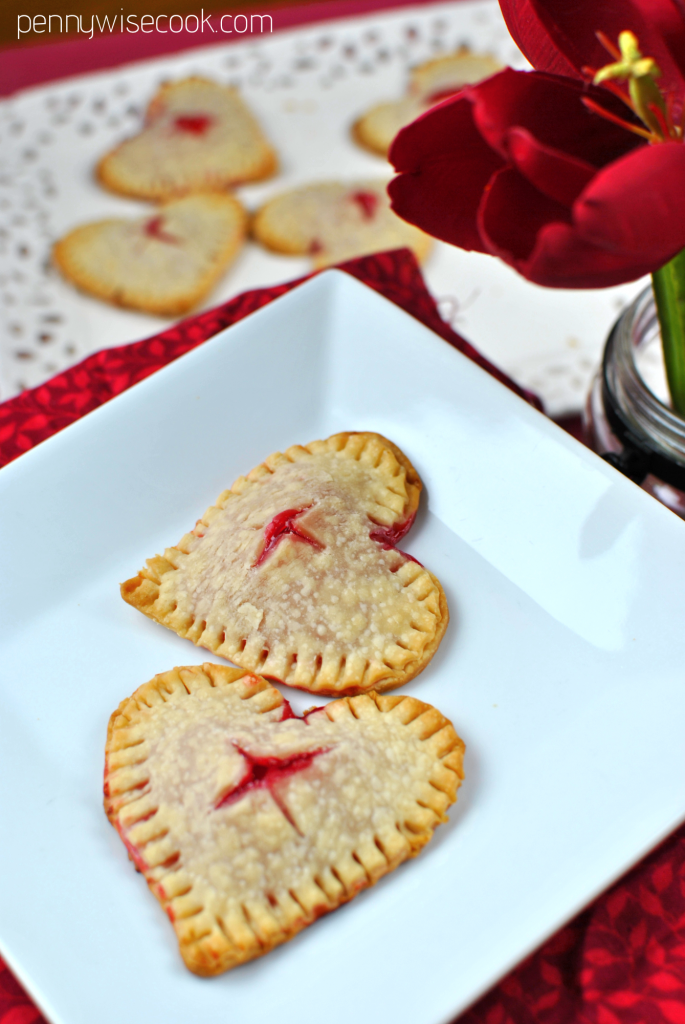 Make these extra tasty by dropping a dollop of whipped cream on top when they are warm! Use any pie filling you'd like or make your own.
Easy as pie!
Valentine Pies
2015-01-23 12:12:12
Give your Valentine more than a card. Give them a PIE!
Ingredients
2 refrigerated pie crust, brought to room temp
1 (20 oz) can pie filling, you won't need it all
Instructions
Preheat oven to 450°.
With first pie crust, cut hearts out and place onto cookie sheet. Add about a teaspoon of pie filling to each heart.
Cut out hearts from 2nd pie crust. Top each pie filling heart with another heart. Crimp closed with fork.
Bake for 8-10 minutes watching to make sure edges don't burn.
Let cool!
Notes
You'll need a heart-shaped cookie cutter and a fork!
Pennywise Cook http://www.pennywisecook.com/
Like this post? SHARE it!