How was your 3-day weekend? Get a little R&R in? I was kinda forced into some R&R this weekend when a very random illness struck. It wasn't something that had been going around as far as I know, but thankfully it's going away fairly quickly. We didn't have big plans for the holiday so it was nice to have some time to just be lazy.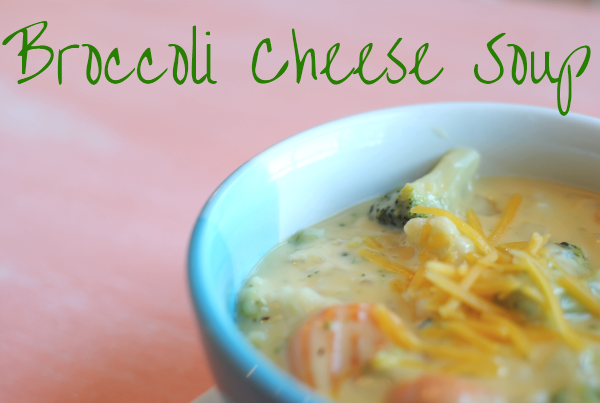 One of my favorite comfort foods is broccoli cheese soup. There is just nothing like the thick, cheesy, stick-to-your-ribs soup. Especially when it starts to get cold outside. But honestly, I could care less what time of year it is. I'll eat it any day!
There are some really great recipes out there for this kinda soup. Just about anywhere you look, somebody has their own version. But they all come down to the same ingredients: broccoli and cheese! Most of which contain Velveeta. There's nothing wrong with that, but sometimes I do like to skip the processed blocks of cheese and use the good stuff. So I adapted my potato soup recipe to include a little more cheese and swapped out the potatoes to create this yummy version of broccoli cheese soup!
I also added barley for added fiber!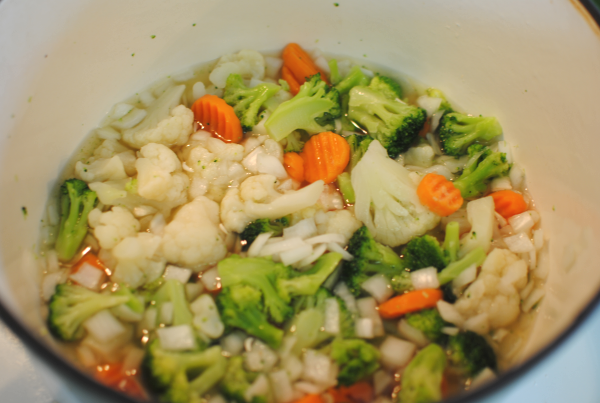 This has got to be one of the easiest soups out there to make. It tastes like it's slow-cooked but only takes minutes. My absolute favorite kind of recipes.
You start with a 16 oz package of frozen broccoli and carrots, broccoli and cauliflower, or broccoli and both! Whatever you can find at the store for cheap. Throw that into a pot along with a chopped onion, your barley, and can of chicken broth. The veggies just simmer away. Believe it or not, but this is the most time-consuming part of the entire process! (Besides chopping the onion, of course)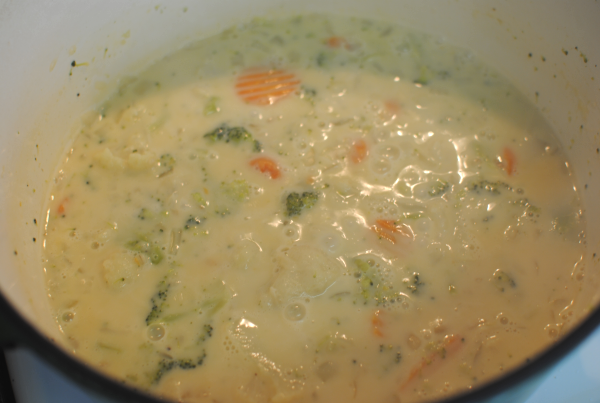 Whisk together cornstarch and part of a can of evaporated milk to begin your thickening agent and add that in.
We're starting to get creamy y'all.
Pour in the rest of your milk and then it's time to get cheesy.
Oh yeah. Cheeeeeeeeese always makes things better.
That's 2 cups right there. Let that melt and you're ready to serve! This goes really great in a bread bowl or along with some yummy rolls.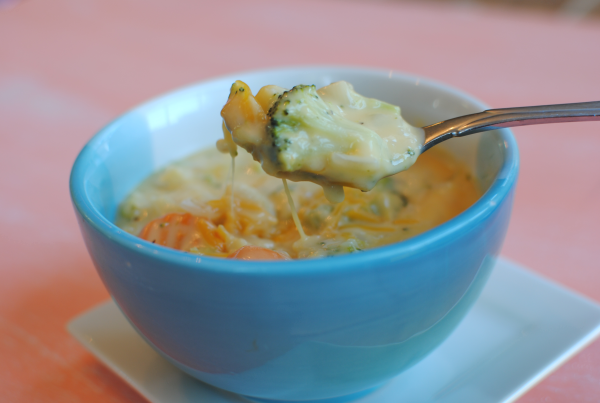 I'm not sure why it makes me happy to know that there's no Velveeta in it, but it does! Somehow it just feels healthier.
I'm sure there's a recipe that you love or that you've heard of. I urge you to give this one a try next time you're in the mood for a warm, broccoli cheese soup.
Recipe Type:
Main Dish, Soup
Author:
It is possible to make broccoli cheese soup without Velveeta! Try this recipe for a tasty alternative!
Ingredients
16 oz Package Frozen Broccoli (or variation of broccoli and cauliflower or carrots)
1 Medium onion, chopped
1 can Reduced-sodium, fat-free chicken broth
1/4 c. Barley (Kroger has this for around $1)
Dash pepper
3 tbsp cornstarch
1 can fat-free evaporated milk, divided
2 c. reduced-fat shredded cheddar cheese
Instructions
In a large pot, combine frozen veggies, onion, chicken broth, barley, and pepper. Bring to boil, then simmer for about 20 minutes.
Combine 3 tbsp cornstarch with 1/4 c. evaporated milk. Pour into veggie mixture and stir well. Pour in the rest of the evaporated milk. Bring to a boil and let cook for about 2 minutes.
Remove from heat. Stir in cheese and serve!
Notes
Makes a great meal for having a vegetarian friend over!
Like this post? SHARE it!