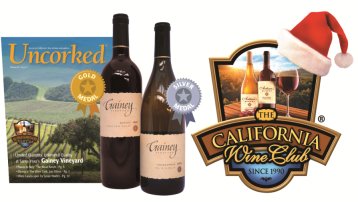 Could there be anything better than enjoying a cozy evening with a glass of wine and great conversation? Maybe a really tasty meal as well, but the wine really helps doesn't it? I'm not a big drinker, but I do enjoy really good wine to take the edge off every now and then. I'm a MOM, what do you expect?
I can't tell you how many times I've randomly picked a bottle out at the liquor store just hoping that it would taste decent. I'm no expert, but I know what I like and also enjoy trying new wines. Especially those recommended by friends. You know those friends, the ones that know everything about every wine out there.
We all have one of those friends don't we?
Enter the California Wine Club. They are kinda like that friend. Bruce and Pam Boring started this club over 20 years ago. Each month, they travel California's fertile wine country to local wineries. They meet the families that run them and taste their wine. Then they share them with the club! It's like a "cookie of the month club", but with wine.
My favorite part is that they all come from family-run mom & pop wineries. Usually, that's where the hidden gems are and it's awesome to be able to try wine that you might never have been able to experience before.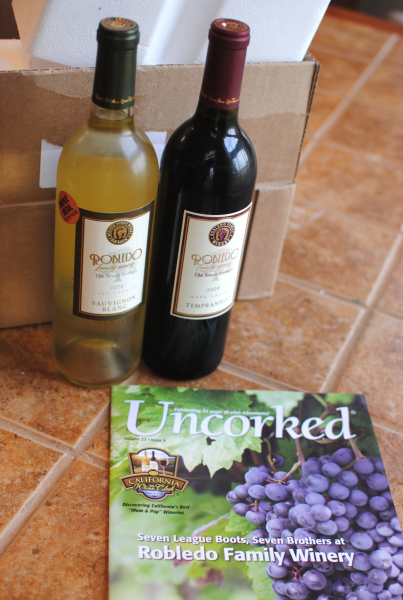 I received a membership this month and was thrilled to receive my first shipment! Each month, your membership comes with 2 bottles of wine. One red and one white. But they will work with you if you prefer all white or all red. You'll also receive a copy of their magazine Uncorked. It's full of info about the wine you'll be drinking along with tips, recipes and more. Plus, discounts and special offers for reordering your favorites.
The coolest thing is that they share with you the story behind the winery where your wine came from. There is even a picture of the people/family that run it in the magazine. Plus, ahem, you get wine set to your front door. How incredibly awesome is THAT?
It really is cool idea. And with Christmas around the corner, this would make a stellar gift idea for the wine lovers that you know. Or you know, just a treat for yourself. Once you join, there's no obligation. You can cancel anytime which means you can give it a try. They have a few different options of shipments to choose from as well.
Wanna check it out for yourself? Here's how to find them:
www.cawineclub.com
California Wine Club Facebook
California Wine Club Twitter
And you do NOT want to miss out on my next post about these folks y'all. There might just be a giveaway in the works and I can't WAIT to share! Stay tuned.
This review was made possible by Mom Spark Media. Thoughts are my own. I received a 2 month Membership to the California Wine Club for the purpose of this review.
Like this post? SHARE it!