We have this little Chinese buffet right around the corner from where I live that is all you can eat for $5.98. We're talking lo mein, shrimp, wontons, those amazing Chinese donuts, and we mustn't forget- chicken fried rice. That's why I love those buffets, on occasion of course. Where else can you stuff your face until it's time to unbutton your pants for just $5.98?
Or take it from me, just wear elastic pants next time…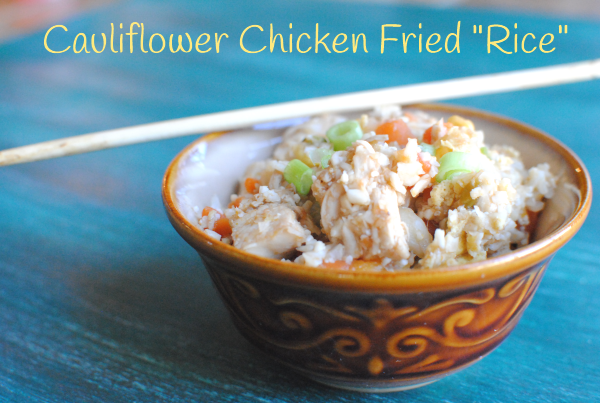 Since I don't go into the gut-busting buffets too often, I sometimes just make my favorite Chinese dishes at home. One of the easiest is chicken fried rice. I mean come on, it's the perfect way to use up leftover rice and chicken. It makes one of those double duty meals that starts as one thing and turns into another. That's a smart or shall I say, pennywise move.
Cauliflower is one of my favorite vegetables. Not only for it's affordability, but for it's taste and ability to pretty much adapt itself to any dish. Take for instance the Doughless Pizza Crust. Whodathunk that you could turn cauliflower into pizza and make it taste good?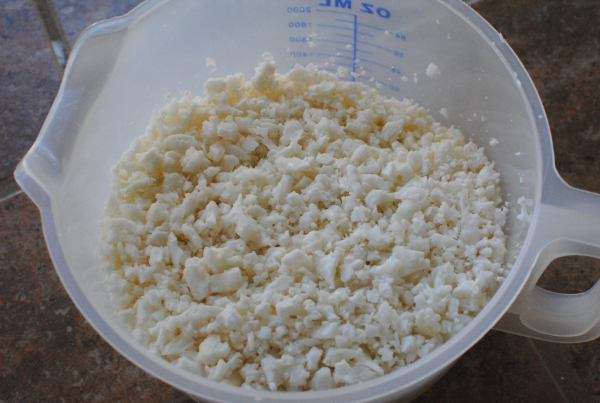 When you make up the "riced" cauliflower for the pizza crust, this is what it looks like. It's basically very finely ground. It reminded me of rice. Hey! I wonder if that's where the term "riced" came from? Ah yes, we are learning together here folks!
This brought me to  thinking about fried rice and how you could easily just throw some grilled chicken into the cauliflower and add some seasonings and such to make a mock chicken fried rice.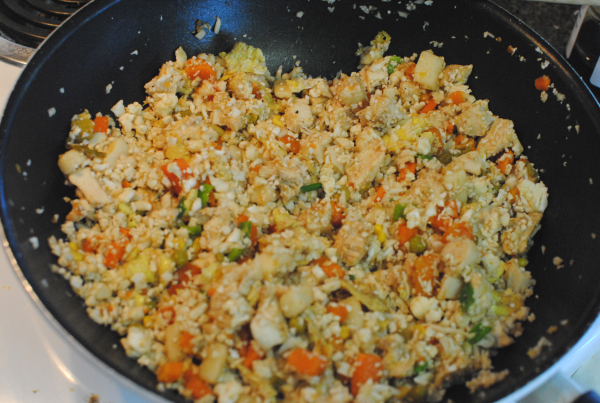 Voila! It totally worked! I did not even COOK the cauliflower before putting it in. I had originally planned to microwave it like you do with the pizza crust, but I got to thinking that might make the cauliflower too soft. I then decided to place it in the fridge for a little while to get it cold. I made the rest of the veggies and chicken and then added the cauliflower very last.
I tend to think in terms of calories. Weighing out the calories for the difference in rice and cauliflower, you'll save about 168 calories per cup using cauliflower. And if you're a carb person, the difference is a whopping 39 carbs less in a cup of cauliflower! So needless to say, it's a healthier choice.
Don't expect it to taste exactly like rice. That would require a magic wand, but this does come close if you ask me. Definitely as satisfying and scrumptious.
If you try this, PLEASE tell me what you think! I'd love to hear your thoughts as I just whipped this together the other night.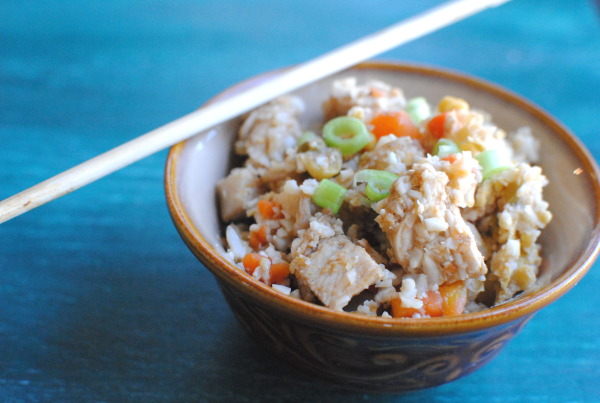 | | | |
| --- | --- | --- |
| Cauliflower Chicken Fried "Rice" | | |
Recipe Type:
Main Dish, Side Dish
Author:
A healthier alternative to starchy rice, try this cauliflower chicken fried "rice" instead! You won't miss the rice!
Ingredients
3 Cups, Riced Cauliflower
1 Large Boneless, Skinless Chicken Breast cut into bite-size pieces
1 Tsp Olive Oil
1 Can Mixed Vegetables (or Frozen and thawed), drained
1 Egg, Beaten
1/2 Tsp Minced Garlic
Pepper
2 Tbsp Soy Sauce
1/2 Tbsp Teriyaki Sauce
1/2 Tsp Sesame Oil
2 Green Onions, Chopped
Instructions
"Rice" your cauliflower by placing in the food processor or blender and making it finely ground. Place in the refrigerator until ready to use.
In the oil, pan sear the chicken breast along with the garlic. Add pepper. Push to one side of skillet and cook the egg.
Add in the cauliflower, veggies, soy sauce, teriyaki, and sesame oil. Cook over medium heat until heated through.
Top with green onions and serve!
Notes
I used canned veggies and it turned out ok. Frozen would be even better since they have more variations on the veggie combinations.
The colder that your cauliflower is, the better.
This would also be great even without the chicken!
Like this post? SHARE it!