We had an awesome weekend. Got some yard work done, ran some errands, went to church, and had some friends over. Oh and I ran 5 miles! It felt really great too. I love runs like that.
How was your weekend?
I eat healthy most of the time. Even on the weekends when I "splurge" I find that I can't help by choose the healthiest options. It's a blessing and a curse I guess. Sometimes I try to substitute things for other things that just don't turn out right. For instance, you just can't use I Can't Believe It's Not Butter Fat Free in place of regular butter. It will burn and ruin whatever you're using it for. But there are tons of other ways to make shortcuts that I use on an everyday basis. Did you catch my post about swapping mushrooms for meat? That's a great example!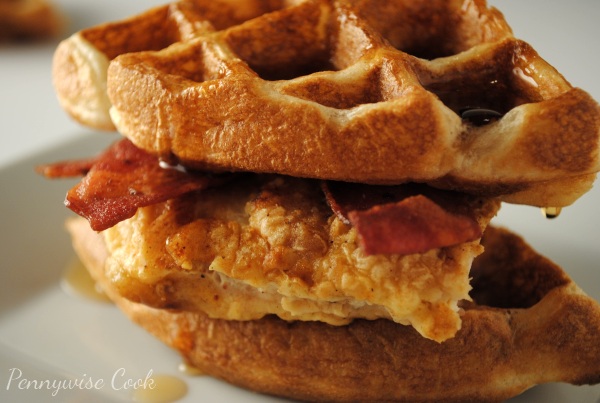 Sometimes I crave ridiculous stuff like those little chocolate covered Hostess donuts. You know the ones. OH MY are they delicious. I have no doubt that I could sit and eat an entire bag in one sitting. Or how about those cheese fries at Outback? They are so incredibly amazing. I remember when I used to go eat there and order those as an appetizer AND a meal on top of that.
The other night I was craving a southern sandwich that is maybe a little foreign to some. A chicken and waffle sandwich. A normal sandwich like this consists of crispy fried chicken sandwiches between two waffles and slathered with maple syrup. So insanely delicious.
I decided to whip these up for the fam that night and they satisfied my craving and were really tasty! If you've never tried one of these and want a lighter version you might try this out for yourself. They are so yummy. These are more like mini sandwiches since I used 1/2 a Belgian waffle for each. However, each sandwich does have half a chicken breast and along with the waffle they are actually quite filling!
Chicken and Waffle Sandwiches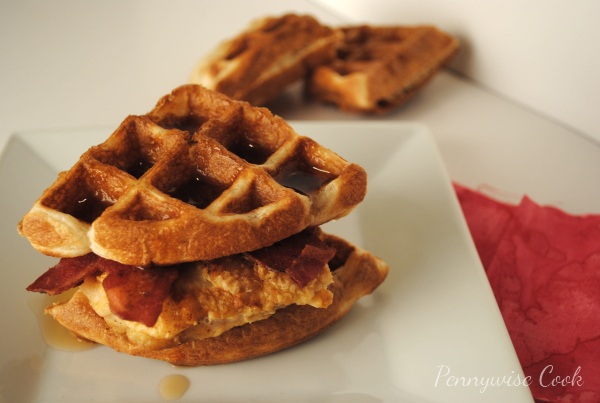 A lightened up version of the Chicken and Waffle Sandwich.
Ingredients
2 Belgian Waffles
2 Chicken Breasts
1/3 c. Egg Substitute or 1 Egg
1/2 c. Flour
1 Tsp. Kosher Salt
1 Tsp Paprika
1/4 Tsp. Pepper
1/4 c. Olive Oil
4 Pieces Turkey Bacon
Sugar Free Syrup
Method
Mix the flour, kosher salt, paprika, and pepper together and place on a plate.
Heat the olive oil in a skillet over medium high heat.
Dredge chicken breast in the egg then in the flour and seasonings. Place in skillet and brown until crispy. About 4-5 minutes on each side.
Cut each chicken breast in half and place on 1/4 of Belgian waffle. Tear 1 piece of bacon in half and place on chicken then top with another 1/4 of Belgian waffle.
Pour syrup over the top and eat!
Notes
I used Batter Blaster to make my Beligan waffles, but feel free to use your favorite batter recipe or premade mix.
To cook your bacon quickly, place the 4 pieces on a paper towel and microwave for 1-2 minutes until you reach desired crispiness.
http://www.pennywisecook.com/chicken-and-waffle-sandwiches/
Like this post? SHARE it!