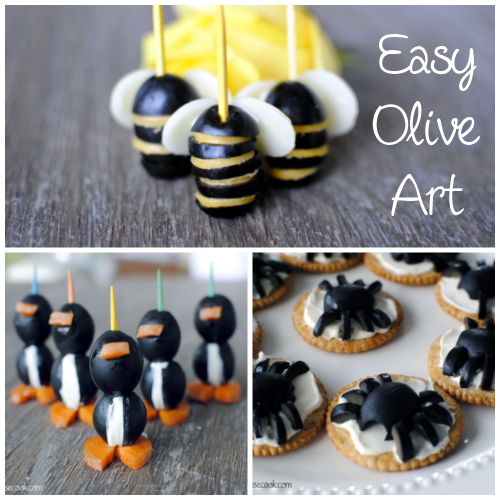 My oldest has only recently figured out that she likes black olives. It was by mistake that she realized that she did, but I'll take what I can get. She grabbed a big handful of "grapes" only to come tell me "momma, those aren't grapes". Thanks honey for letting me know. I fully expected her to leave them on my plate while saying the everso common "I don't liiiiiiiike it". To my surprise, she ate every one of them. Small victories people. Small victories.
I haven't done just a lot to foster her new relationship with black olives, but somehow it's blossomed. She now gets them on her sub sandwiches and even requires them on her pizza. I just grin ear to ear when I hear her telling anyone about her love for olives. My husband can hardly believe it.
I got to pick up some California Ripe Olives in order to create to super duper cute little characters. I was just thrilled at how easy and adorbs they turned out. But I honestly think that the very best part was eating the creations. There is just something about cheese and olives man. A match made in hors d'oeuvres heaven. The versatile California Ripe Olive is the ideal ingredient for home chefs and food artists. Not that I consider myself a chef or a food artist even, but they are pretty versatile and are something easy I can add to most meals.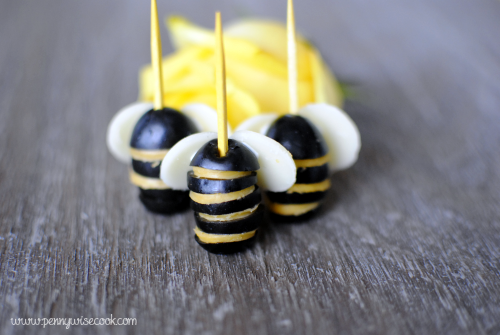 California Ripe Olives are kid-friendly and the perfect option for creating tasty and creative food art for the back to school season. Think about lunch boxes and after school snacks. How cute would it be to put one of these little bumble bees in your kiddos lunch box? Sweet surprise at the lunch table. These may have been my favorite olive creatures.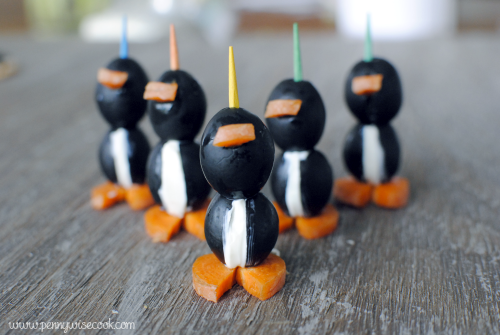 California Ripe Olives provide a pop of color, texture, and flavor to a variety of dishes—including fun and delicious food art. Like these penguins for instance. Kids won't even realize that they are eating healthy! These little guys were so easy to make and even tastier to eat! California Ripe Olives are the perfect pantry staple. They are good right out of the can, but mixing it up with little guys like this makes them even more fun.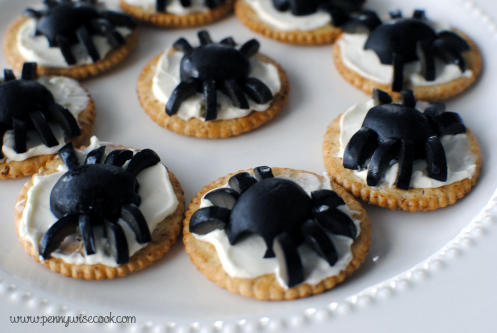 California Ripe Olives are grown on over 1,000 multigenerational family farms that crisscross the warm inland valleys of California and processed by two family-owned canneries. I love knowing that what I'm feeding my family came from just another family. There's just some kinda comfort that I get from family-owned companies. Aren't these little spiders so cute? Perfect for Halloween since it's just right around the corner!
There is a nifty sweepstakes happening and you'll want to enter before it's too late! The California Ripe Olives Back-To-School Sweepstakes runs August 18- September 12th. Follow California Ripe Olives on Facebook, visit the custom tab, and enter once per day for the chance to win an Amazon Kindle Fire HDX!
Want to make the cute little olive art from above? Here's how: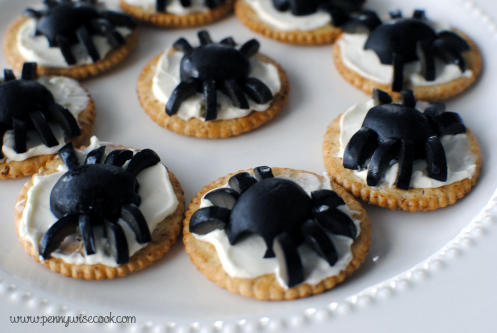 California Ripe Olives Spiders
2014-09-10 13:43:58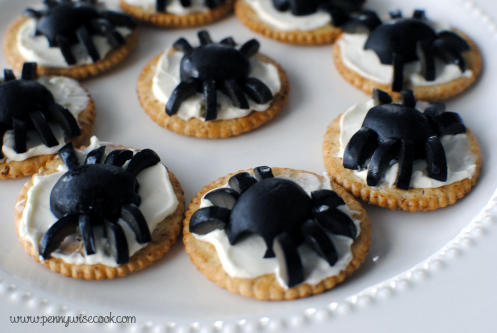 Ingredients
California Ripe Olives
Cream Cheese
Round Crackers
Instructions
Spread a little cream cheese (or dip of your choice) onto a cracker.
Cut an olive in half and place one half on the cream cheese.
Using a knife, cut the other half into 8 small thin pieces.
Place the small pieces around the "body" olive on the cracker.
Tah-dah!
Notes
This one is super easy and they taste amazing! Perfect for Halloween!
Pennywise Cook http://www.pennywisecook.com/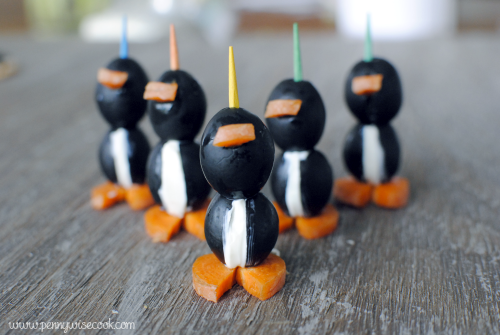 California Ripe Olives Penguins
2014-09-10 13:41:39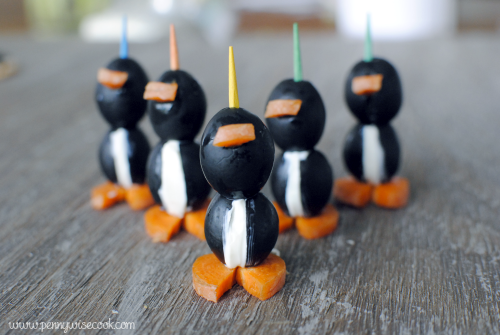 Ingredients
California Ripe Olives
1 Big Carrot, sliced
Cream Cheese
Instructions
Cut a small wedge out of the carrot and set aside.
Cut an olive just to the middle creating a small gap. Fill with cream cheese.
Take your small carrot wedge and poke it into a new olive.
Assemble your penguin but sticking a toothpick first down the olive with the beak (carrot wedge), then through the cream cheese filled olive, and then into the leftover carrot slice.
Tah-dah!
Notes
This one can get kinda messy with the cream cheese involved, but after assembling you can use a paper towel to wipe off the excess cream cheese.
Pennywise Cook http://www.pennywisecook.com/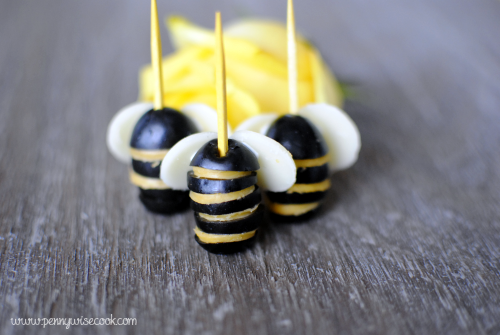 California Ripe Olives Bumble Bees
2014-09-10 13:35:34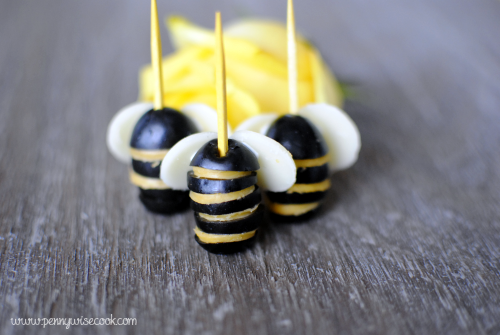 Ingredients
California Ripe Olives
Cheddar Cheese Slices
Provolone Cheese Slices
Cream Cheese
Instructions
Slice your olives into 4-5 sections.
Using a small circular object, cut out circles to place between the olive slices.
Place your cheese circles between the olive slices and then stick a toothpick down the middle to keep it all together.
Using the same circular object, cut out circles from the provolone cheese.
Place a small dab of cream cheese on the back of the top slice.
Stick the provolone circles to the back like wings.
Tah-dah!
Notes
I just used things that I had on-hand to cut out the circles. I believe I used the bottom of a piping tip and it was just the right size.
It doesn't have to be perfect! This is your creation to look however you'd like!
Pennywise Cook http://www.pennywisecook.com/
I was selected for this opportunity as a member of Clever Girls Collective and the content and opinions expressed here are all my own.
Like this post? SHARE it!