I wish I had a dime for all of the "duh" moments that I've had in my life. I will not go into any specifics with you, but just know that sometimes I'm not the brightest crayon in the box. 🙂
Now that I've thoroughly dissed myself, we'll move on to this awesome new revelation that I've made! It's been a long time, but a friend of mine guest posted on Saving with Amy about how to make your own popcorn. I remember reading it and thinking oh that's neat and looks really easy. And then I just moved on with my life to never try it out for myself.
Not sure why I didn't because I am HOOKED on this stuff now!
You see, to make about 8 or 9 cups of your very own popcorn, all you need is a brown bag like this one. You can get 50 of them at Dollar Tree for a buck! And you need 1/3 cup of unpopped kernels. You can also get these at Dollar Tree for a buck!
For $2, you'll have popcorn coming out of your ears…
Have you ever looked inside one of those prepackaged bags of popcorn? There are all sorts of things in there that are pretty much unnecessary. Sure it's nice to have salt or butter flavor, but with all the added fat too? This easy brown bag method makes it easy to make pure popped corn without adding any extra nonsense. In fact, I actually like it plain just like this. No butter or salt needed!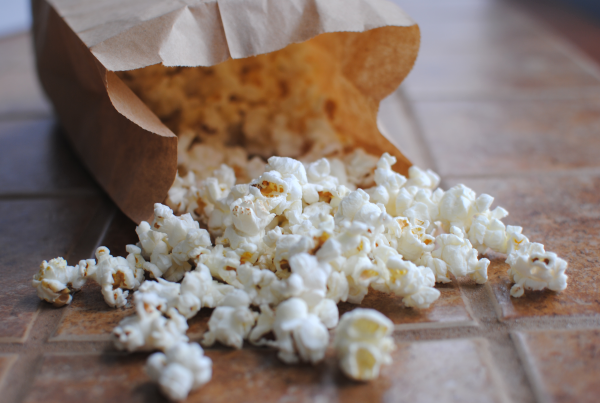 Just try it once and you'll be hooked like me. It's too incredibly simple not to.
| | | |
| --- | --- | --- |
| Ridiculously Easy Brown Bag Popcorn | | |
Author:
A brown paper sack and popcorn kernels are all you need to make your very own popcorn!
Ingredients
1 Brown Paper Bag
1/3 c. Unpopped Kernels
Instructions
Pour to kernels into the brown bag. Fold the top down about 2 times.
Place in microwave and heat on full power for 1:45- 2 minutes. This will depend on your microwave, but 2 minutes is about right for mine. Just stop it once there is about 2-3 seconds between kernel pops.
Like this post? SHARE it!