I sincerely apologize for not getting on here last week and wishing you guys a very Happy Thanksgiving! I'm normally a lot better about that, but this year I decided to truly disconnect from the outside world. Well, everything except for Words with Friends. I'm not sure that I could live without that.
So even though this is very late and you're probably tired of hearing it, HAPPY THANKSGIVING! And now I can officially move on into the Christmas season. I'm just not the type to feel Christmas-y until I've digested my turkey and dressing. Anyone else feel that way?
We had a very fun-filled Thanksgiving with family and friends. I got to see my best friend from high school and even ran a 5k on Thanksgiving morning. It really was a great Thanksgiving. I hope that you enjoyed yours as much as I did!
I've got another recipe for you today that comes from my momma. It's funny how our cooking skills and what we learn in the kitchen usually comes from those we are closest to. When I was little, watching my mom cook was nothing but dinner for my belly. But these days I look back on those days as valuable knowledge. And it's especially fun to cook with her now.
This Vegetable Beef soup is a regular when I visit my mom and also here in our home. It's simple, it's fast, and it's incredibly tasty.
The absolutely perfect soup to warm your soul on a chilly night.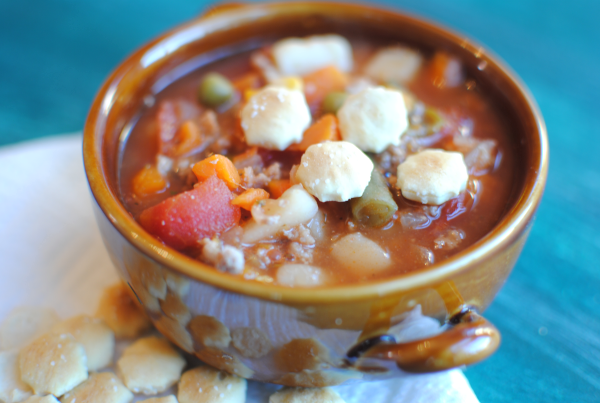 This soup can be whipped up in no time. Even on those last minute weeknights when you have no idea what to make for supper. In fact, most of the ingredients are things you'll probably already have on-hand.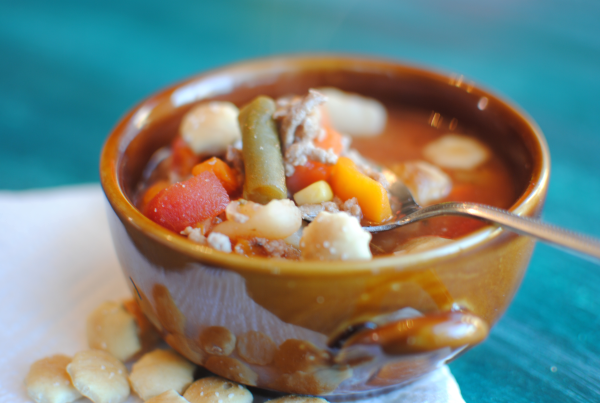 The bulk of this recipe is the beef and plain old canned veggies. It really doesn't get much easier than cracking open a can or two and making a soup that tastes like you've been working hard on it all day long.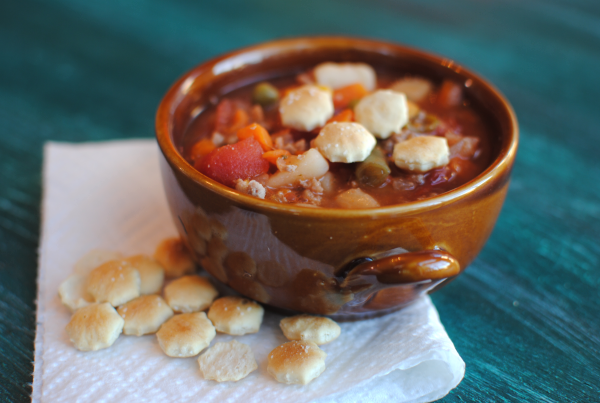 I can't wait for you to try this recipe out! Let me know what you think if you do…
Recipe Type:
Main Dish, Soup
Author:
Warm up on chilly nights with this super easy, yet tasty vegetable beef soup!
Ingredients
1 lb Lean Ground Beef
1 Medium Onion, Chopped
4 Cans Veg-All
1 (28 oz) Can Diced Tomatoes, Undrained
1 (15 oz) Can Tomato Sauce
6 Beef Bouillon Cubes
6 Cups Water
1 and 1/2 tsp Garlic Powder
1/2 tsp Salt
1/4 tsp Pepper
1 tsp Italian Seasoning
Instructions
In a large dutch oven or soup pot, brown ground beef along with onion. Drain.
Stir in the remaining ingredients and heat over medium heat until boiling. Reduce heat and simmer for 10-15 minutes.
Serve with crackers and enjoy!
Like this post? SHARE it!