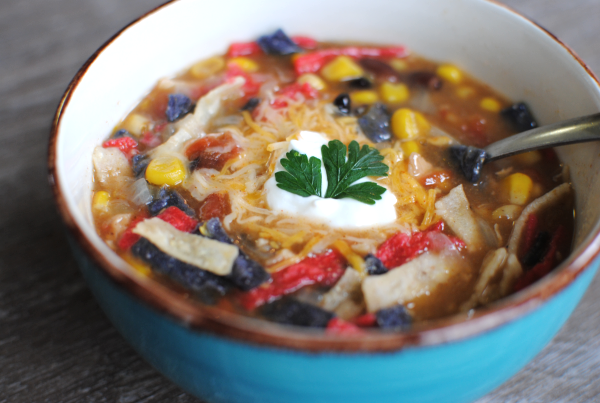 Today is my daughter's last day of school. I can already hear the words "I'm booooooored mom". You'd think that we live in a box without any toys, coloring books, or that all addicting boob tube contraption they call a TV. My goal is to do whatever I possibly can to try and keep those words from seaping out of my kiddo's mouth.
So we'll plan playdates, trips to the splash pad, fun at the Y, and anything and everything else that I can come up with to combat bordem.
Dinner sometimes plays second fiddle in the summer around here. The sun is out later and we're outside enjoying our days which means either mom has to miss out on the fun to cook or mom has to get creative. So creative I'll get! This recipe is one that I put together in a pinch and is super simple to make.
Who doesn't like making dinner in the crockpot? Most of the ingredients in this recipe are from cans which also makes for easy prep. This reminds me of a 7 can soup with a little twist. One ingredient that I've always kinda been leary of, is canned chicken. I don't use it that often because, well, it's called canned chicken. It smells a lot like tuna to me in the can which most of the time turns me off. But every now and then I'll place it in a recipe that makes the chicken transform with the other flavors. And sometimes it actually tastes great. Hey, don't knock it 'til ya tried it! If you're not too keen on the canned chicken idea, use leftover rotisserie chicken or something along those lines if you'd like.
I love the crunch of the crispy tortilla strips on top at the very end. If you're lucky enough, you'll find some colorful ones like I did!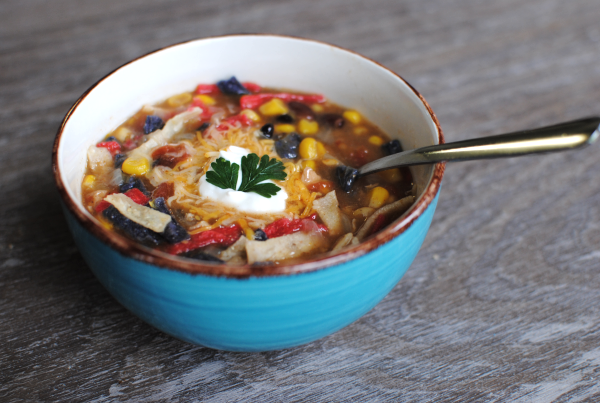 It's your turn: Do your kids get bored during the summer? Or do they enjoy the freedom?
| | | |
| --- | --- | --- |
| Crockpot Chicken Tortilla Soup | | |
Recipe Type:
Soup, Main Dish, Crockpot
Author:
A few cans and seasonings and you're on your way to a tasty Chicken Tortilla Soup!
Ingredients
1 onion, chopped
2 tsp garlic, minced
1 (14 oz) can vegetable broth- could also use chicken
1 (15.5 oz) can black beans, drained & rinsed
1 (15.25 oz) can whole kernel corn, drained
1 (12.5 oz) can chunk chicken breast, drained
1 (10.5 oz) can cream of celery soup
1 (10 oz) can rotel
1 rotel can of water
1 tsp coriander
1/2 tsp cumin
1 tsp chili powder
salt & pepper to taste
1 c. tortilla strips for topping
Instructions
Place all ingredients into crockpot and cook on high for 4-6 hours or low for 6-8 hours.
Notes
– The first time I made this, I sauted my onion and garlic before placing it in the crockpot. You can do this first if you are going to be cooking your soup for less time. If not, they should soften up enough while cooking.
– If you would rather, you can use chicken broth in place of the vegetable broth
– If you have leftover chicken, you can use that in place of the canned chicken
– Finally, if you prefer, you can use more broth in place of the water in the rotel can. I found it tastes just as good with the water.
Like this post? SHARE it!