I want to preface this post today with a warning to my sister. If you are reading….STOP right here.
And for everyone else, you might wonder why I say this to my sister. It's because I'm going to expose a little family secret today. One that in her undisclosed amount of years on this earth, she has never found out. My grandmother has always made this incredible coconut cake almost every year around the holidays. It usually marks a special occasion. My sister always requests it and it just makes her day when she gets a piece.
To my surprise, I was told this family "recipe" around her birthday this year. My mom shared it with a coworker who made one of these cakes just for my sister's birthday. She thought it tasted exactly like my grandmother's coconut cake. No wonder, it's actually very simple to make.  I realize that many people don't like coconut, but if you are one of the few that do, you'll want to learn about this cake. It's soooo yummy and soft and will definitely put a smile on your face. My grandmother usually makes this in cake form, but to narrow the portion sizes (I can't help myself), I made them into cupcakes this time around.
It starts with your favorite white cake mix. Yes, that's right. Save yourself the hassle and let Betty Crocker help you out for once. I actually used the Coconut Supreme version this time around to give it more coconut flavor. Bake the cupcakes according to the package and while they are still warm, use a wooden spoon to poke 3 holes in the middle of each.
Pop open a can of sweetened condensed milk (I use fat free) and drizzle some down in each of the holes in each cupcake. As you drizzle, it will absorb and will seem to disappear. Don't go overboard though or you can cause the cupcake to get extremely mushy.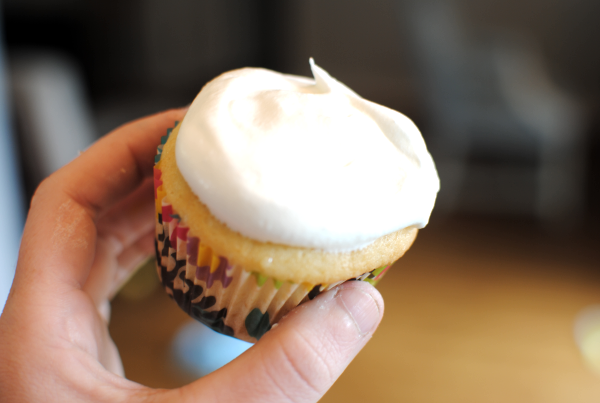 Place a dollop of whipped topping on each cupcake and even it out just a bit.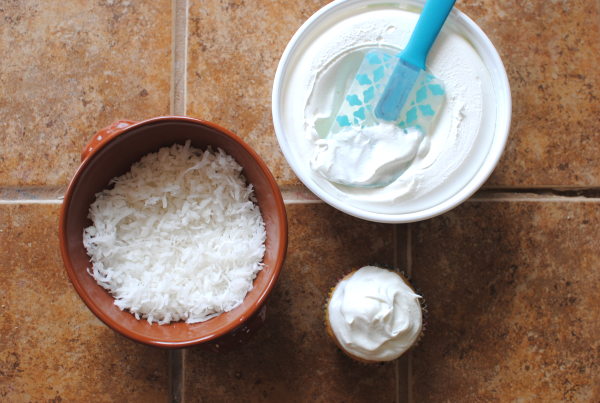 It's time for the cupcake to take a coconut bath….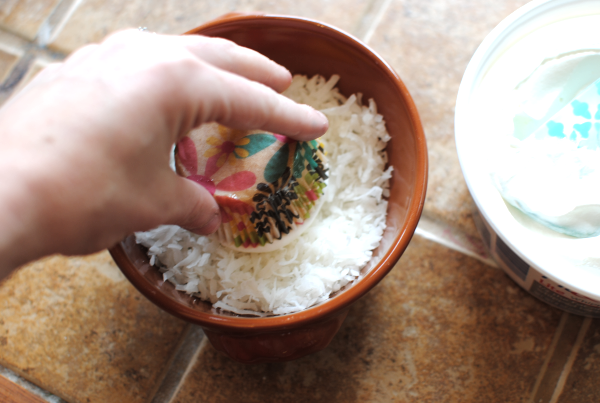 Dip that baby into the coconut and let it settle into the whipped topping. Don't push too hard, it doesn't take much for the coconut to catch on.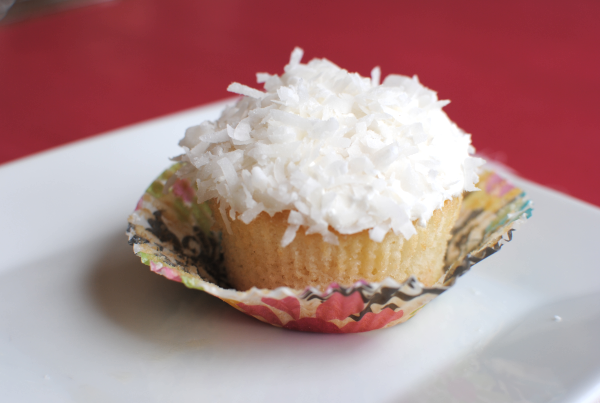 Oh my heavens, that's it! From the outside you can't even tell that it's got a gooey and yummy center. But the fluffy, white coconut top is enough to get me to dive in.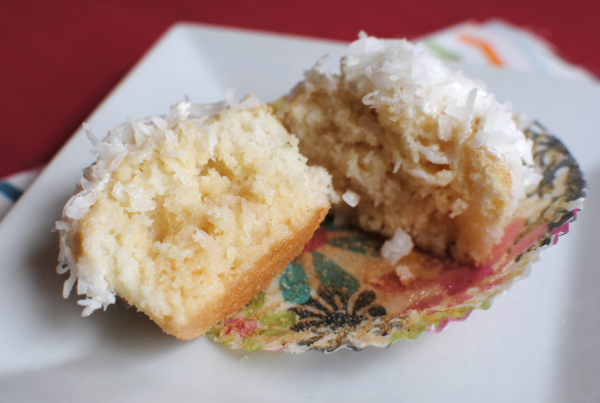 And when you do, you'll see how moist the inside is. It's like a fluffy cloud of coconut heaven y'all.
To my sister if you did continue to read on, I'm very sorry to have spilled the beans on this beloved cake. But I thought it necessary to share it's simpleness with the world. It'll be a blessing to coconut lovers like us everywhere. 🙂
Author:
This simple method creates a fluffy coconut cupcake made in heaven!
Ingredients
1 Box White Cake Mix (Or Coconut Supreme if you're feeling frisky)
1 Can Sweetened Condensed Milk
1 8oz Tub Whipped Topping
1-2 Cups Coconut Flakes
Instructions
Cook cupcakes according to package directions. DO NOT LET COOL.
While cupcakes are still warm, poke each about 3 times most of the way down. Drizzle some sweetened condensed milk equally among them all being careful not to overdo it. The sweetened condensed milk will be absorbed so it may not look like it's going in, but it is.
Place a dollop of cool whip on top of each cupcake spreading it out a bit.
Place the coconut flakes in a bowl and dip each whipped topping covered cupcake in the coconut flakes to coat.
Serve! And keep refrigerated.
Like this post? SHARE it!