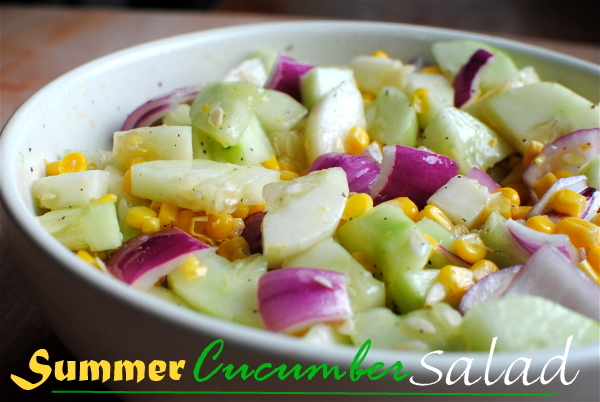 There are only about a thousand reasons to like summer. Sun, fun, vacation, strawberries, and the list could go on and on. But one of my favorite things are the cool and crisp summer salads. Cole slaw is always a great addition to any summer cookout, but is there anything cooler than a cucumber? Well sure, but they don't have a saying about those things so we'll stick with the chillin' cucumber.
I was delighted to find a cucumber in my garden the other day. I have been waiting for them to grow so I could start adding them to my salads. If your garden is brimming with cucumbers, you might like this Summer Cucumber Salad recipe. There are many variations of this type of salad, so don't feel like you have to follow it to the T. But this is my favorite combination of flavors.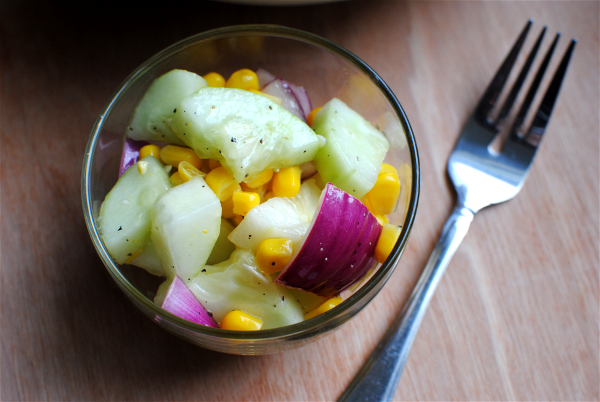 I was at a family get-together a little while back when my stepsister brought a salad like this. I asked her what she put in hers and I remember thinking how simple it was. It was so tasty! Within a few days I had made my own and within a couple of days it was gone. I ate the entire thing myself.
I have no shame in admitting that.
After all, we're talking about healthy foods here, right? Not chocolate cake.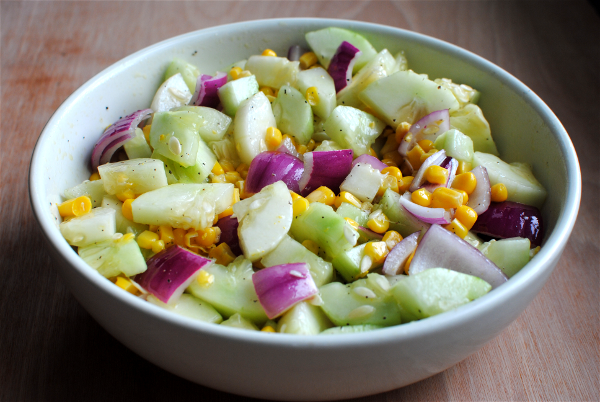 It took me a few times making this to perfect the combination of flavors. And you may want to give or take some of the ingredients to get it to your liking. Also, might I suggest making this up the day or night before an event. The longer the cucumbers and onions get to marinate in the vinegar mixture, the better they taste. And oh do they taste lovely!
My family isn't really the cucumber-eating type. They don't eat onions that aren't cooked and you can also bet they won't munch on anything marinate in vinegar. But hey, more for me! I've probably eaten 4 or 5 whole Summer Cucumber Salads by myself this summer…
Wow, it sounds a lot more when typed out…
Summer Cucumber Salad
Recipe Type
:
Side Dish, Salad
Author:
Super easy summer ingredients come together to make a tasty, cool, and crisp summer salad!
Ingredients
2-3 Cucumbers, peeled & cut into halves or quarters
1 Medium Red Onion, cut into chunks and then peeled
1 can Whole Kernel Corn, Drained
1/4 c. + 3 tbsp Apple Cider Vinegar
3 tbsp Olive Oil
1/4 tsp Salt
1/8 tsp Pepper
Instructions
Place all ingredients into a medium bowl and cover with plastic wrap. Allow to marinate overnight or for at least 2 hours. Serve!
Notes
Some people like to also add tomatoes cut into chunks to this dish as well!
Feel free to use any onion for this. I just like to use red onion because it adds pretty color!
I would eat this within a few days of making. The vinegar breaks down the veggies.
Like this post? SHARE it!