So I told you how I've been keeping things on the easy side the last few weeks. With Addie starting kindergarten and with family in town off and on these last couple weeks, the cooking has been a little out of routine. Out of routine meaning that I didn't want to bore my guests with my food portraiture and involvement with my food. So I opted for easy yet tasty.
The other day I was talking to my mom about the Crockpot Baked Potatoes when she mentioned that she had also used her Crockpot to make up some corn on the cob. We usually just pop our corn on the grill when we're grilling out, but it's been so hot lately that we haven't wanted to be outside for more than 10 minutes. Though, it's FINALLY beginning to cool down just a bit around here. So to save a little propane and heat from the stove or oven, I decided to throw some ears in my slow cooker.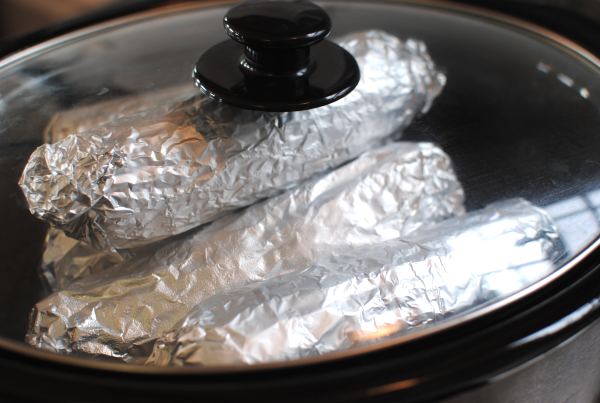 I seasoned them up with a little mayo concoction that I put together, then rolled them up in foil and placed them straight down into the slow cooker. I didn't add water, I didn't put anything inside to raise them away from the sides. I didn't do anything at all, but just let them go. It worked great! The steam from the moisture in the corn is what cooks it.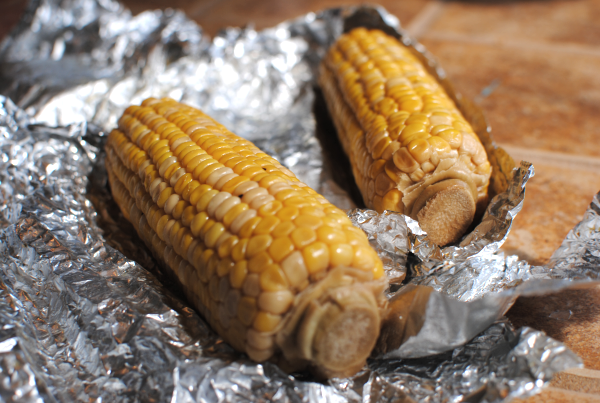 With sweet corn being so cheap (in places not affected by the droughts), it's an easy and tasty side dish for just about anything. Plus you can use corn on the cob to make up creamed corn, corn bread or muffins, and more. If you need cooked corn for a recipe and want it fresh, throw some ears into your slow cooker overnight and in the morning you'll be ready with slow cooked and perfect corn!
| | | |
| --- | --- | --- |
| Slow Cooker Corn on the Cob | | |
Recipe Type:
Side Dish, Crockpot
Author:
Another shortcut idea that makes corn as simple as 1,2, 3 to make!
Ingredients
4 Ears Corn on the Cob
2 Tbsp Reduced Fat Mayonnaise
1/4 Tsp Garlic Powder
1/4 Tsp Onion Powder
Dash Salt and Pepper
Instructions
Whip ingredients together and rub 1/4 mixture onto each ear of corn. Wrap in foil and place in slow cooker. Cook on lowest setting for 4-6 hours.
Notes
I used the low setting on my slow cooker, but if you have a "warm" you might consider using that for longer cook times.
Like this post? SHARE it!