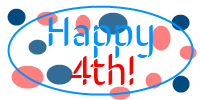 First of all, Happy 4th of July! I love summer and the 4th of July always tells me it's definitely summer! Well that and the ridiculous sweat provoking heat. Either way, today is a great day to celebrate our independence and enjoy our freedom. If you got the day off, enjoy your time! And if you didn't well shame on your boss. 😉
What better thing to cook today than a burger, right?
I tell you, this cooking stuff has its highs and lows. I get a lot of ideas all the time and it's like the gears in my brain start turning trying to think of ways to make something new or different. Just the other night I made something that was not very good. The idea of it was brilliant, but the execution was not so much. Hubby said it was good and even took the leftovers for lunch the next day, even when I insisted on chunking them. But He was just being sweet. I'm sure of it. 🙂
While undoubtedly, I have some cooking failures lows, I also have some things that end up really great! Today's recipe is one of them.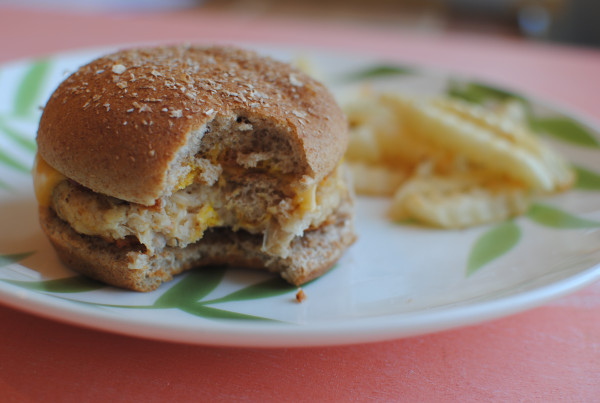 You may never think about a black bean burger again. This my friends is my absolute favorite new burger. I saw mention of the words "white" bean burger the other day in passing. Without even looking at the recipe, I knew that I could create one similar to my black bean burger but creamier, as white beans tend to be. Normally I kinda jot down what I might put in the recipe, but this time I decided to wait until it was time to start making them to jot down the ingredients. You know, a little bit of this and a little bit of that.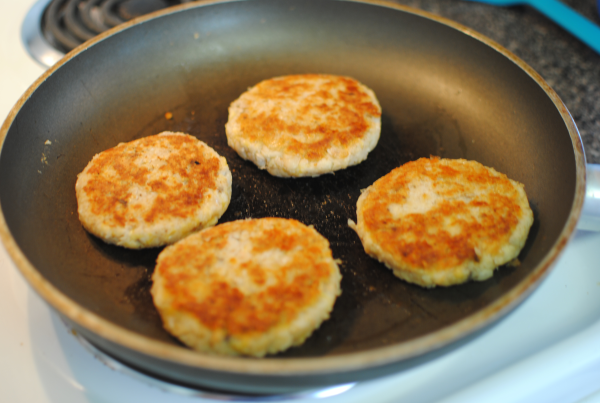 What my brain (and food processor) produced was yummy y'all! I'm so excited about these burgers! Not only are they made with the creamiest beans, they are loaded with cheese and even have an added bonus- mushrooms! If you're not a mushroom person, please don't write these burgers off just yet. I'm not a huge mushroom fan either. You cannot even tell that they are there. It's a great way to get the kids to eat them without suspecting a thing.
| | | |
| --- | --- | --- |
| White Bean Cheddar Burgers | | |
Recipe Type:
Main Dish, Burger
Author:
Take a break from the ordinary and enjoy a meaty white bean and cheddar burger!
Ingredients
1 (19 oz) Can Cannelini Beans, Rinsed and Drained
1/4 c. Mushrooms, chopped
1/4 c. Bread Crumbs
1 Egg White
2 Tbsp Olive Oil
1/2 c. Shredded Cheddar Cheese
1 Tsp Minced Garlic
1/4 Tsp Salt
Dash of Pepper
Dash of Onion Powder
Instructions
Place all ingredients in a food processor and pulse until combined well.
Heat olive oil in a skillet over medium high heat. Form "meat" into 4 patties and place into skillet.
Cook for about 4-7 minutes on each side until browned.
Serve with your favorite toppings!
Notes
I put green onions on top of my burger and it went really well. If you like green onions, it would be a fantastic addition to add 2 tbsp chopped green onion to your burger "meat"!
I used cannelini beans, but you could also use any other white bean such as great northern beans or even pinto beans.
I used jarred mushroom pieces or you could use canned.
If you are concerned about what a "dash" is, then just use about 1/8 tsp.
Like this post? SHARE it!