My youngest turned 2 not too long ago and we decided on a Mickey theme for her party. It took me some time to figure out what theme to go with because she's not at the age where she drools over certain characters and has a fit because she wants the latest and greatest of a certain toy collection. I'm thankful for that, but it created some difficulty when deciding on a party theme.
Then it hit me one morning…
She brought me the remote and said "turn on Mickey Mouse Howhouse" (That's what she calls it). She does this almost every morning. How could I have not thought of this before? That's all it took and I began to run with the theme idea. It's the most fun I've  had planning a party in a while.
Sure, she may not remember any of it, but I'll have pictures to remind her. 😉 I put the entire thing together on a budget. I'm almost always on a budget so most store-bought party items aren't really an option. Plus, isn't it always better to have one-of-a-kind things? I think so anyways.
I'll share my ideas and give you a general idea of what I did. If there are more questions, I may end up doing separate posts for those items. Here we go!
These super simple tissue pom poms cost me a whopping $3! I bought each color separately at different stores in packs of 8 or 10 sheets. The 10-sheet packages make better poms poms, but they are harder to find. For a buck, you can create a nice hanging decoration for above your table!
This could be the decor that I was most proud of. I found much inspiration for ideas on Pinterest and ended up going with this design. I bought the straw wreath at Goodwill and the red ribbon at Walmart for around $1. The black is actually an old t-shirt that I cut up and wrapped around. The buttons were $1.
The ears are circles that I cut out of a cardboard box and covered with more t-shirt. I then pinned them to the wreath.
And of course the little signs are just printed up and taped to scrapbook paper to spiff it all up!
Scrapbook paper and fancy Disney font make a cute little sign as guests exit.
A cardboard box I had on-hand made a great goodie bag container. I just printed up a cute note and attached some Mickeys that I cut out of construction paper!
The flags are simply pieces of cut out scrapbook paper. I punched holes in each of them to run some ribbon through and hung them on top of a table cloth. The big 2 you see is (believe it or not) a 2 that I cut out of cardboard and then glued CUPCAKE WRAPPERS to! Hung with a cute little ribbon over the Mickey treats and it made for a cute party backdrop.
With scrapbook paper, I cut out little Mickey heads and punched holes in them to make Mickey Garland! I hung this all over the house including the chandelier. It doesn't get any easier (or cheaper!) than that!
No party would be complete without snacks! If you know a lot about Mickey Mouse Clubhouse, than you've probably seen them fishing for Gooey Fish. Swedish Fish make great substitutes for those. Using scrapbook paper, I was able to create cute little name signs for all the food.
As a side note- if you haven't heard of Gooey Fish from Mickey Mouse Clubhouse, don't feel bad. Apparently I know WAY too much about the show! lol
Pigs in a blanket make the perfect Hot Diggity Dogs and snack for hungry kiddos at your Mickey party! Once again, this is a cheap snack that everyone will loves. Especially kids!
I threw some Bugles in a bowl and called them Oh Toodles! Bugles.
Getting a little more creative with the names of the foods, these are Meeska Mouska Marshmallow Treats. AKA Strawberry Rice Krispie Treats. Tasty!
The name of this snack wasn't as creative, but the popcorn was DE-lish! Birthday Cake popcorn made with actual cake mix. It's divine and costs pennies to make!
I had only just learned of the PB&J Sushi when I was gathering my menu for this party. I just had to include these. They were a HUGE hit. I found the recipe here. They were so easy, but seemed like they took a lot of work. I love those type of snacks!
These "Minnie" Pizzas were also a big hit. I started making each of them with a big pepperoni and 2 small ones on the top, but it became a little tedious and my time was running thin. I'm glad I opted out of making them all that way. They weren't around long enough to admire!
I had these super cool milk jugs from a local dairy to put chocolate milk in. We called it Clarabelle's Moooooooo Milk!
Whowouldathunk (yes, this is totally a word y'all) that grapes could make such a pretty presentation? Skewers did the trick to make these just right for individual servings. Must I say it? They were a hit!
The cupcakes were Cookies 'N Cream Cupcakes and they were really tasty. Different size Oreos made for cute little Mickey heads as toppers. I hid a Oreo and a dollop of marshmallow cream inside each cupcake, too!
I printed off the little sign and attached it to one of my construction paper Mickey heads. The cupcake holder was $1 at Michael's. Love that store.
Pluto's Pineapple Punch was nothing more than Ginger Ale and Pineapple Juice and ice. So easy and tasty at the same time.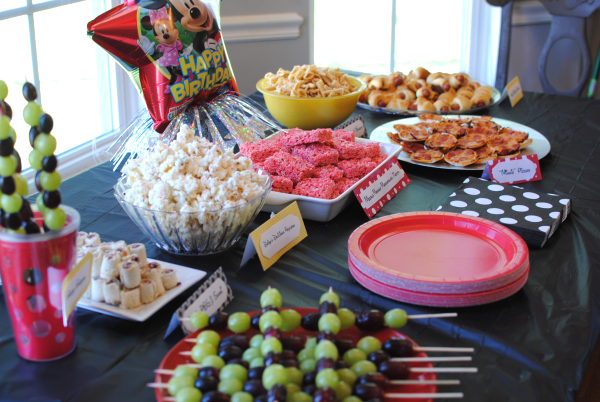 Mickey party success! What do you think?
Are you planning a Mickey party soon? I'd love to hear your ideas or suggestions!
Like this post? SHARE it!