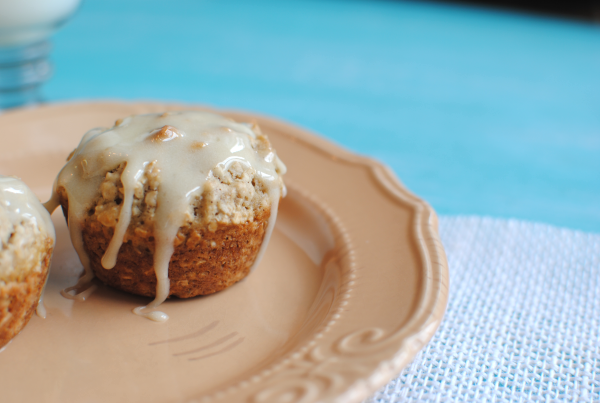 It's Friday the 13th! Who is up for a Jason marathon? Not me, but the thought sounded fun anyways. 🙂
I always have good intentions, don't you? It's funny how things can sometimes work out completely different than you really intend them to. For instance, some days I plan my entire day around cleaning the house. The perfect example of a good intention. And then some unforeseen, crazy, busyness takes over and the dishes pile up while the laundry remains unfolded. But I take comfort in knowing that I really did plan on making my house spotless…. That is, until I can't see my floor because it's covered in toys.
My first intention for this recipe today was to make homemade oatmeal cream pies. And then my second intention was to make oatmeal cream pie cupcakes. They eventually turned into more of a muffin and instead of the everyday marshmallow cream filling, I decided to glaze them. Though they ended up completely different than what I had intended, I must say that they are fabulous just the same!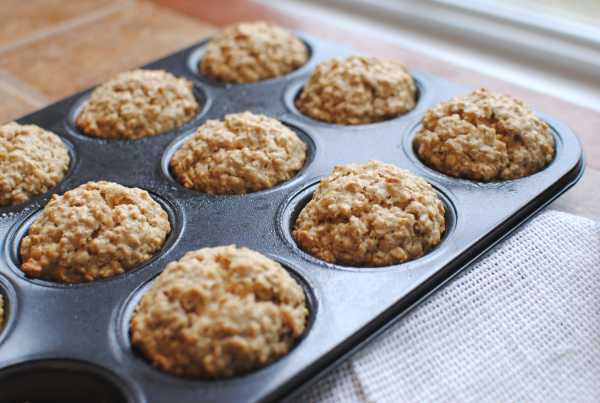 It might just be impossible to dislike oatmeal muffins. Even those who don't like oatmeal usually like oatmeal muffins. And if they don't then they are really missing out my friends. They are dense (the muffins, not the people who dislike them) and yet still so cakey and muffiny. You like those words there don't you?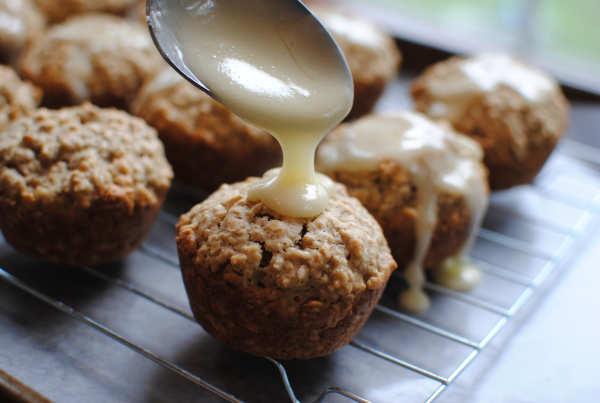 Believe it or not, these are actually not that bad calorie-wise. I did what I could to create them with low calorie ingredients, including the glaze. So you won't have to feel too bad for inhaling a few. The glaze firms up a bit and starts to get back to it's marshmallow form after they have sat for a bit. My Addie kept laughing because she would get a marshmallow mustache after taking bites.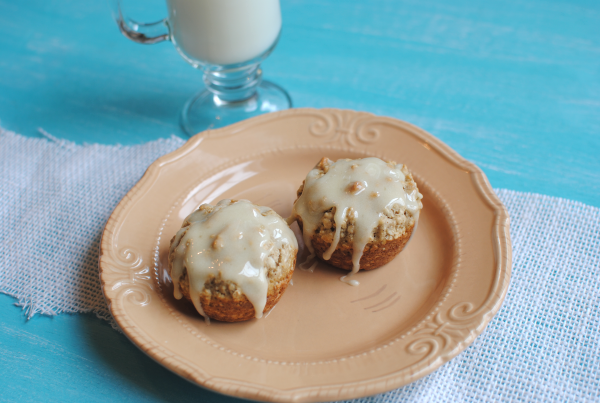 Just perfect for breakfast or perhaps a brunch, they do have a certain oatmeal cream pie-esqe taste to them. They definitely satisfy my sweet tooth and yet are so filling that I don't need anything else for breakfast. Except for MILK. You will need milk for sure.
So how do you think my intentions turned out?
Question of the day: Can you count how many times I used any variation of the word intention in this post?
| | | |
| --- | --- | --- |
| Marshmallow Glazed Oatmeal Muffins | | |
Author:
This muffin recipe intended to mimic oatmeal cream pies takes the famous snack to a whole new level.
Ingredients
For the Oatmeal Muffins
6 tbsp butter (I use Blue Bonnet Light)
1/4 c. Unsweetened Applesauce
1/2 c. Brown Sugar
1/2 c. Granulated Sugar
3 Egg Whites
1 Tsp Vanilla
1 and 1/2 c. all-purpose flour
1 Tsp Baking Soda
1/2 Tsp Cinnamon
1/2 Tsp Salt
2 Cups Oats (Quick Cooking)
For the Marshmallow Glaze
2 c. Marshmallows (big or little)
2 Tbsp Skim Milk
2 Tbsp butter
1/4 c. Powdered Sugar
Instructions
Preheat oven to 350 degrees. Cream together butter, sugars, and applesauce. Add in egg whites and vanilla.
Sift flour, baking soda, cinnamon and salt together. Slowly add to sugar mixture and beat until combined.
Stir in the oats. Using an ice cream scoop, scoop equal amounts into greased muffin tin.
Bake 13 minutes or until golden brown.
Meanwhile, in a saucepan place the butter, skim milk and marshmallows and cook over medium heat stirring constantly. Once the marshmallows are completely melted and smooth, stir in the powdered sugar.
Remove muffins from oven and place on cooling rack with wax paper underneath. Carefully glaze each muffin and allow to cool.
Notes
This recipe will make about 11 muffins, maybe 12 if you make your batter go further.
Like this post? SHARE it!