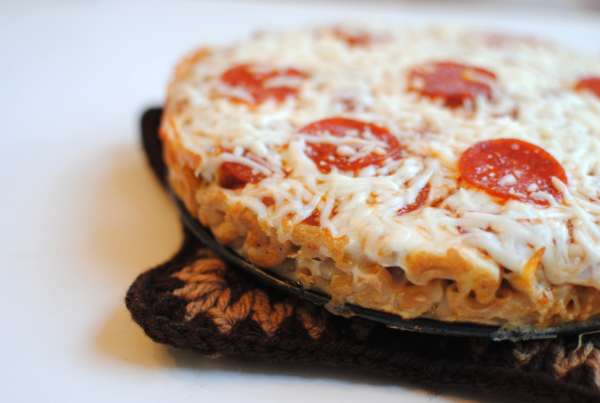 One of the cheapest meals that I know how to make is pasta. You can always find a deal on dry pasta just about anywhere you go. Have a coupon? That's even better! My favorite is when Publix puts pasta BOGO and you can get it next to nothing. I usually stock up and when I need something quick or easy during the week, it's a no-brainer.
My favorite part of pasta is that it is SO versatile. You can basically make it into anything or put anything in it. This is what makes it so great for budget meals and for those who have picky eaters in the fam.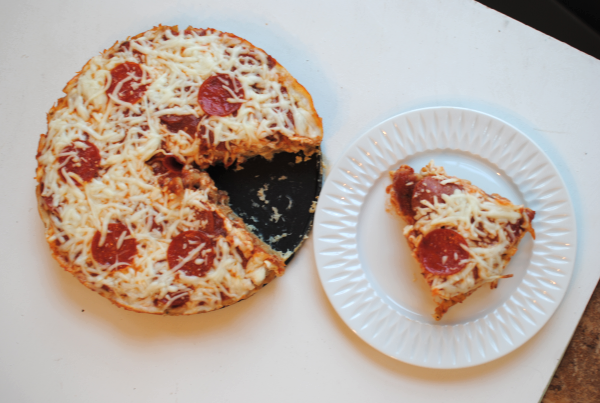 I can't take credit for today's recipe. I adapted this recipe from The Dieter's Cookbook from 1982. I can't believe that I've never thought of this. I've made pizza pasta many times before, but never thought of making macaroni the "crust" of a pizza. I cannot stress to you how much my family liked this. Easy, cheap, and incredibly tasty you really do have to try this one y'all!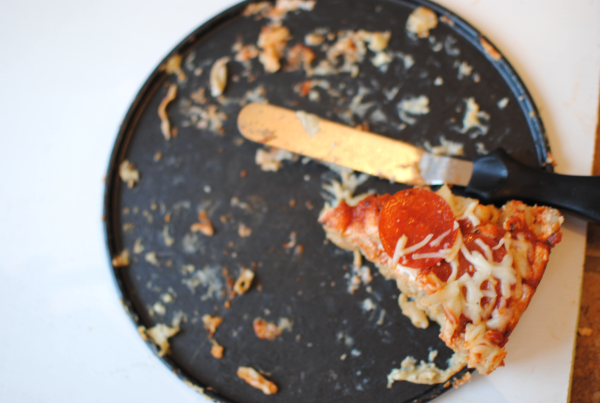 I take that back. Remember how I said that I couldn't describe to you how much my family liked this? Well instead, here's an illustration! This is all that was left from one sitting of this Macaroni Crust Pizza. It is that good.
And it's actually a decent recipe for those watching their calories. Well, as long as you don't eat as much as we did. 🙂
Just make it. Then come back here and leave a comment about your family's reaction!
Recipe Type:
Main Dish, Pasta
Author:
This cheap and easy meal is a tasty twist on regular pizza!
Ingredients
2 c. Elbow Macaroni
2 Eggs, Beaten
1/2 c. Mozzarella Cheese
1/4 c. Parmesan Cheese, Grated
2 oz Pepperoni
1/4 c. Skim Milk
1/2 Tsp Dried Basil
1/2 Tsp Dried Oregano
1/8 Tsp Pepper
For Topping
1 Egg, Beaten
1/2 c. Reduced-Fat Ricotta Cheese
1 Jar (8 oz) Pizza Sauce
1 c. Mozzarella Cheese
Instructions
Preheat oven to 375 degrees. In a large saucepan, cook macaroni according to package. Drain well.
In a mixing bowl, combine 2 eggs, 1/2 c. mozzarella cheese, Parmesan Cheese, milk, basil, milk, and pepper. Add macaroni to this mixture and combine well.
In a greased springform pan, place the macaroni mixture into a "crust" form. Bake for 10 minutes.
Meanwhile, in a bowl combine the 1 egg and ricotta cheese. Once "crust" is out of the oven, pour this mixture over the top and evenly spread. Pour the pizza sauce over the top and sprinkle with mozzarella cheese. Top with pepperoni.
Return to oven for 10- 15 minutes or until heated through. Let stand 10 minutes before slicing.
Notes
This could easily be made without any meat for vegetarians!
Like this post? SHARE it!