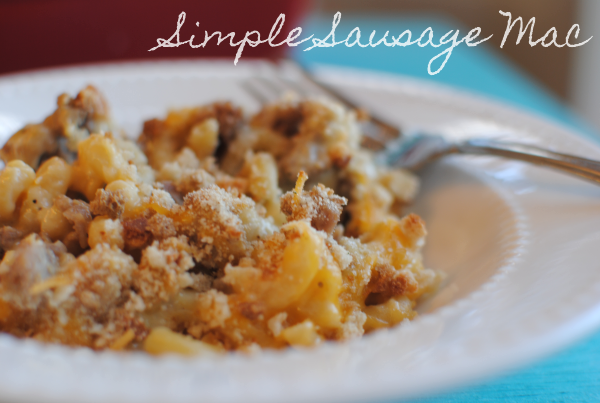 Are you ready for Halloween yet? Well you better get that way because it's on Wednesday! Can you really believe that we have already reached the end of October? I'd really love for someone to explain to me where the rest of this month has slipped away to. Maybe I'm just getting old or maybe time is speeding up. Either way, I'm going to hold on tight.
The weather is finally starting to cool off around here. I absolutely love the fall. Well, let me just say I love being cozy. I hate being cold, but I love being cozy. I've got a bunch of warm and comforting recipes coming up that I can't wait to share with you. The fall is really when I have the most fun cooking. You can make up a big pot of something that sticks to your bones.
One of the first "comfort foods" that comes to mind practically anytime I hear that phrase is macaroni and cheese. It doesn't get much more comforting than that. I've seen mac & cheese turn a frown completely upside down! Especially when it's homemade. The boxes are good, but homemade is better.
And you know that here in the south, macaroni and cheese is considered a vegetable at most meat and threes….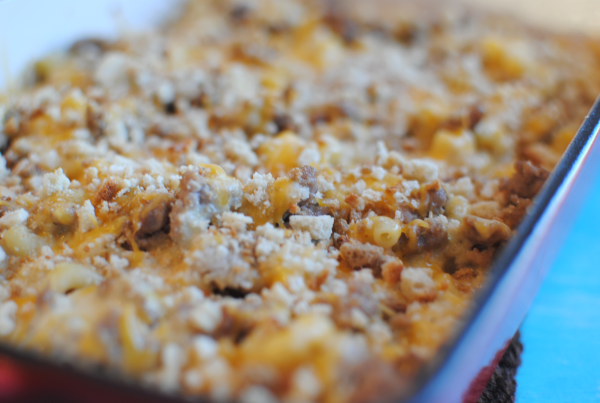 The only issue that I've ever had with macaroni and cheese is that it's so good that I eat too much. Well that and the fact that it needs a little bulking up so that it can be worthy of being called a meal. After all, we wouldn't want to make mac & cheese only a side dish. It's worthy of being the main attraction with a little adjustment.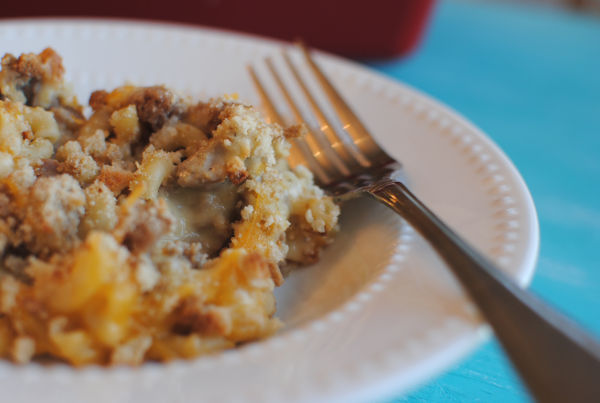 One of my favorite things about this macaroni and cheese is the secret topping. No longer a secret because I'm about to share it with you! We're heading for Thanksgiving and there will be deals out the wazoo on stuffing mix. THAT my friend is a little something extra that can give macaroni and cheese a little spice. Breadcrumbs are great, but stuffing mix adds a little more crunch and even some nice flavor. I used Stove Top's version for this. You can use whatever you'd like of course.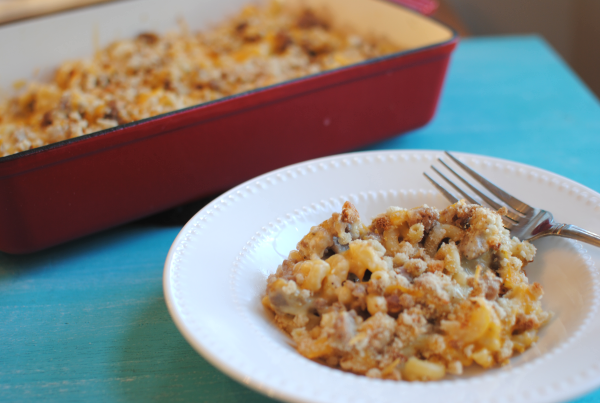 I bulked this up with sausage to give it a little flavor and to make it meaty. So yummy and extra comforting. I'd almost make this for a brunch!
Recipe adapted from Butter Busters Cookbook.
Recipe Type:
Side Dish, Main Dish
Author:
Bulk up your everyday mac & cheese and make it meaty. Perfect for dinner any night of the week!
Ingredients
1 lb Turkey Sausage, Browned and Drained
3 tbsp Melted Butter (light)
1 and 1/2 tbsp flour
1/2 tsp salt
1/2 tsp pepper
2 cups Skim Milk
1 tbsp Melted Butter (light)
2 cups Elbow Macaroni, Cooked
1 tbsp Onion, Grated
1/2 tsp salt
1/4 tsp pepper
2 cups Reduced fat Shredded Cheddar Cheese
1/2 c. Crushed Cubed Style Stuffing Mix
Instructions
Preheat oven to 350°.
Combine 3 tbsp melted butter, flour, salt, and pepper in a small sauce pan. Slowly add skim milk and whisk well. Bring to boil, then lower temp until thickens. Set aside.
Spray a 2 quart baking dish with non-stick cooking spray. Place half of the macaroni in the dish. Spread half of the cooked sausage over the noodles. Sprinkle half of the grated onion, salt, pepper, sauce, and cheese. Repeat layer. Drizzle 1 tbsp melted butter over top. Sprinkle with remaining cheese. Sprinkle crushed stuffing over the top. Cover and baked for 30 minutes. Then uncover and bake an additional 10 minutes.
Like this post? SHARE it!